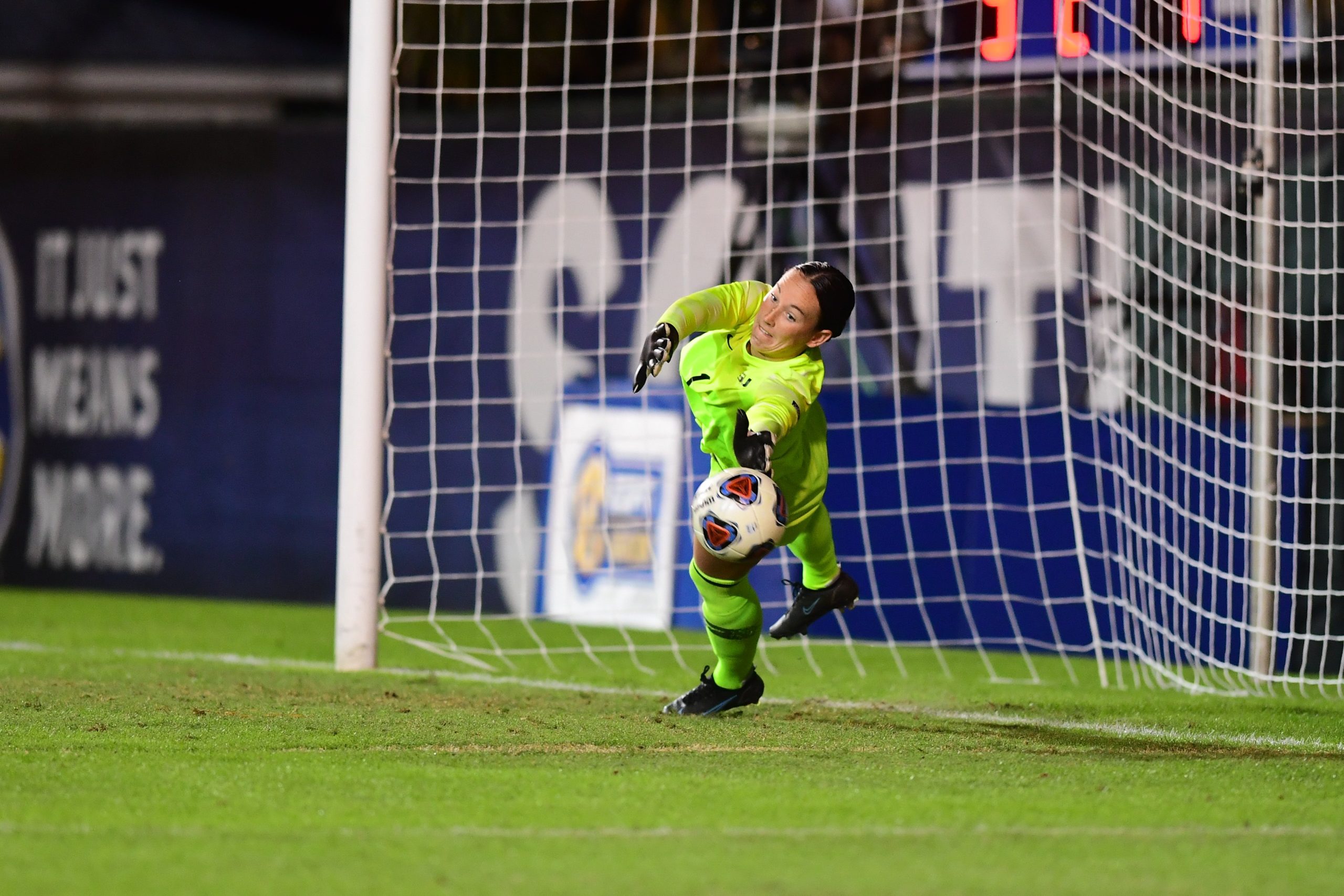 LSU soccer coach Sian Hudson realizes if her team didn't have Arkansas' undivided attention last week in Baton Rouge, they've certainly got it now.
Five days after pulling off a dramatic 4-2 upset over the previously undefeated and SEC regular-season champion Razorbacks, the Tigers get a rematch after advancing to the SEC tournament quarterfinals with a penalty shootout (5-4) win over Georgia.
No. 8 LSU (11-6-1) faces No. 1 and fourth-ranked Arkansas (14-3-0) at 5 p.m. Tuesday at the Orange Beach (Ala.) Sportsplex in a match that will televised by the SEC Network.
"I think we have to take a lot of confidence from the result last Thursday," Hudson said. "They're certainly going to be up for a little revenge I would have to assume. We ruined their unbeaten (SEC) season. It's always difficult to play the same team twice in such a quick turnaround."
With Arkansas having drawn a first-round bye, awaiting the winner of the LSU-Georgia first-round matchup, there wasn't any doubt who they preferred seeing opposite them in quarterfinal action.
"I think after a loss our team's going to be pretty hungry," Arkansas soccer coach Colby Hale said last Friday. "If it's LSU, I don't think we'd be disappointed."
LSU's win over Arkansas, its fourth over a ranked opponent this season, and a first-round victory over Georgia has improved the Tigers' at-large chances of reaching the 64-team NCAA tournament field with an RPI of No. 41.
Arkansas arrived in Baton Rouge last Thursday in pursuit of history, trying to complete a perfect 10-0 run through the SEC schedule and finish the regular season with a 15-match winning streak.
The Razorbacks opened the match in less than two minutes with a goal, but it was the Tigers playing with a great sense of urgency, needing to win the match to have a chance at advancing to the SEC tournament and put themselves in better position for an opportunity to reach the NCAA tournament.
Shannon Cooke delivered the equalizer with a header off a free kick from first team All-SEC performer Tinaya Alexander and LSU took the lead for good at 2-1 on Rammie Noel's goal right before halftime.
Alexander made it 3-1 right after halftime with her first goal since Sept. 17 and following an injury that sent her to the bench, she returned to add a second goal with 10 seconds left to complete her team's must-win scenario.
"I think we showed and proved against them we're going to create chances; we're going to be dangerous in the attacking third and maybe we created a little doubt in their minds in their gameplan," Hudson said. "I'll be interested to see if they come out and attempt to do the exact same thing or adapt a little bit."
LSU was extended to penalty kicks after the two teams battled Georgia to a scoreless tie through 110 minutes of play, including a pair of overtime sessions.
Goalkeeper Mollee Swift stopped Georgia's penalty kick attempts in the fourth and sixth rounds, while making her own shot in the fifth round that tied it at 4-all. She finished with nine saves overall.
While Cooke made her team's first penalty shot and Swift delivered in her clutch opportunity, the Tigers' success during the shootout came from little-known sources in seniors Brenna McPartlan and Tillie Wilkes, neither of whom scored goals during the season.
They helped set the stage for sophomore Jordan Johnson, who had one goal in 30 career games, to add the game-winning shot into the left corner and just out of the reach of the opposing goalkeeper.
"Three penalties came from players that hadn't had huge roles for us this season," Hudson said. "It was just a total testament to their mentality and their confidence. Jordan stepped up in that moment and was calm and put it in. I'm just thrilled for her. She's been someone that when she's gotten her opportunity this season, she's done good things for us."