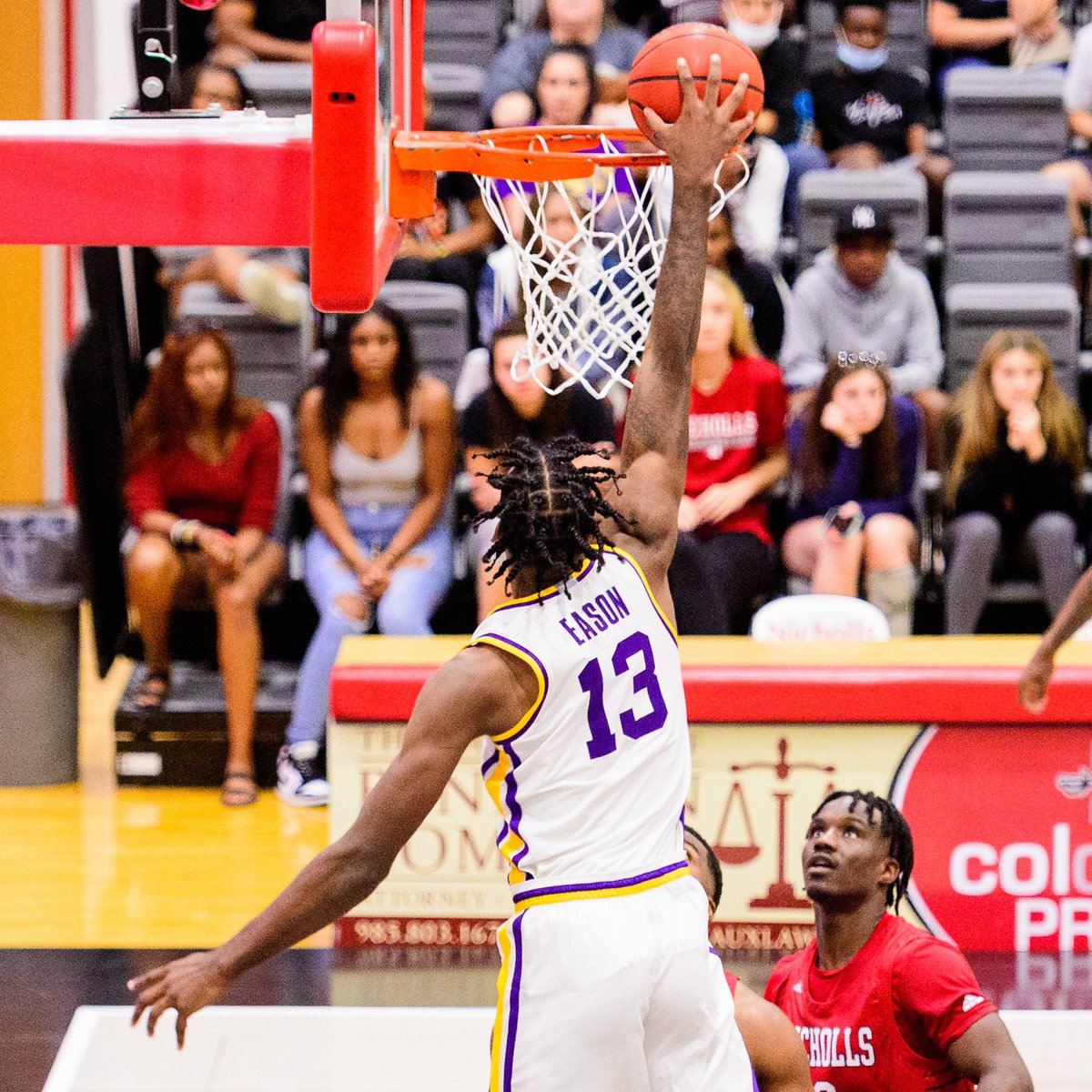 There wasn't anybody happier than Mwani Wilkinson, who at 6-5 plays both small forward and shooting guard for LSU, to see the influx of big bodies on the 2021-22 roster.
Six players 6-8 or taller have made Wilkinson exhale. At long last, rebounding help has arrived.
At the top of the list is five-star freshman signee Efton Reid, a 6-11, 238-pound center from IMG Academy by way of Richmond (Va.) Stewart High.
He was ranked as the No. 24 recruit nationally and No. 3 at his position by 247Sports after averaging 16 points and 11 rebounds in his one season at IMG. LSU coach Will Wade describes Reid as "a European style big who's extremely, extremely skilled" on the offensive end with 3-point range and jump hooks.
"He's got a lot of offensive weapons," Wade said, "and somebody I can't wait to go to battle with. We've worked on feeding him in the post. If you cover him one-on-one, he's going to score every time. You double team him, he's legit, he's got great feel, he can pass. He's got great pace and great reads. He's like a throwback big and he's a weapon. When he's in the game we're going to get him the ball. He's going to have a huge impact for us with offense and rebounding.
"He's also got a lot of those hidden talents. He's a great teammate, a great person and our guys respect him and he's not easily influenced."
Alex Fudge took an unusual route to the LSU program. The 6-8 forward was a Class 5A Florida first-team all-state selection as a junior in 2019-20 when he averaged 17.9 points, 12.2 rebounds, 1.4 assists, 5.7 blocked shots for Jacksonville's Robert E. Lee High School.
But last season, he chose to graduate early and enroll at LSU where he practiced during the spring semester to make his transition to college basketball less severe.
"Alex is a tremendous athlete and we're still trying to get a little weight on him," Wade said. "He's a tremendous offensive rebounder. He's worked diligently on his shot. He's going to carve a niche on our team this season. Very gifted and very talented, we've just got to polish it."
Wade picked up 6-8 sophomore forward Tari Eason from the transfer portal after he was All-AAC freshman team selection last season for the University of Cincinnati.
He started eight of 23 games and averaged 7.3 points, 5.9 rebounds, 1.3 assists and 1.2 steals in 19.5 minutes per game. Two seasons ago, he averaged 23 points, 8 rebounds, 3 steals and 1.4 blocked shots leading Seattle (Wash.) Garfield High to the 3A state championship.
"He's tough, rugged and can shoot the 3," Wade said of Eason. "We're continuing to work on his playmaking ability. He played center at Cincinnati, but he's going to play all over the place for us."
Darius Days is back for his senior season after the 6-7 forward declared last spring for the NBA draft for the second straight season and then again returned to LSU. Days, who averaged 11.6 points and 7.8 rebounds last season when he started 28 games, said NBA teams advised him to work on his ball-handling so he has the versatility to also drive to the basket.
"Darius has always led by example," Wade said, "but he's taken a huge step in becoming more vocal. He's always been one of our hardest workers, but he has been our hardest worker, bar none, since he has come back. He has taken that final step in his development."
If he can ever stay healthy, 6-10 junior forward Shareef O"Neal could be a major contributor for the Tigers. O'Neal, the son of former LSU and NBA legend Shaquille O'Neal, played in only 10 games last season because of nagging foot injury.
When he was healthy, he averaged 2.8 points and 4.4 rebounds and had some excellent moments such as scoring 6 points vs. Alabama and grabbing 6 rebounds (4 offensive) in 21 minutes vs. Texas Tech. His foot problem shut down his season in February and his foot flared up again causing him to miss a month of preseason practice, according to Wade.
"When Shareef's healthy, he's huge for us," Wade said. "We need to get him healthy. He had his best day of preseason practice just before he got hurt again."
The Tigers added another long, athletic piece in 6-10 freshman Jerrell Colbert, who transferred to Germantown (Tenn.) Houston High in the suburbs of Memphis where his team won the Class 3A state championship.
"He's somebody who's more of a defensive presence who can block shots," Wade said of Colbert. "He can rebound and plays extremely hard. We've just got to continue to get his body stronger. He's somebody who has a bright future for us."
LSU's additional forwards are 6-8 freshman Bradley Ezewiron of Oak Hill Academy and late addition 6-5 freshman walk-on Adam Benhayoune of Helotes (Tx.) Sandra Day O'Connor High.
GEAUX FIGURE
2 Former LSU big men – BOB PETTIT and SHAQUILLE O'NEAL – named to the NBA's 75th anniversary team along with former Tigers' guard PETE MARAVICH
16 Career double-doubles for DARIUS DAYS, the most by any current active player in the SEC for a career
571 Career rebounds for DARIUS DAYS, becoming the 40th LSU player to record 500 career rebounds.
NEXT MAN UP
If he's as good as advertised, 6-11 center EFTON REID from IMG Academy may emerge as one of LSU's best centers ever. He's armed with great court awareness in the post as well as inside and outside offensive shooting skills.