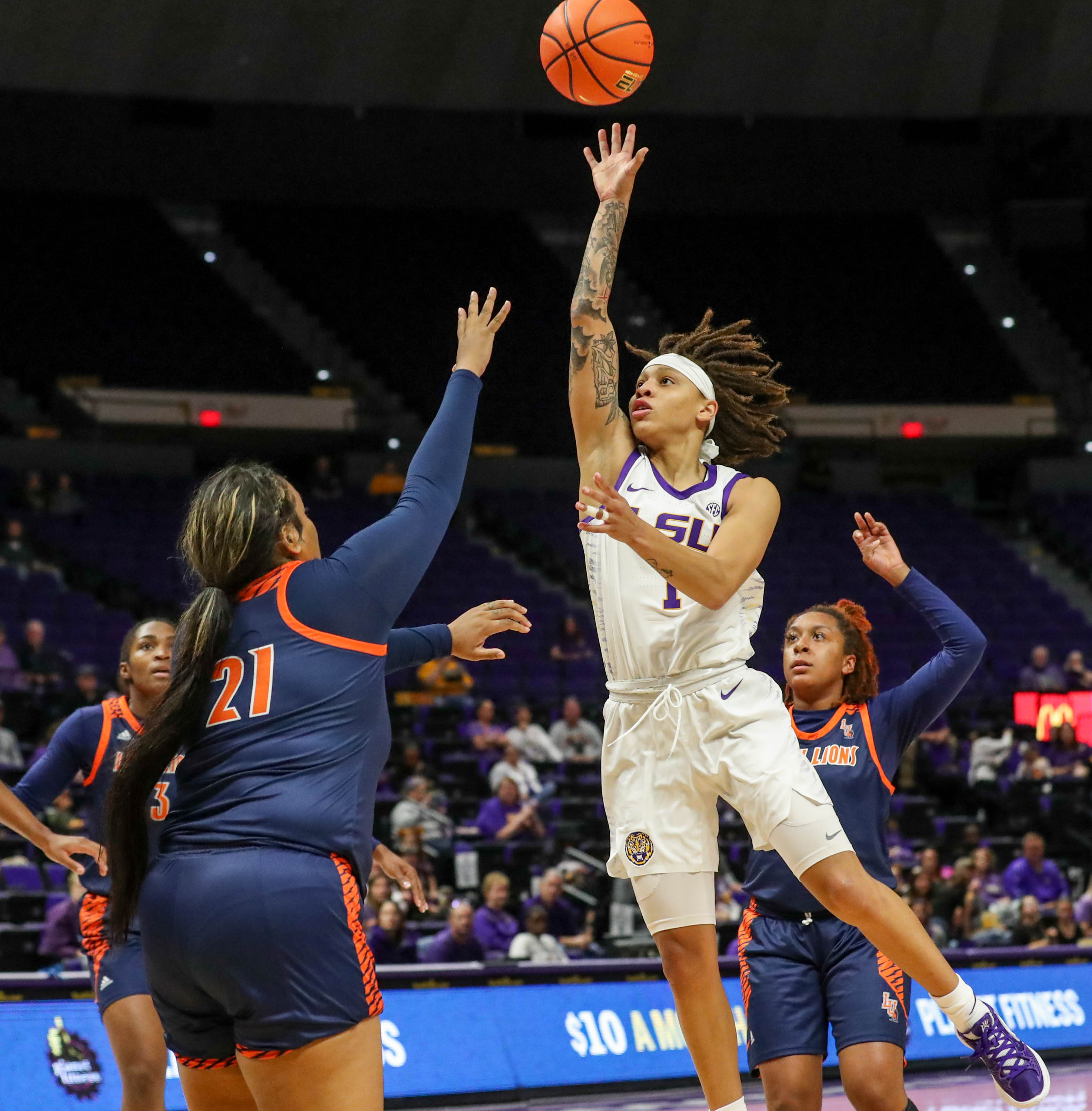 Little did they know seven months ago where their futures were headed when LSU seniors Khayla Pointer, Jailin Cherry and Faustine Aifuwa left the floor at Bon Secours Wellness Arena in Greenville, S.C.
LSU had just been eliminated in the second round of the SEC tournament, a resounding 77-58 defeat at the hands of Texas A&M, to seal their first losing season together, a third consecutive year without postseason play and on a more heartfelt note, what appeared to be their final game of their careers together.

Each player entertains next-level aspirations, albeit in the WNBA or overseas, but when none of those dreams panned out, they were all faced with the same opportunity when LSU introduced Hall of Fame coach Kim Mulkey on April 25 as its new head coach, signaling a new era for the program after the departure of Nikki Fargas to serve as president of the WNBA's Las Vegas Aces.

With each player already having secured their undergraduate degrees, the NCAA created the avenue for all of them to return with an additional year of eligibility because of COVID-19 and play as graduate students or move on with their lives.

They unilaterally reached the same decision, each announcing their return to what Mulkey hopes will their best seasons at LSU and a return to the glory days of women's basketball at the school.

"I want them to have the best year of their college careers," she said. "I want them to leave here and say, 'wow'. If they do that then I'll will be excited for them. I can't guarantee them anything. I can't guarantee them we'll make the (NCAA) tournament, we'll do all these things. I can guarantee them they can be the beginning of what we hope to be special times at LSU again in women's basketball."

Aifuwa, a 6-foot-5 center from Dacula, Ga., has been at LSU the longest, entering her sixth season since arriving for the 2016-17 season which she missed with a knee injury.

Pointer and Cherry, natives of Marietta, Ga. and Pascagoula, Miss, respectively, signed a year later where the trio's careers have been intertwined ever since.

"We came in together, set goals and desired things we want to accomplish whether that's winning an SEC championship or making it to the Sweet 16," Pointer said. "Just to be able to come back another year and be on the floor with those two is something I've been looking forward to."

During their careers at LSU, they've played in 320 games, including 207 starts, where they've totaled 2,719 points in a combined 1,880 minutes where the Tigers have won 58 percent (64-46) of their games.

The bigger picture, one that was central to Aifuwa's decision, has been a gradual decline of the program from the high-rent district of the SEC and being regulars in the NCAA tournament to a distinct void of postseason play the past three years.

The Tigers are just 2-4 in their last four SEC tournament appearances and have played in only one NCAA tournament game – a 78-69 loss to Central Michigan – where Pointer started and scored eight points, Cherry added two points and Aifuwa didn't play.

"That's our goal, we want to play in the NCAA tournament," Aifuwa said. "We want to win, and we want to go far. I think this is our year. There's no better time to do it than now. This is our last year. We have to go out with a bang. We know the work that it takes to get there and we're going to try to do it to the best of our ability. Not just for us but the team as well."

Cherry agreed.
"The sky's the limit for this team," she said. "It has been the same cycle with the South Carolinas, Mississippi States or Texas A&Ms. It's a big year for us, it's a breakout year. We have a new coach, we're excited and ready and we may actually be really good this year."

Pointer's the most acclaimed of the group, having earned second team All-SEC honors as a junior and first team All- SEC and All-Louisiana Player of the Year laurels last season when she led LSU in scoring (16.9), assists (4.1) and steals (2.5). She's also been selected to the preseason All-SEC first team this season by both the league's coaches and media.

Mulkey has praised Pointer, the program's No. 21 scorer with 1,306 points in 110 games, for her willingness to support a staff change after Fargas, who is her aunt, left.

"She has just embraced us just like she's known us forever," she said. "If you don't have seniors that embrace you, even if you're a staff that recruited them, then it makes for miserable times. I've watched those three enjoy what they're doing out there."

The return of Pointer and Cherry provide the chance to serve in the same backcourt for another reason and remain roommates for a fifth straight year. Cherry, who averaged 3.5 points and 1.8 rebounds last season, has played in 101 games at the point guard and off-guard positions, whether she's started or come off the bench. She's been athletic enough to thrive in transition and a dependable, hardnosed defender adept at taking charges.

"It was more of redemption," Cherry said. "I didn't feel like I had the best season last year. I've got this extra year. It's destined for me to come back, so I might as well try it out one more time and redeem myself and move my stock up on the (WNBA) draft board or go overseas."

Over the last three years Aifuwa's been a steady force in the paint where she's played in 109 games and tallied 713 minutes. She's averaged 11 points and needs seven points to become the program's next 1,000-point scorer.

Aifuwa, a member of the SEC's All-Defensive team and the All-Louisiana Defensive Player of the Year in the 2019-20 season, was second to Pointer in scoring (11.0) and led the Tigers in rebounding (8.9) and blocked shots (39).

Aifuwa's become the only player in school history, other than Sylvia Fowles, to lead the team in rebounding in all four of her seasons and she ranks 13th all-time with 758 rebounds. She's also second to Fowles in career blocks with 188.

"I love those girls, I'd go to war for them," Aifuwa said of Pointer and Cherry. "I know that's going to show on the court. After all these years this is a learning year. It's a chance to put out all the hard work we've done on the court and to come together and show the whole world what we're capable of."