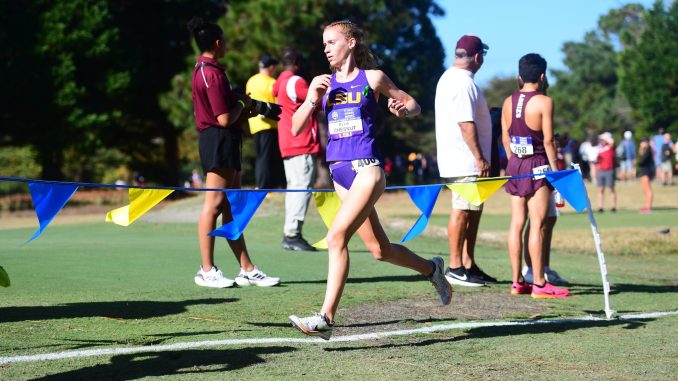 The hopes of the LSU women's cross country finishing in the top half of Friday's 2023 SEC Cross Country Championships were derailed by injury, leading to a 10th place finish in Columbia, South Carolina.
LSU's top runner, Lorena Rangel-Batres, started the race but according to coach Houston Franks suffered from back spasms and was forced to bow out halfway through the 6K course the West Charwood Golf Course.
"Lorena was suffering from some back spasms, and she was actually running very well," Franks said. "She was somewhere around 25th overall, right where she needed to be, and then her back seized up. She was of the toughest people I've ever been around, but she's fine now, just had to get her back taken care of."
Florida took top honors with 38 points followed by Arkansas (59), Tennessee (80) and last year's champion Alabama (84).
LSU wound up with 278 points, led by Ella Chesnut's 35th place showing in a time of 21 minutes, 3.3 seconds. Michaela Rose (21:16.2) was 42nd, Montana Monk (21:28.3) 50th, Callie Hardy (21:53.2) 76th, Sophie Martin (22:08.8) 100th and Gwyneth Hughes (22:21.5) was 102nd.
The Tigers were among the top six teams through the 4K mark when Rangel-Batres had to drop out.
"It's really crippling when one of your top runners has to bow out," Franks said. "We were in the mix for either fifth, sixth or seventh before that happened. Before the meet that is where we felt we should finish around, and we were in position, until that happened."
LSU's men, led by Hugh Carlson's 75th place (25:22.0) over the 8K course, wound up 11th with 370 points. Arkansas took team honors with 38 points, ahead of last year's winner Alabama with 57.
Tyler Stephens was 80th in a time of 25:29.7, Dyllon Nimmers 87th (25:40.3), Will Dart 94th (25:58.5), Casey Goetschel 95th (26:07.0) and Jack Wallace 100th (26:35.2).
"We were off to a pretty good start, until Will Dart unfortunately was tripped at the front and then was spit out to last place," Franks said. "He got up and rallied pretty well, but there is only so much you can do after that happens. I did think the men, all things considered, battled really hard at the end and I was proud of that."
LSU will resume action in the NCAA South Central Regional hosted in Fayetteville, Arkansas, on Nov. 10.