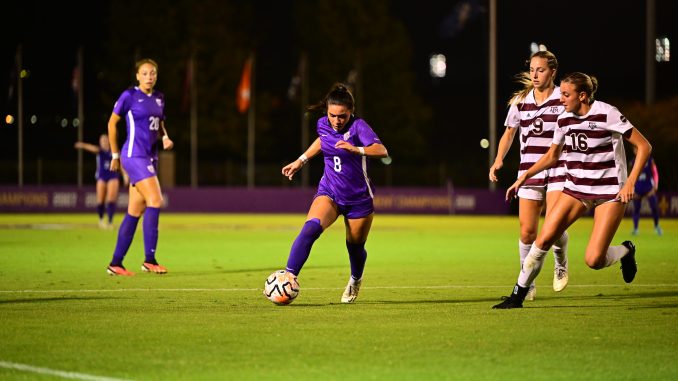 LSU soccer's team earned a draw with Texas A&M in its regular season finale at LSU's Soccer Stadium and picked a spot in the Southeastern Conference Tournament.
The Tigers (8-7-3, 3-5-2 in SEC) gained a point in the SEC standings which sent them into the first round of the league's postseason tournament against Kentucky at 1 p.m. in Pensacola, Florida.
"Mollie Baker was an absolute thorn in their side the whole match," LSU soccer coach Sian Hudson said. "We had our moments, but we just couldn't find a way to take the advantage. We haven't kept many clean sheets this season, so I think our defense got us through to the SEC Tournament in the end.
"That last 30 minutes might have been the longest 30 minutes of my life, just waiting for the standings to come in from the SEC," Hudson added. "The girls are thrilled, we are thrilled for another chance to get to the SEC Tournament, and we have a big game versus Kentucky on Sunday."
Goalie Mollee Swift finished with three saves while Texas A&M's Kenna Caldwell had four. Ida Hermannsdóttir, Mollie Baker and Kelsey Major each recorded a shot on goal for the Tigers.
Excellent defense and Swift's play kept A&M off the scoreboard, including a solid tackle from defender Maya Gordon in the box to prevent a shot on goal.
LSU had a potential scoring opportunity in the second half when Baker won a penalty in the 56th minute but Swift's attempt clanged off the crossbar. A&M (8-6-4, 4-3-3) had four of its 13 shots on goal, compared to three shots on goa for the Tigers.
"I would put my house on Swifty finishing that one," Hudson said. "She never misses. It's unfortunate, but we had two or three other good chances during the match." said Hudson.