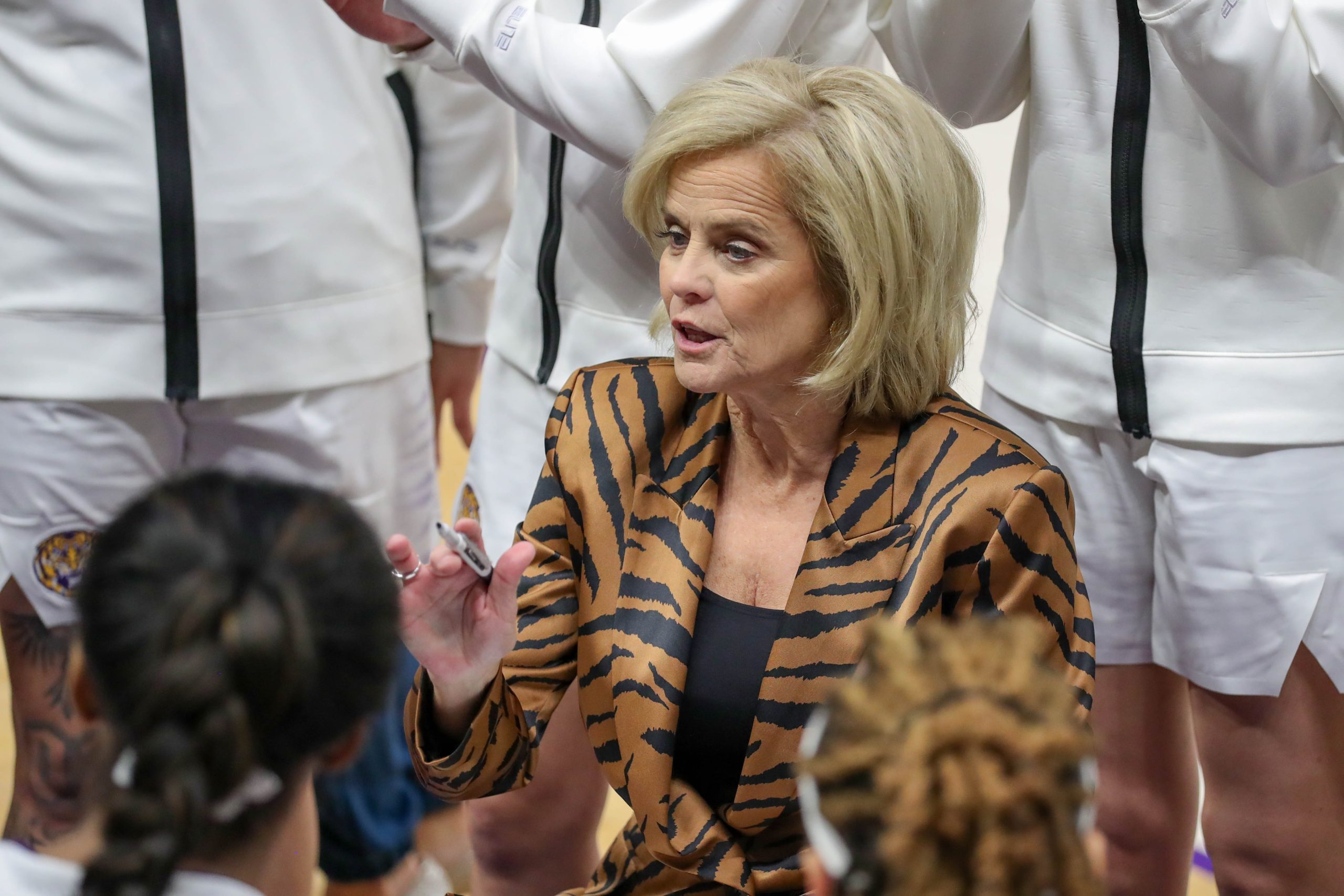 Not a lot of people thought LSU women's basketball team would be ranked fourth nationally and undefeated after 20 games.
Include second-year Tigers coach Kim Mulkey among that group.
But LSU's retooled lineup that added three starters from the NCAA's transfer portal feasted on a pedestrian nonconference schedule and has kept up that pace halfway through Southeastern Conference play.
The result is the Tigers (20-0, 8-0 in SEC) will host Tennessee (16-7, 8-0) for a share of the conference lead along with No. 1 South Carolina at 6 p.m. Monday.
The game will be televised by ESPN2 and broadcast locally by 107.3-FM.
School officials have marketed the game as a 'White Out' and are expecting the Pete Maravich Assembly Center to be sold out.
"Absolutely not. I knew we had talent," Mulkey said of her team's unbeaten record. "I knew we brought in some really good transfers, but the most talented teams don't win. You've got to work. You've got be on the same page. It's a schedule that allowed us to gain some confidence."
Mulkey's aware of the naysayers that have challenged her team's nonconference schedule, a less-than-stellar group of 12 wins that's been the reason LSU's been targeted as a No. 2 seed in the NCAA Tournament. She believes with the return of only one starter, Alexis Morris, and the arrival of nine players, the not-so-taxing schedule was the perfect buildup for her team.
"We've taken a lot of criticism because of it. The criticism doesn't bother us," Mulkey said "Just get better. Rebuild this program to an elite level. Get fans in the stands. Beat somebody, maybe along the way that you weren't supposed to beat. We have that opportunity Monday.
"We're not supposed to beat Tennessee," Mulkey said. "They were picked No. 2 in the preseason. They have more depth than we do. It's going to be quite a challenge, but I knew we had the talent. You don't write down your goal is to go undefeated. We've got to go South Carolina and nobody's capable of beating them. They're that good. You just hope you can stay close."
Tennessee was the media's selection three months ago to finish second to South Carolina in the SEC race with LSU third.
The Lady Volunteers, though, fell out of the national rankings after a 2-4 start to the season that included losses to nationally ranked Ohio State, Indiana and Stanford. They also lost a key piece of their team Dec. 8 when preseason first team All-SEC selection Tamari Ivey was lost for the season when blood clots were found in her lungs.
Tennessee is coming off an 84-67 home loss to No. 5 UConn.
"They know what is next," Tennessee coach Kellie Harper said after the UConn game of LSU. "You know, you are playing an undefeated team that is really rolling. They are playing great. We know it is huge, especially going down there. It is going to be a huge challenge for us. We get that."
Tennessee features the SEC's third-highest scoring team (77.0 points), third-best rebounding team (43.2), third-best 3-point shooting team (.311) and fourth-best field shooting team (45%).
The Vols are led by Mississippi State transfer Rickea Jackson whose 17.8 points rank third in the SEC. She's shooting 55% from the field and averaging 5.7 rebounds. Jordan Horston is tied for ninth in scoring (15.2), averages 6.9 rebounds and leads the team with 73 assists followed by Jasmine Powell with 72 assists.
"I don't know how they're not a Top 25 team. Name somebody they haven't played," Mulkey said. "They have everything you need to be very good. They are a matchup nightmare and they've played enough games against the best that we have in the game right now, coming in here in front of the crowd we expect to have will not be a big deal to them. We are going to have to rebound. They are outstanding rebounding the ball. It's going to be a good basketball game."
LSU's first in the SEC in both scoring (88.2) and field goal percentage (49.2) and second in both rebounding (50.8) and 3-point percentage (37.6).
Maryland transfer Angel Reese is the league's top scorer (23.7) and rebounder (15.5) and has recorded a double-double in a school record 20 games. She's one of the team's four double-figure scorers that also includes freshman Flau'jae Johnson (13.8, 6.5 rebounds), Morris (12.7, second in SEC with 4.8 assists) and West Virginia transfer Jasmine Carson (11.2).
"I think we're really in a good space right now," Reese said. "We've played together really well out of conference and now that we're in conference and now we're in conference, we're meshing together well. Being able to be at home for a big game like this, Tennessee is a really good team, and we're the underdogs since they were picked second to finish in the SEC. We're just going in with a positive mindset and doing whatever it takes to win."