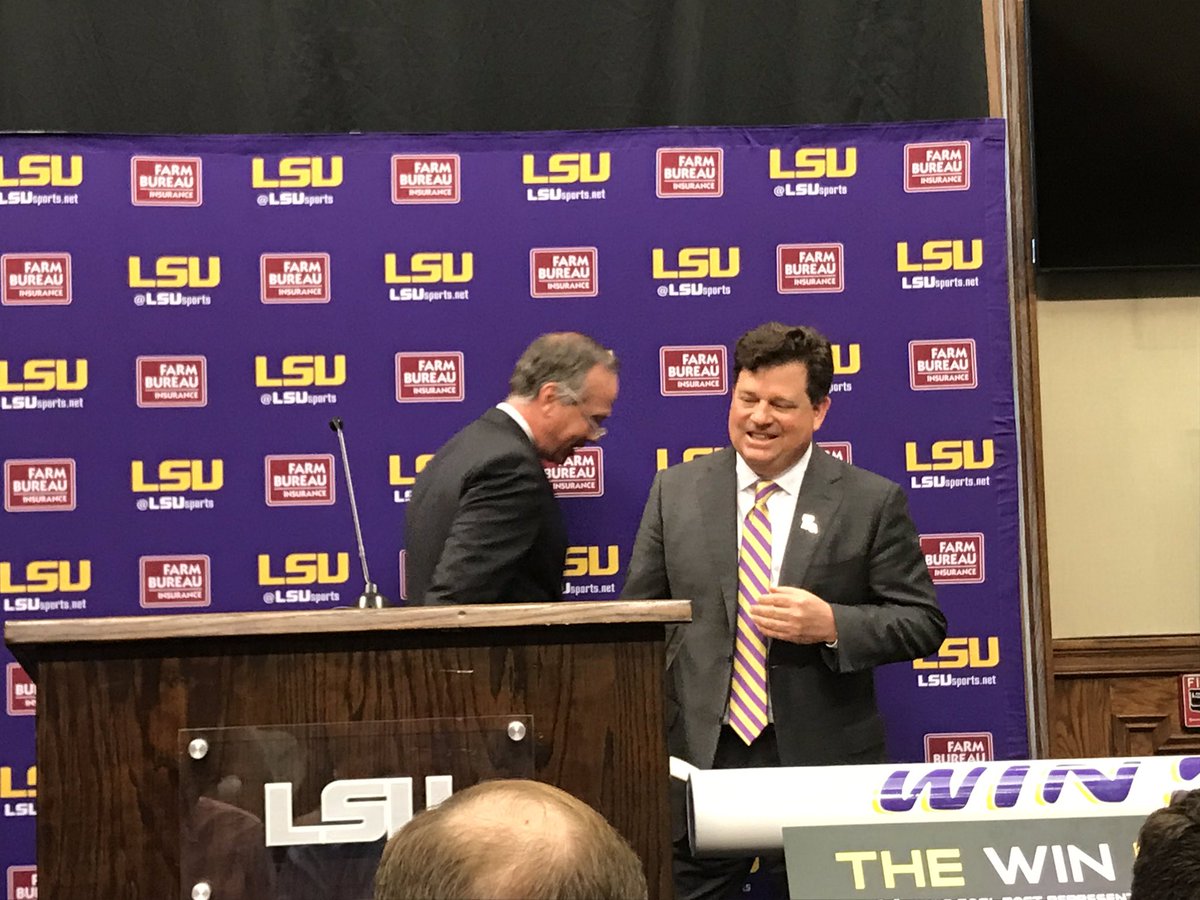 Scott Woodward is a Louisianan, a proven administrator, an adept politician and in all likelihood the single most qualified person to ever be named athletics director at LSU.
It turns out he's also a bit of a history buff, and a well-read one at that.
Asked about fundraising and resources, a question Woodward surely knew he'd receive, he answered in the form of a story about two of the most significant figures in LSU history: William Tecumseh Sherman, who founded the school, and David Boyd, who was the first head of LSU.
As the story goes, when the two were parting company, Boyd told Sherman that he believed the South would win the Civil War in relatively short order due to the region's resolve and fighting spirit.
Sherman, ever the blunt, dour individual, according to Woodward's readings, filled Boyd in on the cold, honest truth: resources win wars, not fighting spirit.
"We have to have resources, and we have to have very, very competitive resources," Woodward said Tuesday in his introductory press conference as LSU Athletic Director. "And we're blessed. We're in the best conference in America, the Southeastern Conference, and we have resources here."
Ever the politician, Woodward went on the thank predecessors Skip Bertman and Joe Alleva for leaving the department in strong shape financially. Bertman, who Woodward helped advise during his first stint at LSU, sat prominently among the crowd of LSU and Louisiana dignitaries alongside the media.
LSU does enjoy some tremendous advantages, many of which Woodward laid out in detail during his 30ish minutes at the podium. Of all the SEC schools, LSU is the only one that doesn't have to battle another high-profile program for supremacy in its own state.
Alabama, Mississippi and Tennessee are battleground states. Texas A&M has Texas, among other schools. South Carolina is in Clemson's back yard. Florida has to compete with Florida State, Miami and a rising power in UCF. Even Georgia has Georgia Tech, but in Louisiana, LSU reigns supreme.
That leads to the point that Woodward eluded to but did not outwardly say on a day that was celebratory in tone: despite that massive advantage, LSU ranks at or near the bottom of the league in terms of endowment.
"We're on financial standing that is very good," Woodward said. "Could we do better? Of course. But we have to be cognizant that you win wars with resources, and that's the most important thing."
Woodward understands that better than most having come to LSU from Texas A&M, the richest school in the SEC. As of 2015, one year before he took over as Texas A&M's athletics director, the school was the only SEC institution ranked within the top 10 of endowments nationally.
The Aggies flexed their financial muscles under Woodward. First the school hired Jimbo Fisher away from Florida State with a staggering 10-year contract worth $75 million. More recently, Woodward hired Buzz Williams away from Virginia Tech within days of Williams leading the Hokies to the Sweet 16.
Now it is Woodward's job to help LSU stay ahead of the big-budget behemoth that he helped create over the past three years. That's not to mention catching up with the machine Nick Saban has constructed at Alabama, the gold standard of the football world at this point.
And as Woodward so eloquently explained on Tuesday afternoon, it's going to take resources to do it.