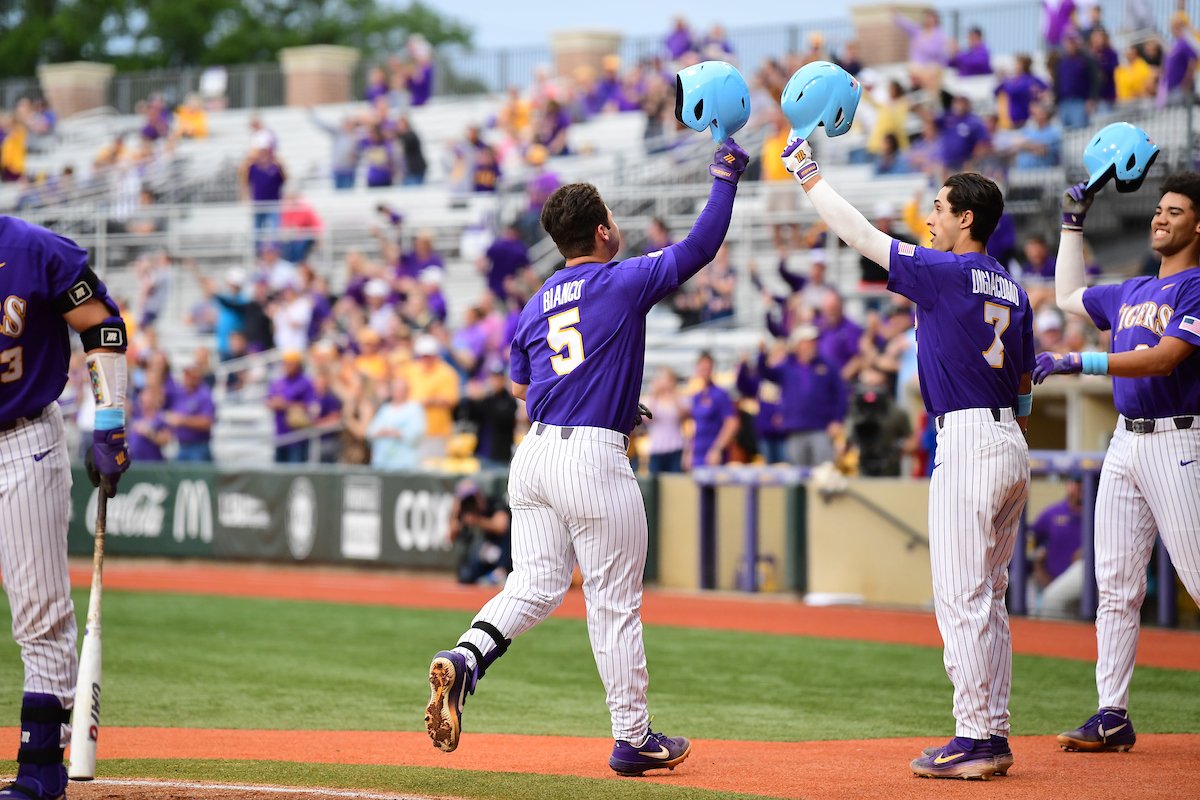 Forgive Drew Bianco for flipping the bat and admiring his work, for it had been quite a while since he'd seen a ball fly over the fence.
Bianco hit his first career home run back on Feb. 17 against Air Force, when the freshman was still LSU's starting first baseman. The two months that've passed since were filled with more frustration than playing time for the young slugger.
But Bianco has gotten more chances of late as LSU has dealt with a rash of injuries, and suddenly he's making the most of them. He followed up a strong weekend against Florida with a monstrous three-run on Tuesday night to power LSU in a 5-3 win over Lamar at Alex Box Stadium.
"Anybody who hits a three-run homer when you only get four hits, that's going to be huge for the team," LSU coach Paul Mainieri said. "I was happy for Drew to do that. It's been a very difficult year for him.
"He really won the game for us."
Bianco has been swinging a red-hot bat since coming off the bench in the series opener against Florida. He's started the past three games at third base with Chris Reid and Hal Hughes hurt, hitting .454 (5-for-11) with that home run, five RBI and seven runs scored.
"I was in a dark place, but I came out of it," Bianco said. "I'm really just locking in and playing baseball the way I know I can play baseball. That's the biggest thing. You come here in front of 12,000 fans and you start to make the game bigger than it is. You wondering if you're good enough to be here."
A call from his father, Ole Miss coach Mike Bianco, helped get Drew back in the right frame of mind. Mike assured Drew he is good enough to play at LSU and that all he needed to do was compete every at-bat.
Having to fill in these past few days has been freeing in a way for Drew that starting on Opening Night understandably was not.
"About a week ago I was batting.105," Bianco smiled. "Can't do much worse than that … I feel good up there now. I'm having fun again."
LSU (27-15) also got a welcomed return to form from freshman right-hander Landon Marceaux, who started and worked three scoreless innings after a two-week absence due to arm soreness.
Marceaux struck out one and scattered three hits thanks in part to some sharp defense played around him.
Baserunners or no baserunners, it was the most promising outing in more than a month for a pitcher who started the season as LSU's Saturday starter.
"Back to being healthy, that's the biggest thing," Marceaux said. "I felt good and felt strong. That's the key to what happened tonight … I just wanted to get back to being competitive and not worry about if I'm aching or not."
So what's next for Marceaux? Provided his arm soreness doesn't return, Mainieri said before the game that Marceaux could play a role in this weekend's series at Alabama.
"I thought that was a real big step in the right direction," Mainieri said. "Most importantly, we'll see how he's feeling tomorrow. He felt great tonight."

Bianco struck the big blow, but LSU took the lead thanks to an all-freshmen rally in the second inning. Cade Beloso got it going with a sharp single off the pitcher and Giovanni DiGiacomo kept the inning alive with an infield single. That set the stage for Bianco's 430-foot bomb to left.
Lamar cut into the lead with a solo home run off Matt Beck, who struck out three over two otherwise perfect innings, but LSU re-established control thanks to another rookie-sparked rally.
DiGiacomo led off the fifth inning with a walk and stole second base. Bianco then singled and took second on a throw to home plate. Brock Mathis and Josh Smith brought them home with successive sacrifice flies.
The bullpen, for the most part, did the job from there. Ma'Khail Hilliard, Trent Vietmeier and Todd Peterson divvied up 2.1 scoreless innings.
LSU had to survive a mini meltdown from Devin Fontenot in the ninth inning. He walked the bases loaded and forced in a run before nailing down the save.
"We got a midweek win by the skin of our teeth," Mainieri said in summation.
LSU will depart Thursday to begin a three-game series at Alabama. First pitch of the series opener is set for Friday at 6 p.m.
Photo courtesy of LSU Sports Information