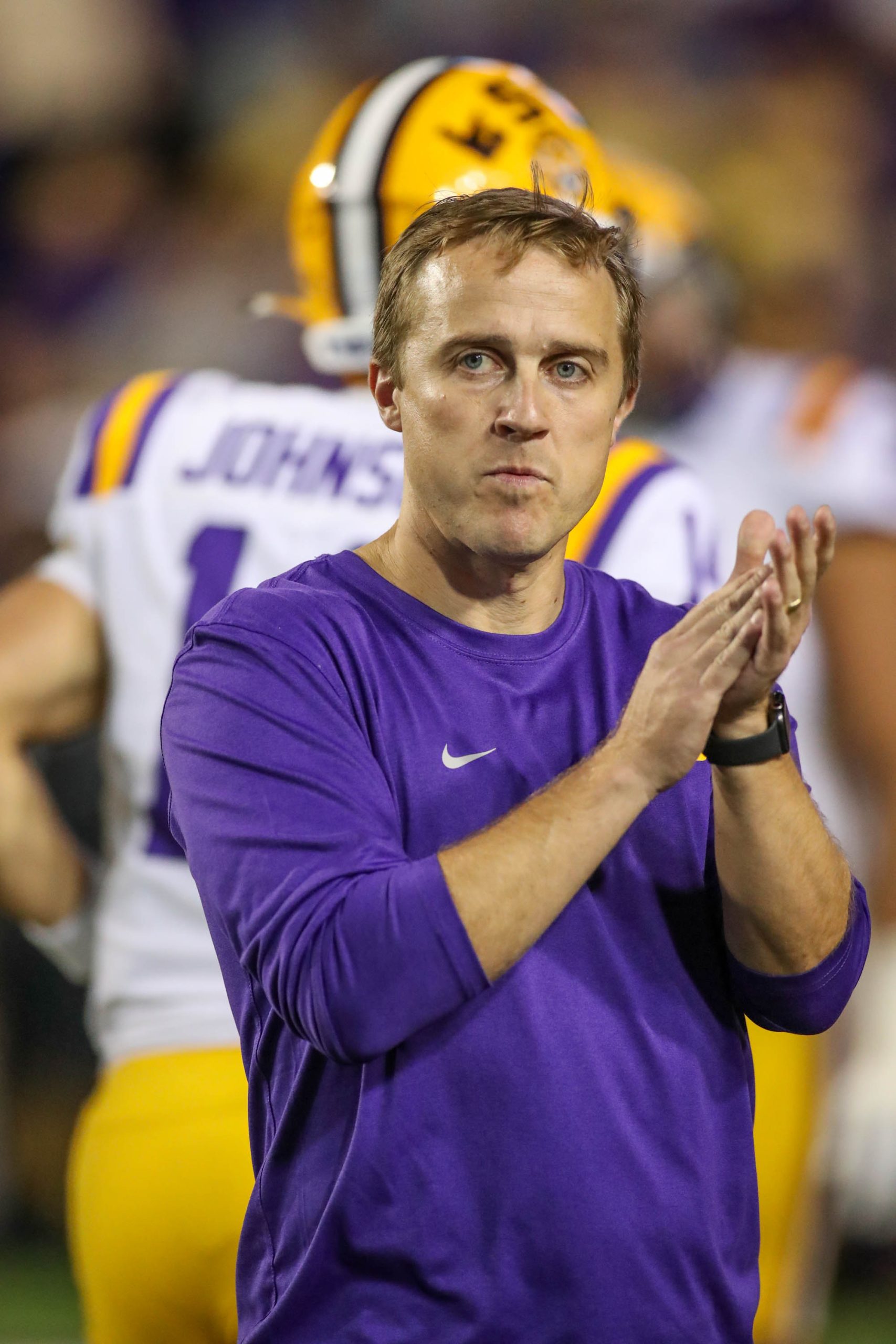 LSU head football coach Ed Orgeron spent the majority of his 10 minutes with reporters on his weekly Zoom call taking the blame for his team's performance in last Saturday's 24-19 home loss to Auburn.
He addressed a number of wide-ranging topics that plagued his team on both sides of the football that resulted in the Tigers dropping to 3-2 overall and 2-1 in Southeastern Conference play heading into Saturday's road trip at No. 14 Kentucky (5-0) for a 6:30 p.m. kickoff.
"Ultimately, I'm responsible for the performance of this team," Orgeron said. "I've always been responsible, and I always will be."
There was increased criticism of Orgeron in the wake of LSU's performance in a game in which the Tigers led for nearly 57 minutes until surrendering a touchdown in the final 3 minutes, 11 seconds and throwing an interception on their final offensive series with 1:09 remaining.
A season-long trend continued with LSU's inability to run the ball, especially with the lead in the second half, was among the team's chief downfalls that enabled Auburn to rally from a 13-point deficit in the first half and nine-point deficit with three minutes showing in the third quarter.
LSU had just 33 yards on 25 carries for a per-carry average of 1.3 yards. With the team holding the lead down the stretch quarterback Max Johnson passed on 13 straight plays at one point until a late run during the fourth quarter from Ty Davis-Price.
"We were working on our first-down passing game and it worked very well," Orgeron said. "I think our guys were spot on the first half … the big play to Kayshon, all the run-passes, the short passing game really helped us. They made some adjustments, they overloaded, dropped nine and rushed only two. That's a situation where we must and will run the football. In certain situations, we can pass the football but in certain situations we need to learn how to run the football."


Orgeron said he plans to address the team's pre-snap operation, physicality in the running game which affected the team's lack of success in the red zone and on third down (6 of 17).
When the Tigers bogged down inside the 20-yard line, All-American placekicker Cade York kicked four field goals on attempts of 33, 26, 22 and 51 yards and provide his team with their only points following a touchdown on the game's first possession.
The first layer in what Orgeron plans to address is speeding up the time in which first-year offensive coordinator Jake Peetz sends in the play call to the sideline which is then signaled into Johnson.
Last week, Orgeron was forced to call three timeouts to avoid delay-of-game penalties. He even suggested trying to simplify the call so that Johnson can make his pre-snap reads and protection calls in a timely fashion.
"When we give it to him (Johnson) we've got to give him enough time," Orgeron said. "The times we had to call a timeout there wasn't enough time. So, we shouldn't have tried to change the play. I'm fully responsible for that and we're going to get that fixed."
One such resolution may include former offensive coordinator turned analyst Steve Ensminger returning to the coach's booth to assist Peetz.
"That's a thought, I'll consider it," Orgeron said to a reporter's question. "I think Steve's enjoying his retirement. Maybe he could come in the box. Might be something I'll talk to him about."
Here's what else Orgeron had to say:
Opening statement:
"Overall, I thought we had a great meeting with our staff this morning. We're going to have a great meeting with our team today. There's some tremendous leaders on this team. On offense, Kayshon Boutte's doing a great job of leading us. On defense, Damone Clark's an outstanding, great leader. We're going to count on those guys this week.
Kentucky is 5-0, coach Stoops has done a tremendous job with his team. On offense, they're pro style, averaging 29 points per game. They have the leading rusher (Christopher Rodriguez Jr.) and leading receiver (Wan'Dale Robinson) in the SEC. They have a great run game in Chris Rodriguez who is an outstanding runner. Wan'Dale Robinson's very dangerous, (Will) Levis is a very capable passer that operates very well in their offense. On defense they're very sound with a 3-4. They play great technique. They had an outstanding game against Florida. Only 16 points allowed per game, 104 yards rushing. It's going to be a tremendous challenge for us. It will be a great challenge to go on the road taking on a 5-0 team."
On simplifying the offensive calls
"First of all, call the play and run it. We have a thing we call Warp. We go really fast, and we were doing for it a while and we were having some success. The trouble is when we get to be a little too complicated, try to change the play to get a perfect play for the perfect defense and that's where we've been getting in trouble. We need to simplify those things. Either quit doing it or do a better job."
On the preparation in fall camp of getting plays called to the field
"We practiced. Because we had two more coordinators most of our team periods are scripted. We let them call plays. We worked on taking the field with 25 seconds left. Most of those things had been worked on."
On the team's trust and faith on Jake Peetz's play-calling ability
"I've got to take the responsibility for that. I talked to the team. I talked to the offense, and I'll continue to talk to them on the things we've got to get fixed. There's some things that are very fixable. We just need to settle down, mostly call the play and let it go and not try to change the play. It's not that they're not trying. They're trying a little too hard. We need to simplify on offense and let our players play."
On the necessity to take responsibility for everything that's gone wrong
"I just think it's clear when things go wrong, and I get asked questions it may sound like I may be trying to point the finger. You know me and everybody knows me. That's not me. I'm going to take full responsibility for everything that happens in this program."
On the discussion with the staff about the running game
"We need to be committed to it. I think we need to make a recommitment, calling the run plays that we practice. Sometimes we are, sometimes we're not. We need to make a couple of adjustments we're doing, maybe add some different formations that will help us become more aggressive in attacking the line of scrimmage. We're not doing that well. Hopefully, we can get that done this week."
On the amount of rotation in the secondary vs. Auburn
"Some of our guys were getting hurt. We had some guys with minor injuries that we had to get out for a couple of snaps. Some of them got back in, some of them have some injuries that are probably going to be out today and tomorrow and hopefully they can play this week."
On focusing on being more under control on pass rush
"It's an issue of angles with the defensive lineman which I help coach, so I'm responsible. On heading for the up-field shoulder which a lot of times we did not do. We didn't take the proper angles but look, you've got to give him (Bo Nix) credit. He played lights out. Having a quarterback make us miss that many tackles … I think that's the first time I've seen that as a coach, and I've been coaching for a long time. Give him credit. He played with extra effort."
On the lack of continuity in the offensive line
"We started in (fall) we didn't have starting o-line. It was mixed all the time; the continuity wasn't there. Coach Davis is doing a tremendous job. We lost our offensive coach. This is not an excuse, it's a fact, in the middle of the summer and he comes in. He's a great coach but there's a different style, different techniques. Guys are veteran players. They've got to used to that and there's a combination of our guys not being there all the time and our guys of just being committed to the run game. Being very physical and we're going to run the football; this is what we're going to do. That's totally my responsibility."