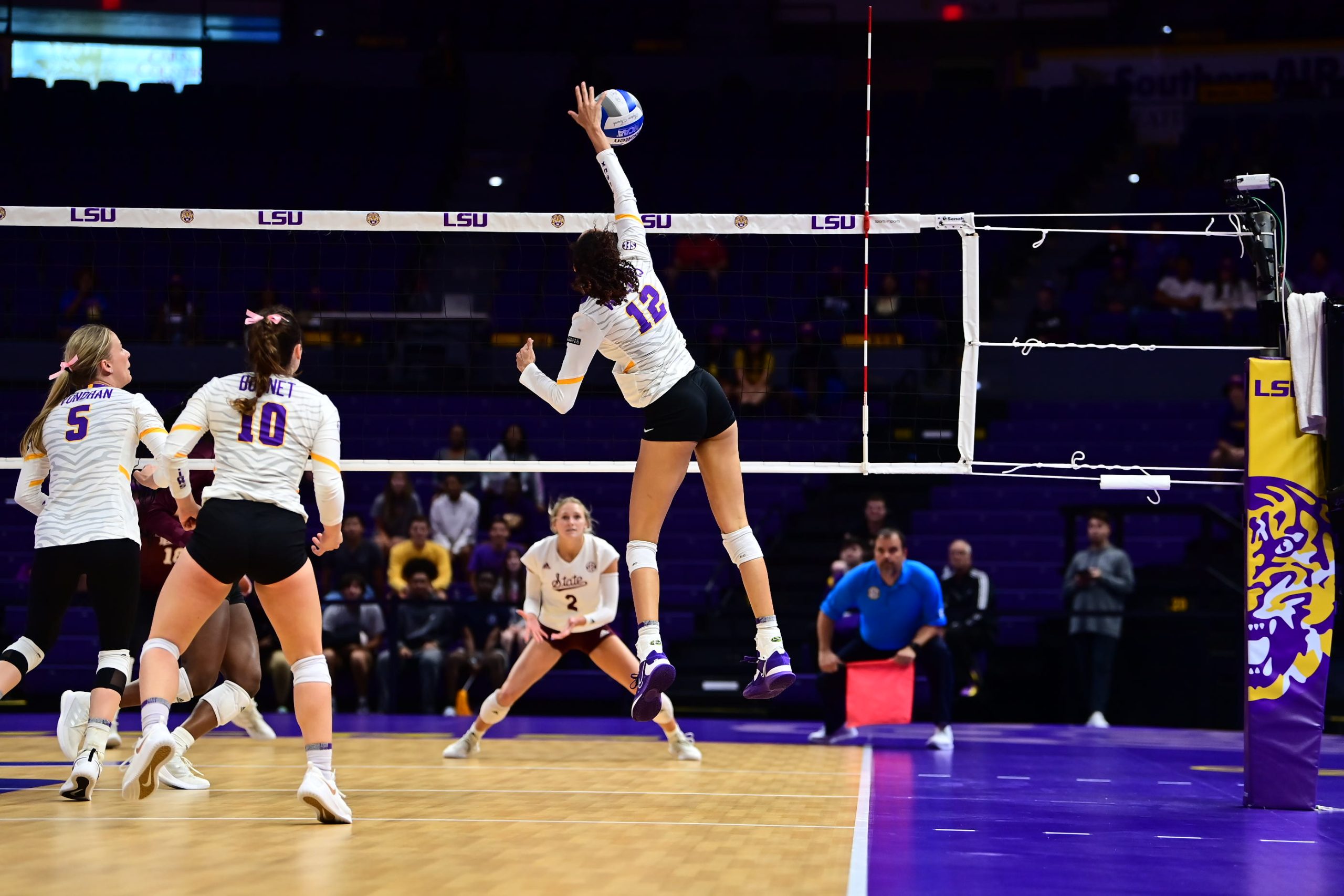 LSU volleyball produced a 15-10 verdict in the fifth and final set Saturday to defeat Mississippi State in a Southeastern Conference match at the Pete Maravich Assembly Center.
LSU (13-9, 7-5 in SEC) dropped Sunday's finale to Mississippi State 24-26, 25-16, 25-16, 21-25, 14-16.
LSU was defeated by Mississippi State 3-2 Sunday afternoon in the Pete Maravich Assembly Center.
LSU (13-9, 7-5 SEC) fell to Mississippi State (12-10, 5-7 SEC), losing the match 3-2. LSU dropped a close first set 26-24 but regained composure in set two, winning 25-16. The Tigers kept it up in set three, beating the Bulldogs 25-16. LSU came up short in set four 25-21 as Mississippi State tied the game 2-2. The Tigers took a 2-1 lead Saturday 20-25, 25-20 25-13 before the Bulldogs (11-10, 4-7) rallied with a 25-21 win in the fourth set and force a fifth and deciding set. LSU won its third straight match and 6-2 in matches decided by five sets.
Outside hitter Paige Flickinger turned in her sixth double-double this season with a season-high 17 kills and had 14 digs. Flickinger also had two aces in the match and her first ace – which was also the first point of the match – was her 50th career ace.
Middle blocker Anita Anwusi, outside hitter Sanaa Dotson and setter Josie Vondran each had nine kills apiece.
Anwusi tied her career-high with nine blocks, including back-to-back blocks in the fifth set to help seal the win. Dotson had 11 digs with three blocks. Vondran had a team-high 24 assists and tallied six digs and five blocks.
Freshman setter Maddie Waak reached her second double-double with 21 assists and 12 digs.
Defensive specialist Jill Bohnet set a new career-high with 26 digs, libero Ella Larkin followed with 22 digs and added six assists and an ace.