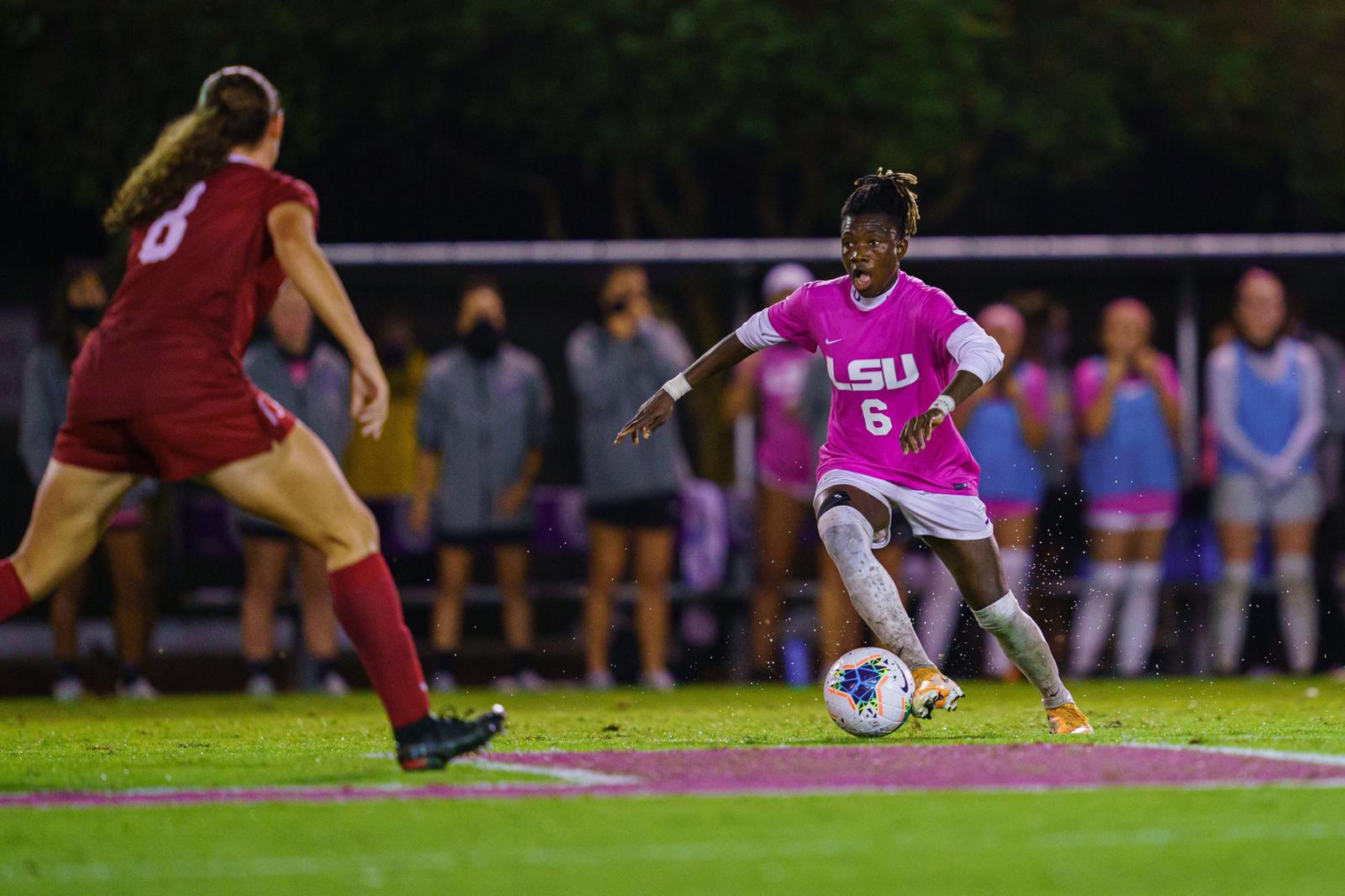 It's a scenario that seemed far-fetched when LSU's soccer team opened Southeastern Conference play
When the Tigers hosted Mississippi State in their league opener Sept. 17, they extended their school-record winning streak to 11 games with a 2-0 victory before a program record crowd of 3,021 at LSU's Soccer Stadium.
LSU reached another first with its highest ranking in school history, rising to fifth in the country when the Tigers' season spiraled in the opposite direction with five consecutive losses in conference play.
LSU rallied with a pair of shutout wins over Kentucky and South Carolina but watched a 1-0 halftime deficit at Florida last Sunday snowball into a 4-0 defeat, placing the Tigers' season in peril.
"South Carolina could win the Eastern Division and we just thumped them 4-0 last week," LSU soccer coach Sian Hudson said. "That's the frustrating thing, just the inconsistency this season. It's been a rollercoaster for everybody involved.
LSU (10-6-0 overall, 3-6-0) closes out the regular season with its collective backs against the wall, hosting fourth-ranked Arkansas (14-2-0, 9-0-0) at 7 p.m. Thursday. The Tigers, standing one spot out of the SEC tournament, must defeat the SEC champion Razorbacks to have a chance to not only qualify for the SEC tournament but also enhance their chances at making the NCAA tournament as well.
"It's a great opportunity," Hudson said. "In the postseason you're going to see great teams. For us we've talked about this being the perfect opponent because they're going to ask us to fight and battle because of their style of play.

"That's what it's about Thursday, leaving it all on the field," Hudson said. "We want to keep our seniors' season alive; we want to get into the postseason. This team is at their best when they really have their backs to the wall, when they really have to step up and fight and compete. I think Arkansas is going to ask that of us in abundance."
The SEC takes the league's top 10 teams to Orange Beach, Ala. for its postseason tournament Oct. 31-Nov. 7 where LSU, an unheralded team at the time, advanced to the semifinals last year.
With nine points, the Tigers are in 11th place and must defeat Arkansas and have 9th-place Florida and 10th place Texas A&M – both of whom have 10 points apiece and own the tiebreaker over LSU – to lose or tie.
Should all three teams win LSU, which has a RPI of 55, would not make it to Orange Beach but would be in contention for an at-large berth into the 64-team NCAA tournament on the strength of having three wins over ranked opponents.
The Tigers would like to add Arkansas, the nation's No. 2 RPI team, to that list.
"We really couldn't ask for a better opponent if we get a result Thursday," Hudson said. "We want the highest ranked opponent we could face, and Arkansas has proven itself to be the best team in the SEC. We have to come out and compete. We've been really inconsistent this season. But on our best days we've shown we can beat anybody in the country."
Prior to the start of the match LSU will honor 10 seniors during a ceremony at 6:44 p.m., a group that includes record-setting midfielder Chiara Ritchie-Williams who has reset career marks for the program in minutes played (8,176), games played (93) and games started (90).
To have the opportunity to extend its season LSU faces an Arkansas team that's riding a 14-game win streak and hasn't lost since Aug. 22 (1-0 vs. North Carolina). The Razorbacks pose a formidable challenge, having scored four or more goals seven times during their current streak with eight shutouts.
"What we preached to the girls was to have no regrets, leave it all on the field," Hudson said. "We started the season on fire and let's finish it on fire. Let's come out with that fierce mentality we showed at the beginning of the season and have shown in parts of the SEC season. We've got to compete."