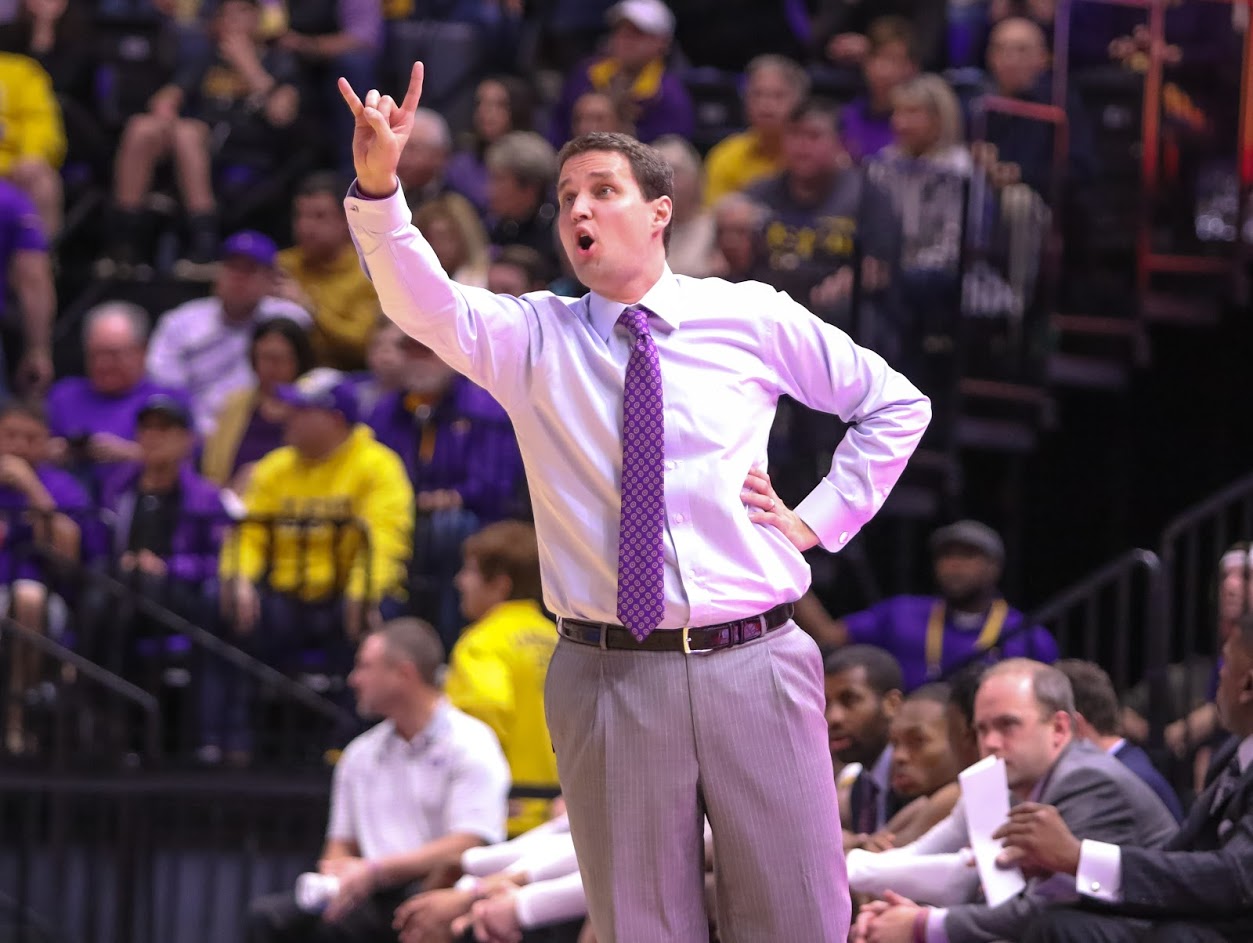 LSU basketball coach Will Wade and senior guard Skylar Mays took to the podium Monday for a preseason press conference in which they discussed how the Tigers have grown in the offseason and prepared for the upcoming season.
With the regular season less than seven weeks away, the Tigers have begun "boot camp" to prepare their bodies and minds for a season in which they will need all the conditioning they can get.
LSU figures to run the floor a lot more this year, and Wade said on-lookers can expect to see a lot more movement from the Tigers after losing bigs like Naz Reid and Kavell Bigby-Williams to the NBA.
"We were about 78 percent ball-screen oriented last year," Wade said. "This year we'll probably be closer to 60 percent motion and 40 percent ball screen."
The Tigers' new motion offense figures to play right into the strengths of LSU's undersized big men such as Emmitt Williams, Darius Days and incoming freshman Trendon Watford.
Wade said Days especially should see improved numbers this season as he played a sometimes significant but usually limited role in LSU's run to the Sweet 16 last season.
"(The new offensive scheme) is tailor-made for (Days)," Wade said. "One of the reason we did it is it's tailor-made for him and Emmitt (Williams). I think Days is going to have a breakout year. He's been playing so, so well for us."
During his time at the Coaches Caravan event in Nashville this past Friday, Wade told media in attendance that Williams had entered this season's preseason training with a brand new attitude.
The NBA pre-draft process was good for him, and it taught him exactly what he had to work on and how he had to work if he wants to play at the next level.
Mays echoed those sentiments, saying he's shown vast improvement over the past few months.
"His leadership and his maturity and how he's grown in that sense… his growth in those areas helped his game all around," Mays said. "He's expanding his game a lot. He's shooting the ball better in practice, and we're expecting that to translate to the games."
Mays also had high praise for Watford, who led the Tigers in scoring over their four games in Spain.
Watford, a former five-star prospect, is expected to play a large role in LSU's success this season with his dynamic play on both sides of the ball.
"He' so versatile," Mays said. "He can play pretty much all five spots. He's going to be big for us, and he's going to have a great year for us because he comes in and listens on top of the talent that he has."
Mays himself tested the NBA waters, and it went better than he expected.
He worked out with five teams during the pre-draft process, and though he did not get an invite to the NBA Draft combine, he did receive feedback that made the decision to return to LSU for his senior season a tough one.
"With the new rules that were put in place, it felt like it would have been stupid not to go through it," Mays said, referring to new rules allowing players to test the NBA waters and return to college. "To get that hands-on experience and hear from the people that make those decisions as far as your feature if you want to go that route. … it only gives me confidence for this year and how I can improve on my game. and show that to NBA scouts."

Wade also gave some injury updates. Marlon Taylor, who had surgery on his foot in late may after going through the pre-draft process, looked to be good to go, but will have to wait another week or so due to a dental reason.
He also mentioned forward Aundre Hyatt is injured and won't return until the middle of October, though he did not get into specifics on the injury.
In a final note, Mays also mentioned the team is planning on paying homage to former LSU basketball player Wayde Sims, who was tragically killed in an altercation prior to last season.
"It makes a year Saturday since what happened to Wayde," Mays said. "I'm definitely looking forward to this Saturday, we're going to go to the grave site and do something. It's crazy to think it's been a year since then and all the things that happened a year ago.
"I think each of us ave grown as individuals outside of basketball, and it helped us develop a confidence that you can only develop through our type of experience."