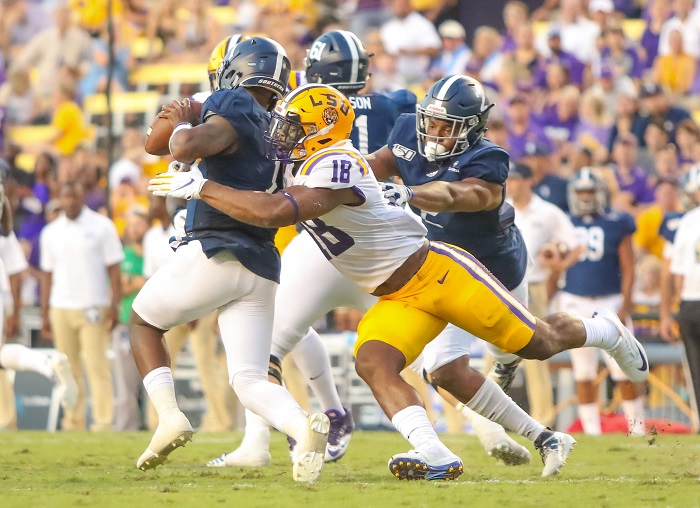 LSU coach Ed Orgeron officially ruled out both of his starting defense ends for the Northwestern State during his call-in radio show Wednesday night.
The Tigers aren't expecting to have their top pass rusher against the in-state foe, either.
Outside linebacker K'Lavon Chaisson hasn't practiced all week and is "very doubtful" to suit up for LSU on Saturday night, Orgeron announced at his post-practice press conference Thursday.
"I don't think so," Orgeron said. "I don't think so. He's very doubtful. He hasn't practiced all week and I don't think he's going to play."
LSU will use a host of players as edge rushers in the likely event Chaisson can't go.
Freshman Marcel Brooks is perhaps the most intriguing candidate to fill in. The former five-star recruit began fall camp as a safety but has worked with the outside linebackers in recent weeks.
Inside linebacker Damone Clark will be given an opportunity to rush from the outside as well, Orgeron said. Those two will join Ray Thornton, Andre Anthony and Travez Moore at the position.
DEE ANDERSON UPDATE
Wide receiver Dee Anderson will remain suspended for the remainder of the season, Orgeron announced.
"Dee Anderson is suspended from the football team for the year," the coach said.
Anderson, a senior, was suspended indefinitely at the start of camp for what Orgeron called a conditioning issue. Now his season is over.
If Anderson's LSU career is indeed over, he'll finish having caught 27 passes for 392 yards with one touchdown in 19 games.
PERSONNEL NUGGETS
Freshmen running backs John Emery and Tyrion Davis-Price will play "a bunch" against Northwestern State, Orgeron said.
Offensive linemen Badara Traore and Dare Rosenthal are expected to see more playing time this week. Traore has taken reps at left tackle and right guard, and he'd be the next man in at either spot if the starter couldn't play, Orgeron said.
Freshman quarterback Peter Parrish is "ready to go" in the event LSU has the opportunity to get him into the game.