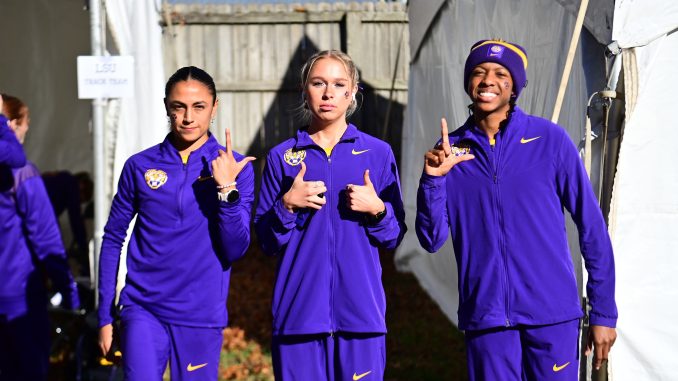 For the second straight year the LSU women's cross country team was on the cusp of a program milestone.
Led by Ella Chesnut, the Tigers finished third overall in Friday's NCAA South Central Regional and one spot out of advancing to the NCAA Championship for the first time in school history.
LSU's 129 points trailed only host Arkansas (36) and Texas A&M (90). The Hogs were the region's top-ranked team and 11th nationally, while Texas A&M was the region's No. 3 team.
The Tigers, which equaled their best finish ever from a year ago, finished ahead of the region's No. 2 (Tulane), No. 4 (SMU) and No. 5 (Texas) teams over the 6K course at Agri Park in Fayetteville, Arkansas.
"We ran a great race," LSU cross country coach Houston Franks said. "Obviously our goal all year is to be top two. Tied the best finish in school history, we were third. I don't know if everybody had a perfect race, but I don't think as a collective group we could've done much better."
Chesnut, a sophomore from Houma, was consistent throughout, hitting all of the splits at 1.6K, 3.6K and 4.5K through the race in fourth place, and finished with personal best time of 20 minutes, 18.4 seconds.
Chesnut's time makes her the school's regional finisher and she will become just the third woman in the program's history to advance to the NCAA Championships. That meet is scheduled for Charlottsville, Virginia on Nov. 18.
Ella Chesnut on an individual level becomes I believe only the third person in school history to go to the NCAA Cross Country National Championships," Franks said. "It was a stellar performance from her."
Michaela Rose was 18th in a time of 21:03.7, Lorena Rangel-Batres was 27th (21:22.1), Callie Hardy 42nd (21:50.0), Sophie Martin 47th (21:56.6), Montana Monk 68th (22:19.8) and Addie Stevenson 109th (22:59.7).
Both Chesnut and Rose earned All-Region honors by the USTFCCCA by virtue of their Top 25 finish.
Arkansas had the top two finishers in the race to go with runners that placed sixth and 10th overall, wile Texas A&M's top runners were 9-14-30-32-58 edge out LSU.
The Tigers did not start a senior in their lineup with five juniors and two sophomores.
"We said we were going to have a gladiator mentality today," Franks said. "We were either going to nationals or going out on our shield taking the race to everybody, and we did that. I am super proud of how we raced today."