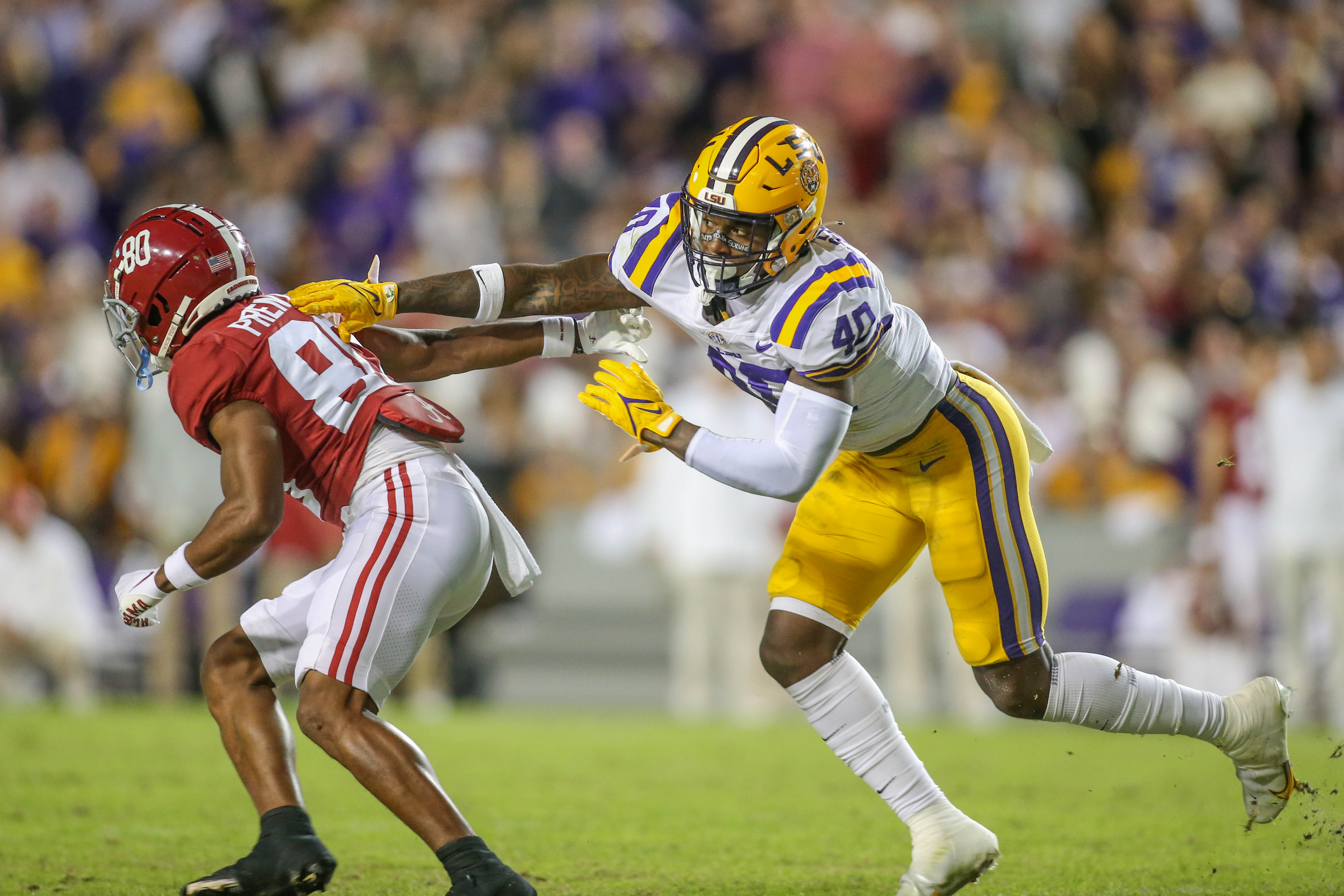 If you thought LSU's Harold Perkins Jr. was superb in his first season with the Tigers, second-year coach Brian Kelly is looking to create ways to be even better in 2023.
Perkins played in the Tigers defense last season as more of a hybrid, rotating between outside linebacker and the "Jack" position on the defensive line – any place defensive coordinator Matt House could take advantage of his pass-rush skills and ability to drop into pass coverage.
With Perkins targeted to play more linebacker this year, opposite the team's leading returning tackler Greg Penn III and Oregon State transfer Omar Speights, Kelly was quick to remind everyone after LSU's latest spring practice Tuesday, don't expect Perkins to remain stationary in that position.
"I think you're going to see him (Perkins) as active as he's been, and maybe just in a different fashion," Kelly said. "If you just line him off the edge, everybody's going to game plan for him. I think we put them in a better position at the linebacker position and then we can move them around on third down. So, I think he's going to be as active as any time that we've had Harold. He just has other responsibilities now that he hadn't had before."
Perkins was third on last year's team with 72 tackles but led LSU in tackles for loss with 13 for minus-75 yards and 14 quarterback hurries. In the Tigers' 13-10 road win over Arkansas on Nov. 12, the New Orleans native was selected the SEC Defensive Player of the Week with a school-record four QB pressures and two forced fumbles.
Perkins was selected to the Pro Football Focus true freshman All-America team and was a first-team member of the All-SEC defense.
The transition of Perkins to linebacker, coupled with the return of Penn and arrival of Speights, have altered Kelly's feeling on the position.
"Omar is just a great complement and Greg Penn's had a really good spring as well," Kelly said. "So, the three of those guys have really done a nice job. (West) weeks has done a really good job. So, you know, we've really gone from a position where we were concerned to a position where we feel really strong and Harold, now really getting down the nuances of that linebacker position, actually gives us a lot more in the playbook that we can do with him from that position than just lining them up off the edge."
Here's what else Kelly had to say:
How have Jayden Daniels, Garrett Nussmeier looked this spring?
"Both of them have a list of things that they want to work on. Jayden's been pushing the ball down the field, trying to really work on quick identification in one-on-one matchups down the field. Garrett is just discipline and progression reads, so each one of them has some things that (quarterback coach) Joe Sloan has laid out for him and (offensive coordinator) Mike Denbrock in terms of what they want them to work on specifically, and that's kind of how we've scripted them as well. And they've done a really good job of working on those things."
Progress of freshman quarterback Rickie Collins?
"I know it's a cliché, but he's drinking through a firehose. It's a lot for him right now, but he's smart, and he's picking up the pieces of the offense as quickly as he can. But he has two guys that are just elite and exceptional in so many ways in Jayden and Nussmeier. You see those two guys and then Rickie, and there's a difference. Not in athletic ability, not in skill set, he's got all the skills. It's just going to take him a little time. It's great that he was here for the spring because it's going to help him immensely going into the fall because let's face it, I mean three quarterbacks is barely enough from that perspective. He's going to have to have a really good offseason here and hopefully, that's really going to put them in a better position where there's parts of the playbook that he can master going into the fall."
Injury updates on Greg Brooks Jr. and Major Burns?
"Greg had a sprained ankle that was giving him some aggravation, so we just kind of shut him down and (we'll) try to get him back to 100%. Major has more of an injury. He had that ankle injury and it's kind of reinjured that, so we're going to shut him down for the spring. We'll have those guys back for all of their fall training, but that's just why you're seeing young guys out there playing safety. So, we wanted to get healthy at those positions more so. We won't practice Major again, but we'll probably get Greg back out there this weekend."
What was it like working with defensive coordinator Matt House last season?
"Well, he's easy to communicate with. I think that in any kind of coaching situation that I've had, I wanted somebody that I was familiar with in terms of his demeanor, personality, which I was and the system of defense that I was familiar with. So, we had that going in and then he's just been really easy to have dialogue within intense situations. You know, you can have a conversation with somebody when it's just a normal day and then you go into a game situation and you know, there's a lot of energy and there's a lot of intensity and that conversation changes. He's the same person all the time. And that makes it easier for me as a head coach to have those kinds of conversations and makes it really effective for us to, if we do need to make any kind of changes or adjustments and half, we can get to the point make those and then he can communicate that to the players."
Progress of secondary at corner and how have young guys such as Javien Toviano looked?
"We have a little bit of experience in the sense that these guys if you take (Zy) Alexander and you take you take Denver (Harris), those guys have played some football. (Duce) Chestnut's played a lot at Syracuse. (Mekhi) Garner coming in and Jared Bernard Converse had a lot more experience. But I don't feel like we've put ourselves in a position where you're throwing freshmen out there either. So, I think we're younger, where we're going to have a little bit more continuity and consistency at the position. And I think we've put ourselves in a position where we can develop this talent over the next few years.
The safety position, as was just mentioned, because we're being careful with Burns and Brooks, (Javien) Toviano's getting the chance to play some nickel and (Ryan) Yates is playing a ton of safety, It's typical, right? I don't know that he would have gotten all this work. It's great that we're giving him this kind of work, like he was out there in two-minute (drill) today, he's got to make a lot of checks. We don't have a ton of offensive linemen, so we're keeping things simple up front, so a lot of the adjustments have to be made on the back end. So as a head coach, this is kind of a really cool spring in the sense that some of the young guys have to really make a lot of checks and it's been a good proving ground for them."
With such a depleted running back situation, how has Noah Cain looked?
"Noah's been a great leader. I think he leads by example and the way he practices; he practices hard. He does it the right way and I think that sets a great example for Trey (Holly). And the rest of the running back group, they're walk-ons that are really valuable to us, all of them and we really appreciate their efforts in terms of what they're doing for us because they're getting significant work. But when you talk about those two in particular, Noah has been a great mentor to Trey and showing them how to do things the right way every single day and every single practice."
Progress of offense through spring with so many players out?
"It's been really good to integrate the freshmen wide receivers (Kyle Parker, Jalen Brown). Getting a chance to see them as part of what we're doing has been really, really important. Both freshmen tight ends (Mac Markway, Jackson McGohan) have been an important piece to this offensive development for us as well. I think from an offensive line standpoint, getting (Bo) Bordelon into a position where it's consistent for him at center has been really good for us in that respect. The two quarterbacks are really good, and they just continue to build their skill set.
(Trey) Holly at the running back position, it's been a really good spring for him to learn protections because he's got really good vision and really good ability to see the hole. And I think (running backs) coach (Frank) Wilson has done a really good job of spending much more time on protections and things of that nature. So, when you look at the offense from afar, it's plugging in those new players into those positions where you can say, 'They can help us in the fall'. The other guys, we know about (Malik) Nabers, we know about (Kyren) Lacy, we know about the other kind of skill players and some of them are injured, too. So, it's been pretty good."
Update on freshman wide receiver Jaylen Brown who has been injured?
"Yeah, he's got a hamstring it was a grade-one plus, but he was out there today. I think we'll have clearance for him on Friday to get back into full activities."
Adjustment of players signed in fall from transfer portal?
"You think that after Year 1 that it's an easy climb to the next stage of your program. But we did bring in a significant amount of freshmen at mid-year and transfers, so it was important that we kind of made sure that we hit it with another coat of paint, if you will. Because we didn't want to move too quickly past some of the real important principles of building our program and our process. So, we've gone slowly, we've kind of gone over the same things that we did last year with this team. So, we're building that foundation stronger, but we had a lot of new faces that we wanted to make sure we got things right with them and I'm glad we did, because there were some things that were not exactly the way I wanted them in terms of the way we practiced the first few days. And they've picked up and understand that now."
Outlook on using the transfer portal spring?
"I still think that there's a couple of needs on defense. I think we're still maybe interested in on the offensive line. I think there's still an interest to add to offense. But I would say that we're guarded at this period of time as to somebody that's going to make a difference in an LSU football lineup. These are probably going to be guys that can add depth to what you're doing. I don't think you can go out there swinging for a starter that's going to come in and change the trajectory of your starting lineup. These are guys that can contribute and be part of your depth. And I think that's kind of what we're looking at."
Timetable for hiring a new defensive line coach? What type of interest has job drawn?
"We wanted to get through the spring. We feel like we're in a great situation with (interim defensive line coach) Gerald Chatman on staff. So, there was no rush, we've got to go find a defensive line coach. He'll be a candidate for the position as well. But we'll begin that process once we finish up the spring calendar for us and then we're on the road, so we can get on the road and get candidates and make it a whole lot easier. So, expect something within the next three weeks or so. And, yeah, it's LSU. I mean, we've got, you know, a great list of candidates that have had an interest in."