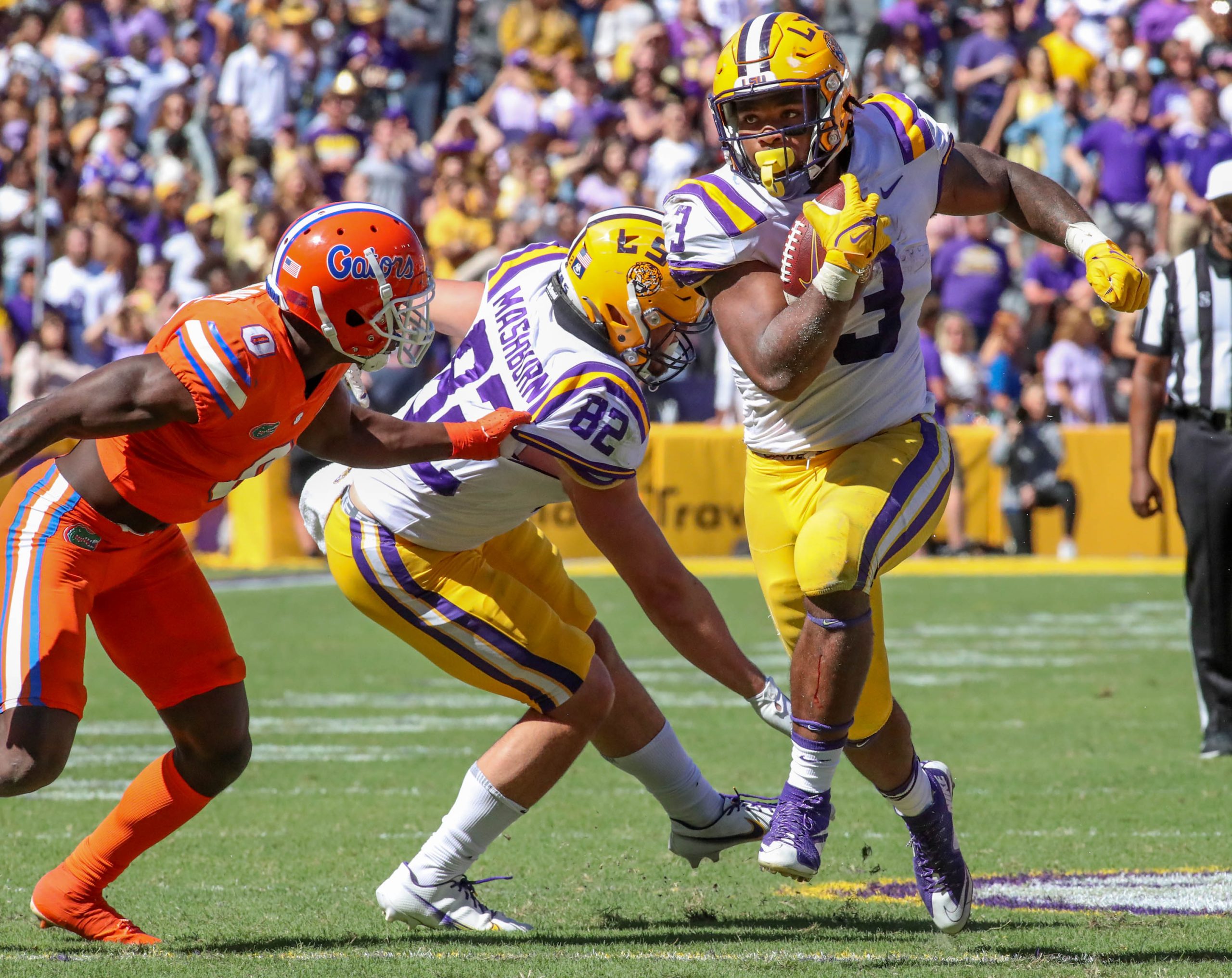 LSU running back Ty Davis-Price hinted more than once he wanted to do something nice for his offensive line.
It's the least that he could offer after Davis-Price, a week following producing a season-high rushing total, took it to a different level.
Davis-Price was the centerpiece of a resurgent LSU rushing attack with a career-high 36 attempts for a school-record 287 yards and three touchdowns, leading the Tigers to a 49-42 victory Saturday over No. 20 Florida at Tiger Stadium.
"I'm going to do something special for them," Davis-Price said of his offensive line. "I promise."
LSU's offensive line, which inserted sophomore Marlon Martinez at right guard in place of Chasen Hines who was injured in pregame, battered Florida's defense, which ranked fifth in the Southeastern Conference in rushing defense at 108.5 yards per game.
The Tigers easily surpassed that mark with 45 carries for a season's best 321 yards or 7.1 yards per carry.
"Give (offensive line) coach (Brad) Davis credit," LSU head football coach Ed Orgeron said. "He got his guys to play. I've seen tremendous improvement in our line. That's a tribute to our line and coach Davis."
LSU rode the crest of its ground game and success of Davis-Price all the way down to the end of a tense 42-all game with 9:14 remaining.
The Tigers put together their game-winning drive of 10 plays that covered 68 yards and consumed more than five minutes off the clock. Davis-Price carried eight times on the series for 48 yards and when he went to the bench for a breather, Josh Williams added a 24-yard burst, setting up Max Johnson's 1-yard TD pass to Jaray Jenkins on fourth-and-goal for the 49-42 lead with 3:30 left in the game.
"I've been saying that we've definitely had our struggles, but it felt like we've been right there, so to put it together today with a performance like that running the ball, it feels great," LSU center Liam Shanahan said. "We started to click a little bit, and hopefully that is something that we can keep building on moving forward."
Davis-Price only got stronger as the game progressed. He carried 22 times for 193 yards in second half with scoring runs of 40 and 25 yards in the third and fourth quarters, respectively.
Davis-Price became the first LSU player to ever rush for more than 200 yards against Florida. He's also the first running back to crack that barrier against the Gators since 2010.
He averaged 8 yards per carry, never having a negative gain, and ended up with 12 carries for 10+ yards – including six over 20+ yards with a career-long of 40 yards that gave the Tigers a 35-21 lead at the 10:08 mark of the third quarter.
"I did not know how many yards I had until after the game," Davis-Price said. "I was just amazed at how good the offensive line was. You could see those were big holes that I can get through. Shoutout to them for going out each and every day and working hard. It was a great win for the team."
Not only was it quite a demonstration for Davis-Price, who came into the game with 288 yards and 2 TDs on the season, but an even bigger statement from a much-maligned offensive line. It had carried the brunt of the criticism for an offense that ranked next-to-last in the SEC in rushing (83.17 yards per game) and No. 104 nationally with 2.91 yards per carry.
While Martinez was the lone new face in the lineup, LSU alternated Anthony Bradford and Cam Wire at left tackle.
Orgeron said with leading receiver Kayshon Boutte out for the season with a broken ankle, LSU implemented a '12 Jumbo' package that included freshman offensive tackle Garrett Dellinger as an additional tight end to go with starting tight end Jack Mashburn, who at 6-foot-3 and 224 pounds was a big plus in the Tigers' running success last week at Kentucky.
"We got more physical during the game, and it helped our run game out," Orgeron said. "That was something we had never done before this season. I told our offensive line that they were the most improved group of the whole team. I just kept showing them the things that Coach (Brad) Davis was teaching them."
A week ago, LSU rushed for a then season-high 147 yards against Kentucky, but it was a total that developed midway through the third quarter and with the host Wildcats leading 28-7.
Davis-Price enjoyed his most productive game of the season to that point. He hadn't rushed for more than 51 yards or scored a touchdown through LSU's first five games when he finished with 22 carries for 147 yards and his first two scores of the season.
Orgeron believed there was some carry-over from Davis-Price to the Florida game.
"I thought Davis-Price ran with confidence from the week before," he said. "We ran a counter gap play most of the time, we did it (against) a better defense, but our guys blocked it well and we made some big plays."
Davis-Price rushed nine times for 44 yards in the opening quarter and added six carries for 50 yards that included an 18-yard scoring run on the first play of the second quarter where he went untouched off the right side into the end zone for a 7-6 lead.
That workload spilled over into the second half when Davis-Price rushed eight times for 81 yards, sparked by 40-yard dash to the end zone early in the third quarter. He saved his best for last with 14 attempts for 112 yards and his 25-yard TD romp that broke a 35-all tie on the second play of the fourth quarter.
"(LSU offensive coordinator) Coach (Jake) Peetz and the staff, they challenged us the last few weeks to go in and create a running game," Davis-Price said. "The o-line has been coming with it every day at practice, busting their tails and doing extra work. I can't be prouder of them. I can't wait to do something for them."