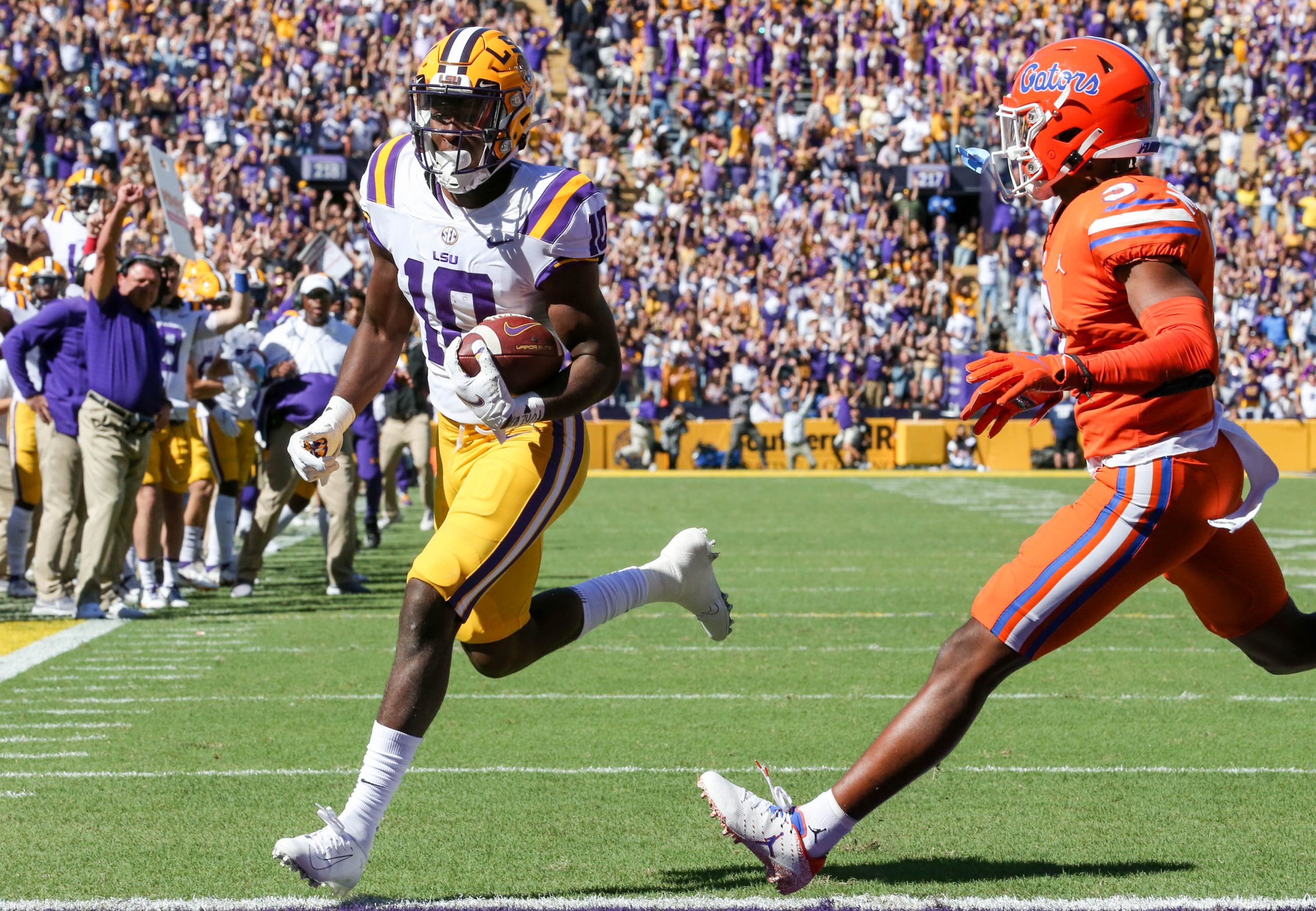 Virtually nobody saw this coming.
Not the Las Vegas oddsmakers who made No. 20 Florida a 12-point favorite over LSU on Saturday in Tiger Stadium.
Not Florida's defense, which watched film of Kentucky running for 330 yards in last Saturday's 42-21 win over LSU after the Wildcats ran for just 137 yards in a 20-13 victory over the Gators two weeks before.
Not Florida's quarterbacks or receivers once they discovered both LSU's starting cornerbacks were hurt and not playing.
With a head coach whose job security is on hour-by-hour life support and without eight players done for the year because of season-ending injuries, the Tigers outlasted the Gators 49-42 in a typical SEC shootout that now seems to be the norm.
And LSU did it without Florida throwing a shoe, without Tigers' placekicker Cade York having to launch a game-winning school-record field goal and without an eventual Heisman Trophy quarterback passing for almost 300 yards.
Reliable ghosts of LSU football past –a power running back who rumbled for a school-record single-game total and a defense that had more interceptions in one game than it had in the previous six – gave the Tigers (4-3 overall, 2-2 SEC West) hope for a strong second half of their 12-game season.
"We took one step," LSU head coach Ed Orgeron said, "but we've still got a ways to go."
Yet it was a very solid one foot in front of the other.
It wasn't about LSU starting quarterback Max Johnson having to throw for 300 more yards. In fact, his completions (14), attempts (24) and yardage (133) vs. the Gators were all season lows.
And it wasn't about the Tigers' playing a gimmick defense conceding 371 yards passing and hoping they could hang on for the win like they did at Mississippi State on Sept. 25.
Nope, Saturday was about LSU drawing a line in the sand. And every time Florida erased it, the Tigers gritted their teeth and re-drew it.
Or rather running back Ty Davis-Price and the much-criticized LSU offensive line did it.
Davis-Price, who entered Saturday with 288 rushing yards and two TDs on the season, ran for 287 yards (without losing a single yard) and three TDs on 36 carries and broke Derrius Guice's single-game season-record. LSU finished with 454 yards total offense, including 321 rushing yards on 45 attempts.
"After Wednesday's practice, Coach (Jake) Peetz (LSU's offensive coordinator) told me `I'm going to lean on you this game'," Davis-Price said. "I told him it was no problem. I told him to feed me."
Davis-Price, who channeled his inner-Leonard Fournette by dragging some defenders and steamrolling others, gave credit to his offensive line as well as an unlikely source.
"Jack Marucci (LSU's director of sports performance who uses sports science to help athletes improve) helped a lot," Davis-Price said, "creating different schemes for different runs."
Orgeron said wide receiver Kayshon Boutte's season-ending broken ankle he suffered in the Kentucky loss gave him an idea to double-down on the Tigers' run game.
"We moved (tackle Garrett) Dellinger to tight end and we had a jumbo package (with three tackles)," Orgeron said. "We called it `12 Jumbo.' We haven't done it this season. We got more physical in the game and it helped our run game out."
Florida linebacker Mouhamoud Diabate gave props to Davis-Price and LSU's scheme.
"They've got a talented running running back, he was making good plays," Diabate said. "We saw some things from them we haven't seen before."
Like LSU's game-winning TD with 3:30 left to play on fourth-and-goal at the Florida 1.
With the game tied 42-42, LSU began its drive from its 32-yard line. The Tigers ran the ball nine straight plays, eight by Davis-Price with final carry to shadow of the Gators' goal line when Peetz and Orgeron conferred from press box coaching booth to sideline via a headset.
"We were going to run it in," Orgeron. "Jake called a pass. He said, `Coach, you want me to run?' I said, `It's your call, you call want you want.' Great call."
Johnson faked a handoff to Davis-Price, spun and rolled right and threw his third TD of the game to Jaray Jenkins.
At that point, Florida had scored touchdowns on four straight second half possessions.
Backup quarterback Anthony Richardson, who accounted for all his 204 yards total offense (161 passing, 37 rushing) and four TDs (3 passing, 1 rushing) in the second half, seemed unstoppable.
But finally, LSU defensive tackle Jaquelin Roy got in Richardson's face on a second-and-10 at the Florida 37. Richardson was backpedaling when he lofted a throw downfield. Tigers' linebacker Damone Clark settled under the dying pass at the LSU 30 for the game-clinching interception.
Not only did LSU make plays it hadn't made all season, it also had overcome its own imperfections.
LSU's offense had 131 offensive yards and a TD erased in the first half by three penalties. A taunting penalty by Tigers' cornerback Raydarius Jones kept alive a 75-yard Florida TD drive that came immediately after LSU cornerback Dwight McGlothern's 37-yard TD reception return in the first minute of the second half had given LSU a two-TD lead.
And of course, there was LSU's secondary getting burned on the final play of the first half by starting Florida QB Emory Jones' 42-yard Hail Mary teardrop to wide receiver Justin Shorter that cut the Tigers' halftime lead to 21-13.
But despite all that, LSU stepped through the fire instead of retreating like it did in the 21-point loss at Kentucky.
"I know I'm not going to blink until the day I die, that ain't happening," Orgeron said. "And our team didn't blink."