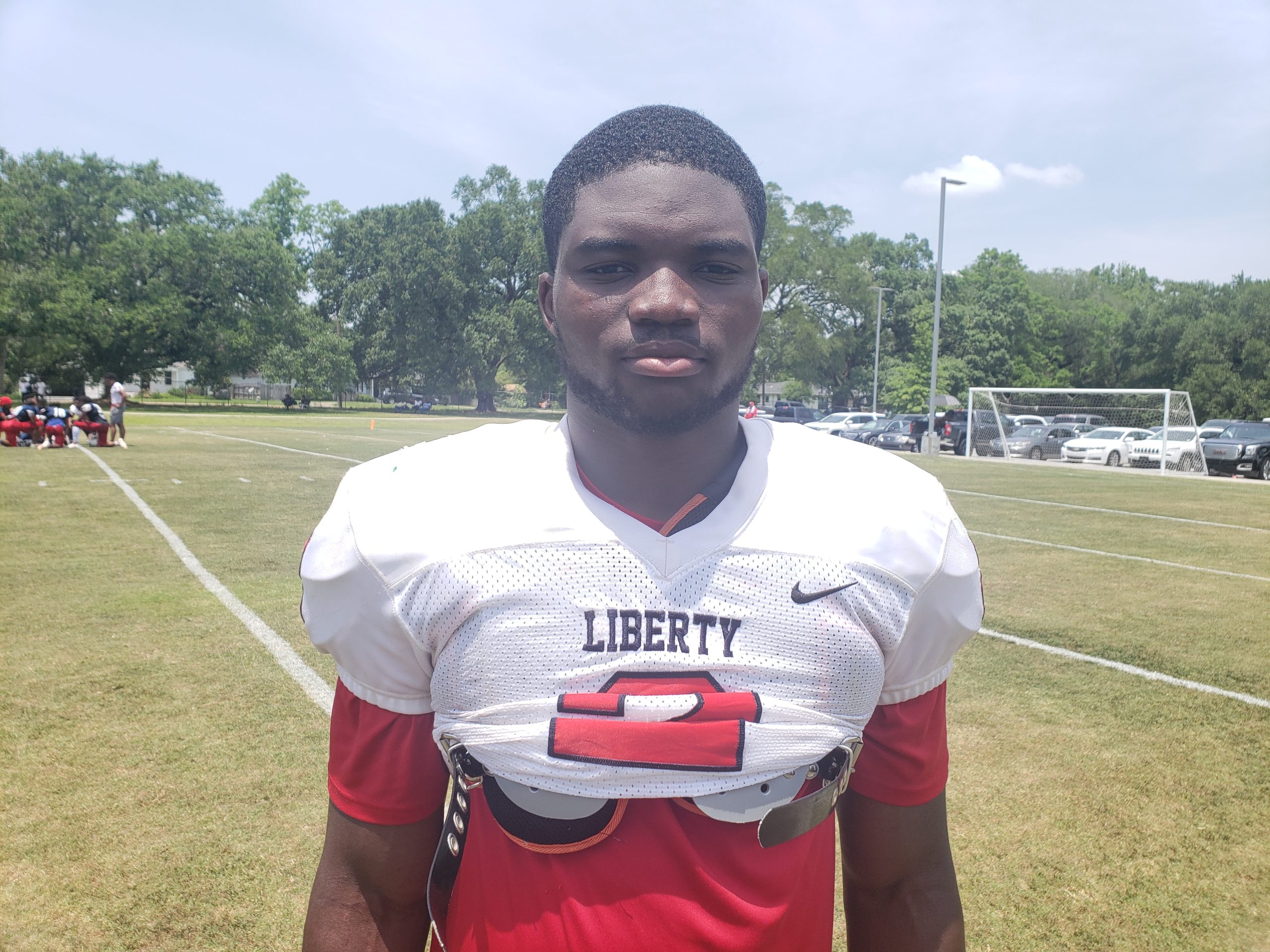 A day after Liberty Magnet was forced to postpone its spring football scrimmage because of inclement weather four-star running back Kaleb Jackson got most of the day off during Saturday's actual game.
He built up just enough of a sweat on a hot afternoon, getting a couple of carries that showed off his burst of speed and a powerful stiff-arm and making a couple of catches out of the backfield before retiring to the sideline once the live team period commenced.
"He's one of our veteran guys that's seasoned and established, and he understood that," Liberty first year head coach Korey Lindsey said. "He did want to get back rolling again. We wanted to get him loose and touch the ball again. I had to make sure and satisfy him."
Jackson is the face of the city's burgeoning football program, which in its first varsity season had a 9-2 record. The Patriots, under head coach Drey Trosclair, captured the District 7-4A championship and reached the Division II state quarterfinals before losing 63-35 to St. Thomas More.
"It taught us that the job's never finished until you make the big one," Jackson said of loss to STM in which he rushed for 101 yards and combined for two touchdowns. "We got complacent as a team. We got satisfied with where we were in our first year with a district championship. We got comfortable and St. Thomas More came in ready to play and beat us. Of course, we could have played better but we fought until the end. That season taught us to keep fighting. That will be the motivation this year, to keep fighting and keep going until you win the big one."
The 5-foot-10, 200-pound Jackson, a four-star prospect, was named to the Class 4A All-State first team, rushing 138 times for 2,031 yards with 29 touchdowns. He was also a sure-handed receiver in Liberty's spread offense with 21 catches for 394 yards and four scores.
When the spring recruiting calendar turned to April, college coaches that included LSU running backs coach Frank Wilson made Liberty a frequent stop to get a closer look at the thickly built Jackson, who is ranked as high as the nation's No. 3 running back, No. 61 overall prospect and No. 7 player in Louisiana by Rivals.com.
"It was more than I expected," said Jackson, who spent a week with the football team after the track season ended with a fourth place finish in the Class 4A state 100 meters (10.91). "To have all of these coaches come see me, I've never experienced anything like this. You're going to go through this process once. I love it. It's fun. I can enjoy it."
LSU's part of a list of 20 schools that have extended scholarship offers – a group that grew this spring with overtures from Southeastern Conference schools Alabama, Florida, Auburn and Mississippi State. He previously was offered by LSU's former staff headed by head coach Ed Orgeron and running backs coach Kevin Faulk, but Jackson said the Tigers' new staff reoffered and made him feel like a priority under first-year head coach Brian Kelly and Wilson.
"Coach Wilson, that's my guy," Jackson said with a smile. "Every time he comes down, I talk to him. I looked up his history and the running backs he put into the league and that's something you can't ignore. He's a good coach."
But the competition for Jackson is stiff and unrelenting. The Baton Rouge native said he's not opposed to leaving home if the right opportunity presented itself and Texas A&M has been a school that's captured his fancy. The Aggies will get his first official visit June 17 with his four subsequent official visits still to be determined.
Although nothing's set, he also anticipates a series of unofficial trips to places like Florida, Florida State (the first school to offer) and possibly Oregon and Michigan. He believes he'll sign Dec. 15, the first day of the NCAA's early signing period.
"He's still wide open," Lindsey said. "That's what I've been telling all the coaches coming through. He hasn't shown me any way he was leaning and in talking to his parents, he hasn't shown them any way he was leaning. I think it's going to come down to who builds the best relationship because he's such a humble kid. He's not going to be moved by NIL or the coach. It has to be a cohesive thing. That's what his parents want for him."
Lindsey was promoted to Liberty's head coach this spring after coaching the team's safeties last season. He's a local guy who starred at Scotlandville High before going on to become a three-time All-American at Southern Illinois, where he picked off 14 passes. He was a seventh-round NFL Draft choice of the Cincinnati Bengals in 2011 and wound signing six free agent contracts before getting into coaching at Pittsburg State in Kansas.
"His talent has brought the eyes, and us winning last year has brought a notoriety of Liberty to the community," Lindsey said of Jackson. "It's been a bit overwhelming. They've been coming and it's a new experience for him. I'm trying to help him navigate it and just to get him to understand that he's in control of this. He has to be a bit assertive, although he's a humble kid. That's the area he's trying to figure out."
With Liberty, the former Lee High School, reopening four years ago the school began a grass-roots junior varsity program that played its first season in 2021 as a full-fledged varsity team. With Jackson leading the way, the Patriots won their first seven games, went 5-1 to win their district and captured their first state playoff win 40-28 over Archbishop Hannan.
On a team with an array of offensive weapons, Jackson emerged as a running threat who could either run over defenders or get by them. His track speed was evident. He rushed for 100 yards or more in 10 of 11 games with a career-best 260 yards and five TDs coming in his team's opening 49-7 win over White Castle, and added 239 yards and four scores against Hannan, setting the scene for an active spring in which college recruiters and scholarship offers have been prevalent.
"I want to hear every coach. I want to hear their story," Jackson said. "I want to hear how good of a player that I can be to their program. I want to give every coach an opportunity that wants to give me a chance. A scholarship's not a little deal. They're paying for you to go to school to play football and learn. I want to give a coach that's going to give me an opportunity my ear and hear him out.
"It's the people and the relationships I have with the coaches. I'm looking for a good environment, good education and good football team that wants to win."