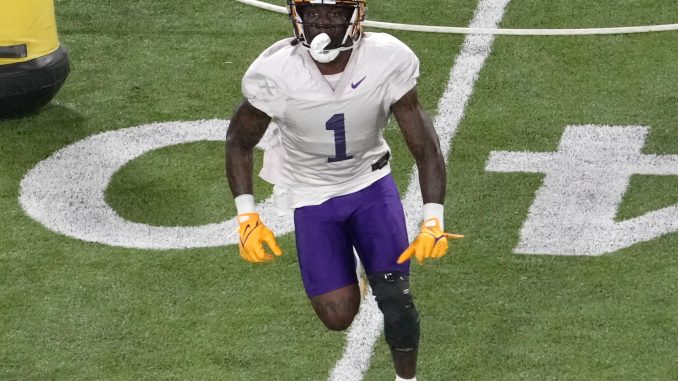 Wide receivers Malik Nabers and Aaron Anderson are expected to be premiere parts of the LSU offense this season, LSU coach Brian Kelly said on Thursday.
That Kelly cited Nabers is not surprising, but to hear Kelly say Anderson has surpassed his expectations is nothing short of a boon for the redshirt freshman transfer who played at Alabama last season.
Nabers was LSU's leading receiver last year and was the only player with 1,000 receiving yards with the next closest being close to half. Anderson recently transferred from Alabama after growing up in New Orleans.
"You're going to see more Malik Nabors featured in manner that you didn't see last year," Kelly said in a press conference after Thursday's practice. "He's going to be a featured player for us."
Anderson primarily has been running out of the slot receiver spot, but could see more time on other parts of the field.
"As we continue to build the offense, I think you'll see him involved in touching the ball and other areas as well," Kelly said.
Nabers and Anderson will be catching passes from returning quarterback Jayden Daniels and will be looking to take the team past their 10-4 record from last year.