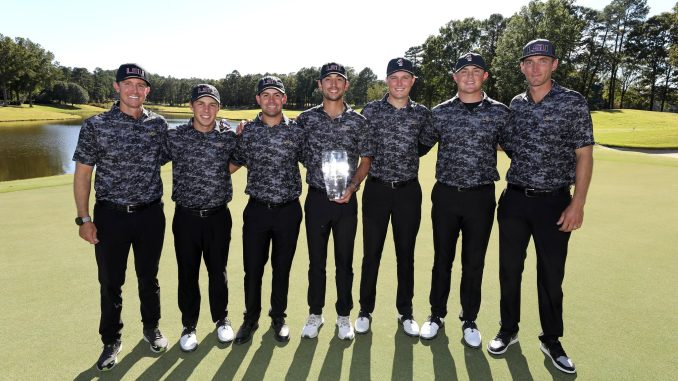 The No. 24 LSU men's golf team closed out its fall schedule in style Tuesday, winning the Everett Buick GMC Classic in Little Rock, Arkansas.
The Tigers, who played under interim coach Andrew Nelson after head coach Chuck Winstead stepped down, fired a final round score of 15-under 273 and wound up with 22-under 842 at the Chenal Country Club.
"This team was able to build a lot of confidence and momentum after playing our best team golf of the Fall last week at the Stephens Cup." Nelson said.
LSU's first-round score of 273 on Monday was the lowest of any team in the 54-hole stroke play tournament.
"We had a quick turnaround to go on the road to Little Rock." Nelson said. "The guys handled the stress and a lot of golf over the last 10 days really well."
LSU dropped from first place going into the final round to fourth before rallying to win the event.
"There's a lot of emotions right now and the more we could get lost in playing the game and competing hard, we believed that would be good enough." Nelson said.
LSU led all teams in stroke average on both par-threes' (2.98) and par-fives' (4.43).
Connor Gaunt and Jay Mendell both tied for third with 7-under 209 finishes.
Gaunt, a native of Arkansas, moved up 14 spots in the final round. He headed into his final six holes at even par on the day and went on to birdie four holes and record an eagle on his last to post a 6-under 66 in the round.
Mendell fired a low round of 4-under 68 for his first top-five finish of his career.
Alex Price also shot a 4-under 68 in the third round, improving to 1-under 215 and a tie for 25th overall.
Graduate transfer Lance Yates finished at even par (72 or 216) to a tie for 33rd and sophomore Luke Haskew was tied for 38th at 2-over 218.
"I'm proud of each of these guys and I'm so happy for them." Nelson said. "I'm thankful for LSU golf. There are a lot of people that make up this program and make it so special. It's fun to bring a win back home to LSU."