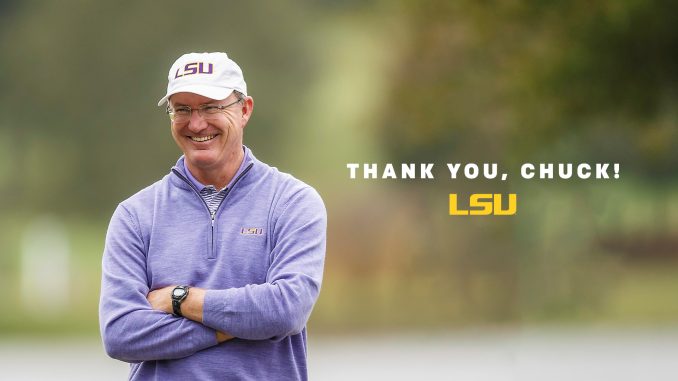 The winningest men's golf coach in LSU history has called it career after 19 seasons.
LSU announced late Friday afternoon that Chuck Winstead, who led the Tigers to the 2015 national championship, has stepped down as head coach and Director of Golf, the school's athletic director Scott Woodward announced.
Winstead, who will not accompany the team to its final tournament of the fall in Little Rock, Arkansas, will focus on his health and transition to a new role within the athletic department.
Andrew Nelson will serve as the team's interim coach.
"Serving as the Director of Golf and head coach of LSU's men's golf program has been the honor of a lifetime. Right now, the best decision for myself, my family, and this program is for me to step away and focus on my health and wellness," Winstead said. "I am forever grateful to the student-athletes and coaches who have given their all for this program, to my family for their unwavering support, and to LSU for the opportunity to fulfill a lifelong dream for the last 18 seasons."
Winstead is a LSU letterman and 1991 graduate of the school. He returned to the school as golf coach for the 2005-06 season and led the Tigers to the 40 team titles that included the 2015 national title and SEC crown.
Winstead was named the SEC and National Coach of the Year for 2015. In 2018, he was promoted to Director of Golf, overseeing both the men's and women's programs.
"Chuck is a Tiger, through and through," Woodward said. "We fully support his decision to prioritize his health at this time, and we will do all we can to support him during this transition. LSU's golf programs will continue to thrive thanks to his leadership. He has established a championship standard that we will build upon and carry forward.