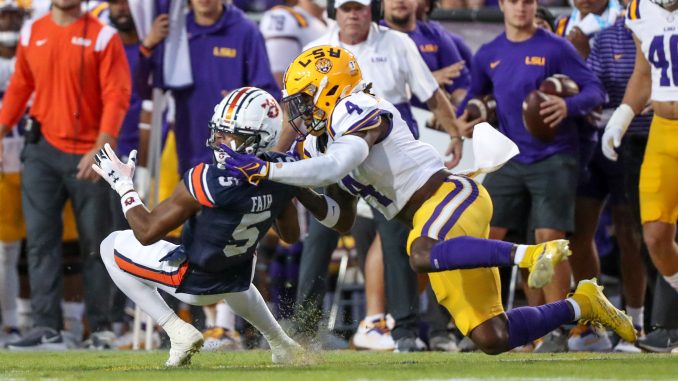 CLICK BELOW TO LISTEN To Coach Kelly's Full SEC Media Conference – October 18, 2023
One of the most scrutinized positions on LSU's defensive side of the ball this season has been the one played by sophomore Harold Perkins Jr.
A preseason All-America selection, Perkins began the season lined up at inside linebacker where the New Orleans native didn't record a tackle for loss in the first two games of the season.
The uber-talented Perkins, regarded among the nation's top pass rushers, was eventually moved to more of his natural position at outside linebacker to take better advantage of his quickness and instincts.
The results for Perkins and LSU's defense have been favorable that have included two straight wins going into Saturday's non-conference game at 6:30 p.m. against Army in Tiger Stadium.
The game will be televised by the SEC Network and carried locally by 98.1-FM.

"Because of proximity in terms of being in space, it forces him to get his hands on wide receivers," LSU coach Brian Kelly said Wednesday on the SEC Coaches' Teleconference. "When you're playing in the box you know dropping (into coverage) becomes really very limited, because you're working from the hash into the boundary to the middle of the field.
"Whereas when you're working two-thirds of the field like he does, he's got to get out to the hash, he's got to carry vertical routes, he's got to get out to the flat. He's got to get to the hook (route)," Kelly continued. "So, it really forces you to be competent in a lot of different coverage variations. He's got to do a lot of different things. So that's really helped him because he's patrolling so much more of the field than he was when he was playing inside the tackle box."
Perkins turned in a pivotal interception in the second quarter of LSU's 49-39 comeback win over Missouri and delivered an impactful performance in last week's 48-18 victory over Auburn.
He recorded five tackles that included a sack for minus-seven yards, two tackles for losses for minus-nine yards, a pass breakup and quarterback hurry.
Perkins was back to his usual disruptive play on the field.
With Auburn attempting to get back into the game, trailing LSU 20-7 at halftime, quarterback Robby Ashford drove his team to LSU's 18-yard line when Perkins put up a roadblock.
Perkins' hurry of Ashford resulted in an incomplete pass on second down and he followed that with another blitz that turned into a 7-yard sack of Ashford, forcing Auburn to settle for a 38-yard field goal and 20-10 deficit at the 11:35 mark of the third quarter.
LSU went on to score touchdowns on its next four drives and outscored Auburn, 28-11, in the second half.
Perkins leads LSU with 7 ½ tackles for minus-30 yards and three sacks for another 19 yards on losses. He's sixth on the team with 33 tackles to go along with four QB hurries, five passes broken up and two forced fumbles.
Here's what else Kelly had to say:
Opening statement:
"The team is certainly starting to play more complimentary football. Offensively, (they're) doing some unprecedented things equal to, and in some instances, as good if not better than the 2019 offense and we all know what that led to was the national championship. Led by Jayden Daniels, leading the country and total offense, passing efficiency, quarterback rushing yards … really playing at elite levels for the offense. Defensively, continually making progress where on the road against Missouri, played well in the last three quarters to secure a (49-39) victory and then this past weekend against a very rugged and physical Auburn football team. We were able to keep them under 20 points and play much better defense. So, we're looking to build on that against Army. We host Army and (we're) really excited about this opportunity to bring them into Tiger Stadium for the first time. Led by coach (coach) Monken, this is a program that has played really well this year, even though their record doesn't indicate it. They had a chance to beat Boston College and (they) beat a really good Texas San Antonio. You know what you're going to get hard-nosed, physical (play) for four quarters of football and our team will have to be up to the task. There's respect and honor that we have in playing this game."
With linebacker Omar Speights back to full health, what do see against Auburn?
"He's a really solid run-fit defender, he is experienced. I think the thing that Whit (Weeks) brings is athleticism and he can flat outrun, but there's no substitute for experience. And seeing plays the way Omar sees them and fitting them the way they need to be fit. And so that's the difference between the two linebackers right now and so we lean towards having a little bit more experience on the field right now as we continue to grow and learn that position."
Benefits of facing a service academy?
"I just think more than anything else, the respect and the understanding of what collegiate athletics is truly all about in its purest form. These are elite student-athletes that are going to graduate, and then go on. The first thought isn't the NFL, their first thought is protecting our country. Getting their degree, playing intercollegiate athletics is the one desire to obviously not play in the NFL. Protecting our country, it just lends itself to a great perspective, when we're in this of NIL, and transfer portal, and playing time it gives us a great perspective on how it can be done so well on the other end as well. So, I just think it's a great way for them to see this and then the other things (such as) the pageantry of it. I think, memories that that our players will have for the rest of their lives."
Has the team had the right focus in practice this week?
"You know, playing against the option offense when you're when you're on defense is a bit organized chaos. I'll be honest with you, I mean, you're doing things that you don't normally see there's a lot of option principles. But our guys are locked in, they're focused. They understand that what's most important right now is preparing for an Army team that's going to come after you for four quarters. So, Day 1 (practice) is in the books, we go this afternoon, and we hope to work towards being even better thank you."
How do you keep signees from transfer portal engaged in game plan each week?
"I think that when you're looking at it in its totality, you're looking at the four games played, and the ability to play a fifth in a bowl game, with the ability to get another year back versus, 'Are they going to impact and be ready to play for you?' So, even if you take them in the transfer portal, you know how many years of eligibility they have remaining. Can they impact your football team right away? If they can't, can you really be strategic in using their four and five games throughout the season in key games and still get another year which allows your program to continue to develop and grow the young man to being the best version of themselves. So, there is some strategy in terms of you look at these things from the big picture. Some just have one year and there is no decision to make. You brought him in as a one year, fill the gap and play. But I think we look at the transfer portal much more in a in a longer term, kind of it's not signing one and dones. We're trying to if we use the portal, we still want some development with the players."
What about keeping freshmen signees engaged and not losing them to the transfer portal?
"I think you want to be strategic in how you use your players. Maybe you play him early in a key game, maybe you don't play him for four or five weeks, and then but you keep them ready and engaged. So, they're getting coached every day, they're not on the scout team, and then maybe in a couple of other crucial games in the middle of the season, you finish off the season with them. And so, you get your four games with them. You just spell those out while you're still working with them and developing them throughout the entire season. There's definitely some thought process going into how you keep those guys engaged throughout the entire season."