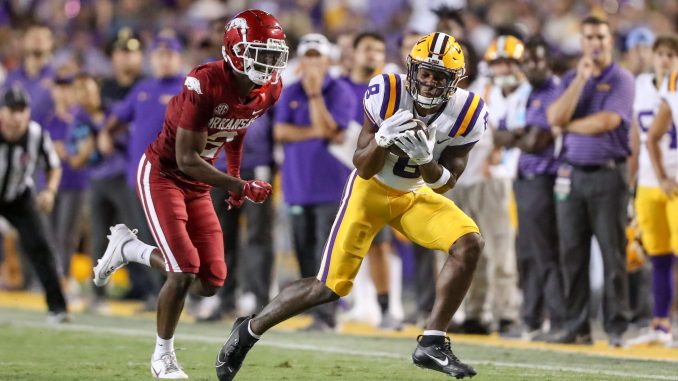 LSU second-year football coach Brian Kelly wanted to give everyone a brief history lesson.
It was just a year ago when the Tigers made their debut in the national rankings with No. 8 Tennessee coming into town for a highly anticipated Southeastern Conference matchup.
The Volunteers recovered the game's opening kickoff, jumped out to a 23-7 halftime lead and steamrolled the Tigers, 40-13, to create the team's first crossroads.
LSU responded with five consecutive victories on its way to the Southeastern Conference's West Division championship.
"I think they were ready to burn the city down," Kelly recalled of the city's reaction to such a lopsided defeat. "We came back the next week and beat Florida (45-35) on the road. We don't all need to jump off the buildings yet. We're going to be OK. We're going to keep working hard. These guys have a lot of pride in LSU football, our coaches are going to work hard and we're going to continue to get better."
Fast-forward a year later and No. 23 LSU (3-2, 2-1 in SEC) finds itself in almost the exact same spot, limping in from a defeat in league play into a challenge at No. 21 Missouri (5-0, 1-0) at 11 a.m. Saturday.
The game will be televised by ESPN and carried locally by 98.1-FM.
"This is definitely going to be a statement game for us," LSU junior defensive tackle Mekhi Wingo said. "We really want to get after it coming off a loss like that, putting our identity on film and show who we are."
Wingo, a Missouri transfer, is part of a defense that was humiliated in last week's 55-49 setback to Ole Miss. The Tigers were torched for a school-record 706 total yards – allowing 389 yards passing and 317 yards on the ground in a rather forgettable performance.
Kelly was put on the defensive during his Monday's news conference, spending well over 20 minutes trying to shield his defense from the media's constant probing into last week's downfall.
LSU's defense finds itself ranked in the bottom four of the SEC in four separate categories and 65th or worse in four categories nationally. The team's rushing defense ranks 12th in the SEC (132.2), while both scoring defense (25.0) and total defense (360.2) are 11th and red zone defense (92.9%) is 13th and 110th nationally.
"What we have is a good football team that needs to play better, and we need to coach better," said Kelly, who said linebacker Omar Speights and wide receivers Chris Hilton Jr. and Aaron Anderson are doubtful for the game. "Regardless of all the other things that are out there we're in the position that we're at. We know the situation that we have. We have to get the guys that are on our roster playing at a higher level.
"We had 34 missed tackles for 284 yards," Kelly said of the Ole Miss game. "We have to tackle the football and we have to create a new line of scrimmage. If we do those two things, we're going to be better on defense, we're going to keep the points down and we're going to continue to win football games at LSU. That's the standard. We didn't live up to that standard and we need to."
Kelly brought in 82-year-old defensive line guru Pete Jenkins, a former LSU defensive line coach, to try and remedy some of his team's fundamental problems. He will serve as a consultant and work with defensive line coach John Jancek.
"It's always great when you get a great mind like him in the room just to talk ball," Wingo said of Jenkins, who arrived to start working with the team Tuesday. "Really talk technique. I think the guys responded well. I'm really excited to have him on staff with us."
Missouri's fourth-year coach Eli Drinkwitz holds LSU's defensive unit in high regard despite its recent problems in back-to-back weeks against Arkansas and Ole Miss, allowing 86 points and 1,132 total yards.
"Defensively they've got good players," said Drinkwitz, who is 22-19 at Missouri. "They have a really good defensive coordinator (Matt House) who spent time with the Kansas City Chiefs as linebackers coach and won a Super Bowl. Very capable on that side of that ball. I know they didn't perform the way they wanted to last week. They'll be ready to improve and ready, and I'm sure ready for the challenge."
LSU's vulnerable defense will be presented with quite a test.
Led by junior quarterback Brady Cook's 300 total yards per game, Missouri's first in the SEC in passing efficiency (183.08) and sixth in both passing offense (281.8) and total offense (433.8).
"They do a lot of quick passes, and he likes to get the ball out of there early," Wingo said of Cook. "When he sits back there, we can't let him just stay back there and get to his first read. He's very lethal and his top receiver is a very good receiver."
Cook, who missed the spring with shoulder surgery and won the starting job in preseason camp, has completed 74% (105 of 141) of his passes for 1,468 yards (No. 4 in the SEC), 11 TDs and broke the SEC record for passes (348) without an interception. His top target, sophomore Luther Burden, leads the league with 43 receptions for 644 yards and 5 TDs.
Senior Cody Schrader, who began his career at Division II Truman State, is the team's top rusher and is No. 2 in the SEC with 81 carries for 463 yards and 3 TDs.
"It's a great opportunity because you're going to get to play in front of a sold-out stadium," Drinkwitz said. "It's an opportunity for our program to showcase itself and our fans to showcase itself. We have a ton of recruits coming. There's a lot of good buzz but the reality for this team it's just really the next SEC game in a string of 12 opportunities. We need to maximize our opportunity."
LSU's offense, though, is the polar opposite of its defense.
Led by senior quarterback Jayden Daniels, the visiting Tigers have the nation's No. 4 unit in total offense (551.4) and second in scoring (44.0) – both of which lead the SEC.
Daniels tops the SEC and is second nationally in total offense (400.4), having completed 73.1% (117 of 160) of his passes for 1,170 yards, 2 interceptions and 16 TDs. His top two receivers – Malik Nabers and Brian Thomas Jr. – are two of the best in the SEC with Nabers catching 40 passes for 625 and 5 TDs and Thomas with 33 receptions for 537 yards and a nation's best 8 TDs.
"It's refocusing," Daniels said. "Something's going to happen in the West. It's the SEC, you never know week in and week out. A team you don't think is going to be the team might be the team. As long as we have that one-game-at-a-time, one-play-at-a-time I think we'll be solid."