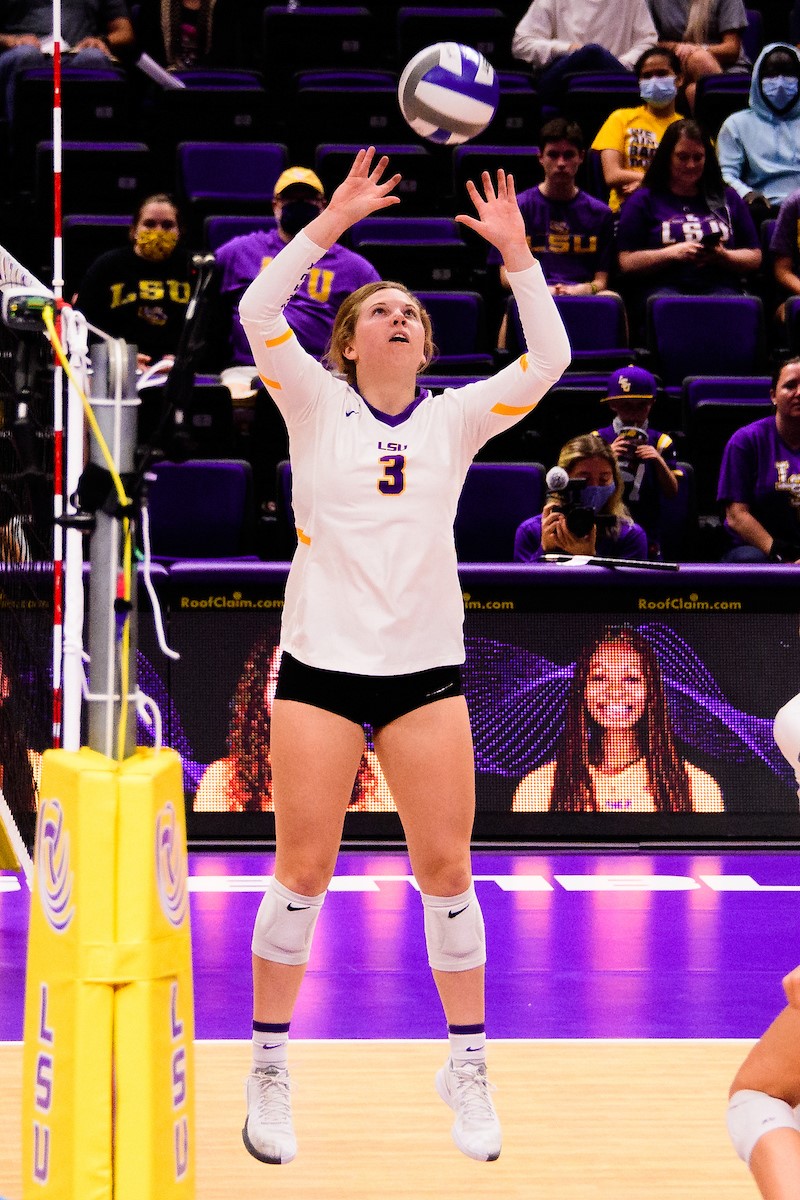 Scott Larkin, a former two-time All American volleyball player at Brigham Young who went on to play professionally in Greece, never pigeonholed his daughter Ella into any specific position on a volleyball court. During her formative years, he encouraged her to train and play as many different positions as possible.
Originally when she arrived in the summer to begin preparations for her first season at LSU, Ella Larkin was pegged as a defensive specialist/libero. It was a position that didn't have an immediate need with the return of graduate student and Tigers' career digs leader Raigen Cianciulli.
Larkin made an immediate impact on her LSU coaches. They saw her natural passing ability and calm demeanor on the floor and agreed she was a natural as Cianciulli's successor.
"We also knew she was an offensive threat from the back row, and we implemented some options for her to take some swings out of the back row as a defensive player and that kind of broadened our offense a little bit," LSU volleyball coach Fran Flory said. "She just knows how to play the game."
Three games into the season LSU found itself in the unenviable position of having to look for another setter – or quarterback for the offense – when returning starter Karli Rose began experiencing discomfort in her wrist that eventually required season-ending surgery.
With the Tigers already beset by several key injuries to starters Taylor Bannister, Paige Flickinger and Hannah Brister, the last thing they needed was another loss at such a critical position. It was Larkin who was tasked with transitioning to a different position she previously trained with her father along gaining some experience in high school and on the club level.
"In the preseason we went really hard and thought I was ready to step into this passing and defensive role," Larkin said. "Then we had some injuries. The coaches felt comfortable in me, and I felt comfortable doing it. We decided and went with it, and it's been crazy how it's turned out. It's been fun."
Having dropped its opening match Sept. 3 in the prestigious Penn State Classic, LSU faced Oregon State several hours later with Rose unable to play and Larkin taking over at setter and directing the Tigers to a 3-1 victory with 30 kills and 12 digs.
Larkin emerged as a steady force for a team that battled through those early-season injuries. Since the return of Bannister, Flickinger and Brister, she has settled into her new role for a resurgent team that still entertains thoughts of reaching the NCAA tournament.
LSU (10-12 overall, 6-7) travels to Ole Miss (17-6, 6-6) for a key two-match series Thursday and Friday at 6 p.m. The Tigers host Texas A&M (Nov. 21) and finish at Georgia (Nov. 26-27).
"It doesn't feel like my teammates and coaches see me as a freshman, they see me as a part of the team," Larkin said. "That gives me the confidence. I'm out there trying to do my best to help the team in any way that I can. Seeing that and them almost relying on me to succeed in that part of the game it's been really nice."
LSU was able to attract Larkin out of the Wichita, Kan. suburb of Maize, first with the opportunity of playing beach volleyball and second with the indoor team. She was a two-sport (volleyball and basketball) standout at Bishop Carroll High and was also a part of the Shockwave Volleyball Academy where her dad was director of operations.
Between the collaborative efforts of beach coach Russell Brock and Flory, Larkin committed during her junior year without making any official visits other than to LSU.
"I was set on LSU once I had the opportunity to do both," she said. "That was my dream to do both and I kind of cut it off from there. I'm very thankful I have the opportunity to do both."
Larkin said her father coached her in every sport she played starting at age 9, a pattern that continued with her two younger siblings who are also aspiring volleyball players.
"He was the whole part of me falling in love with the game," Larkin said of volleyball. "He wanted to train me as everything. I owe it to him. That gave me the confidence that I could do it."
With Flory unable to send out the starting lineup she envisioned in the preseason, LSU slowly dug itself out of an early hole caused by the litany of injuries and position changes.
Larkin continued to evolve, though, and eventually began developing the requisite on-court chemistry needed for teams to succeed which was the case when LSU snapped a 19-game losing streak to No. 20 Florida on Oct. 10 with a 3-1 victory.
It was also a breakthrough moment for Larkin. She was named the SEC's Freshman of the Week with her seventh of her 10 double-doubles this season that included 41 assists, 19 digs and six kills with a .268 attacking percentage.
"From there she's just continued to grow and learn and adapt into the role," Flory said. "I would say if Karli were healthy and able to play, I still probably believe Ella's our starting setter at this point. It's a tribute to the work she's put in and the understanding she's had."
Since the victory over Florida, LSU has won four of its last seven matches and trails Ole Miss by a half game for sixth place in the SEC standings. The Tigers also have an RPI of 68th, putting them on the fringe of the 64-team NCAA tournament.
Larkin, who had a season-high 52 kills against Mississippi State, ranks seventh in the SEC in assists per set (8.74) – by far LSU's leader with 674 or 31 per match – and her 230 digs are only second to Cianciulli's 418.
"During my club career I've been in big moments in big tournaments," Larkin said. "That's helped me for now. Being able to keep calm in a really big match and do what I need to do to help the team."