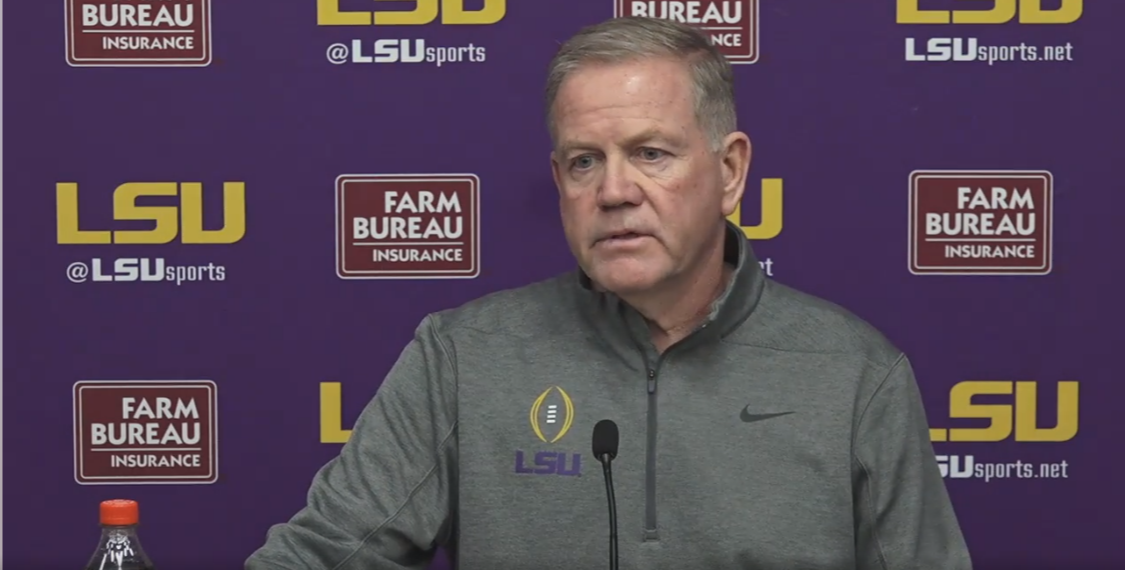 Full Transcript follows with LSU football coach Brian Kelly and local media Thursday:
LSU coach Brian Kelly Introduction:
"Well, today was first day of spring practice for us. And as I reminded our players it's, it's really a progression of, you know, what we do every day. And that progression of what we do every day is building on the things that go to being successful. And so there's no scoreboard out in spring practice. You know, there's no winners, there's no losers. What it's really about is the total development of the individual and them understanding that you need more than just talent alone to win a national championship. So making sure that they clearly understand what this next five, six weeks is about. It's not a," Hey, I won that drill, or, Hey, I won this one-on-one matchup." It's really about your total preparation and it's about how you continue to develop the traits necessary to be elite.
And you know, I thought they did a really good job today.
Now everybody's at a different level, but collectively as a team, we couldn't talk in these terms last year. Last year we were talking about how to practice. We were talking about you know, not going on one knee during practice, taking your helmet off throwing your helmet. You know, we were talking much more about emotional control. You know, guys trying to figure out, you know, where, where they were and what their place was.
So you can imagine from my perspective and, and the coaches it's great when you can go out into a drill and just talk about competing and not about whether you won or lost the drill, but whether you used really good technique as a DB at the top of the route. And because you used really good technique and your attention to detail there is, you're gonna pick that off when we play x, y, z.
So that was essentially what today was about, and it is what tomorrow will be about. And, then we start to get into, okay where are the matchups? Where do we need to develop somebody as a key backup? Or where do we need to develop a little bit more depth? Maybe where do we need to move a guy?
But the next few days is really about that kind of mindset of what spring practice is about and what the objective is in spring practice.
So, you know, you could ask me about who looked good and you know, who did what, and I'll give you the best answers I can. But you can understand the mindset that, that we all have going into this is, you know, how do we get our guys really understanding total preparation and how to prepare physically, how to prepare technically, tactically, and mentally in the spring? And then how can they have a better attention to detail? How can they be better focused? How can they have the right attitude? How can they be smart? And, and, and certainly, you know, how can they have a great attitude every day? So I'll shut up and open it up to questions."
Format of spring game?
Coach, just on the spring game format, I hear more and more coaches say as vanilla as that game is, they don't want to put footage out for other teams to look at. How are you dealing with, they want this to be a TV event also, right? So how do you to deal it with the format this year?
"Yeah, I don't think you're going to throw exotics in there and, and do those kinds of things, but you still, if, if, look, if you can play the game, you want to do what I just said, right? You want to continue that competition, you still want to be able to put those kids in a position where they can work on all of those things. Last year was a little bit different, as you know, I try to treat it as a game where we did pre-game meal and we did the walk and we did all those things because they had never been involved nor had I. So I wanted to take that anxiety out of the first game for us. And so as we go through the spring, you know, we'll have to evaluate what the numbers look like. So you could have a short spring game, but you could have some seven on seven, you could have some individual drills, you could have some of the things where the fans could still be involved in it. But we'll have to see how that goes."
Running back position appeared to be thin?
"Yeah, they're working through the injuries that they suffered. You know, they're out there at practice. They've been great in terms of their rehab and you know, certainly Josh is the closest in terms of being able to come back and you know, do some more drill work in the spring. Armani will not be back until camp. And, you know, certainly Trey Holley's going to get a lot of work and he did today, matter of fact, he grabbed me in the hallway and, you know, and, and typically as a freshman you can imagine there were some, some errors and he was, he was looking for Coach Wilson and wanting to apologize. I was like, "just keep showing up, <laugh>, just show up every day. You're gonna be fine." And he's got a great motor. He is got a great attitude. He's got all the things that you want. It's just the first day and he's swimming.
Has Year 2 been quieter this offseason?
"Well, I, I think, you know, we always put the, you know, the, the blinders on regardless of what's going on and, and focus on what's important. And, and as I kind of alluded to in, in my opening remarks, what's important is really important for this football team in year two. As, as we go back into the development of how do we become more consistent, it's everything that I just talked about. So as important, all of all the things that we had to do last year, this is equally as important. It's just what's more important this year is a little bit different than last year. So it's just a different chapter that we're moving through and the development of the football program. But I think we just kind of, you know, have tunnel vision and know that this is what's really crucial and important to us now."
How do you like where the week-long spring break falls after two days of practice?
"So, it allows us to kick into longer hours with the team. Once you go into spring ball, you're, you're able to elongate the hours and have more contact time. So it allows us more contact time with the team. And then it allows you to, you know, elongate the schedule because you don't have to count these days that we're at break. We also have the Easter break where we don't have to count days. So it just allows us the, the, the ability to spend more time in terms of meeting and contact hours with our football team. So that's kind of the, the, I guess the, the tactic, if you will, in terms of trying to spread it out over a longer period of time."
With transfer of Walker Howard, how important is Garrett Nussmeier?
"Yeah, I mean, look, I mean, you're ready for everything. You know, you want to do a great job of retention and, and sometimes it's out of your hands, you know? And you know, Garrett is, is was out there today, even after he's had some corrective surgery, he was out there competing, throwing the football. And, he'll probably be another week or so before he's full going everything. But yeah, I, I think he's, he's excited and you know, I, I think (Rickie) Collins, you know, got a lot of work today. So we've got three quarterbacks that will get a lot of work in the spring. I think we're in a pretty good place."
Feelings on potential direction of SEC scheduling going to three permanent opponents?
"Yeah, we play all three of those teams, so for me, it, it just didn't seem to be any different. You know, I expected that it was probably going to be Ole Miss in Alabama and whether it was gonna be A&M or Texas or somebody else, you know, it, it just, it's not something that I really thought much about because I wanted to play SEC teams. That's why I came here. So I just think I come from it from a different perspective in that I respect all the opponents we play and I think it's important that, you know, we play certain teams, but if we could play all SEC schools and that was the smart thing. I know that's not the smart thing to do but I think nine is great because it's going to prepare you and your football team for what eventually will be in 2024 – an expanded playoff field. And I think that's a good thing.
When do you expect to have John Emery back?
"John is focused strictly right now on his academics, and so he's got some marks that he has to hit from an academic standpoint before we talk about football with him. That was the deal with John in talking to his family. His primary focus was academics and taking care of his degree, then we would have a conversation about football. And so right now, his focus is 100% on that."
How will freshman Rickie Collins benefit from enrolling early?
"Okay. Let's talk about Ricky. Certainly, as a quarterback, you benefit greatly just coming in, learning the system. There's so much as a quarterback, as you can imagine, from just looking to the sideline and picking up the signals. It's, it's like, you know, it's foreign to many. Some of the signaling takes a while and, and the preparation of that. So just getting that down in itself. Then I would say being coached and hearing a different voice is, is equally as important as you transition into a new system. Coach Sloan is a a great coach but it's a different voice. And then finally, trying to put it together in, in quite frankly a faster environment. Everything's quicker, everything's faster, quicker decisions. And so from a quarterback standpoint mid-year enrollment covers everything from the intellectual development to the physical development in the weight room.
Putting on the proper weight to the mental development and dealing with the ups and downs of transitioning into college life as somebody that should still be in high school. Right? And, and so that's really important.
We're really thin on the offensive line. And so the, the charge will be after today really focusing on shoring up that group. Now we've got guys coming, right? We've got guys that are out and I'm not here to say that we've got an issue with the second group. We just have some young guys that are playing right now that it's really a first time out there, but we've got to shore that group up. But when we shore that group up, we've got some talented players out there. That's a good question. I think that there's a fine line between the both and we'll have to actually meet on how we navigate the second group because we can't have guys not blocked, and, and <laugh>, you know, not having a quality play. So we, we've got to figure that out. That's a good question."
Outlook for a veteran like Marlon Martinez who is replacing Charles Turner at center this spring?
"Yeah, we want them to stay but, as you know, there's another transfer portal, so we can't worry about those things. We've got to develop the guys that are on our roster. We've got to give them the opportunities that we believe are right for our program. He's done a really good job. He's worked hard in the weight room, he's reshaping his body, he's doing the things necessary for him to compete. He's getting first team reps because Charles(Turner) is out with an injury. But we won't know until we finish spring ball what his status is. We hope he's here to stay. You know, as it relates to players that are going to make an impact. I mean, I think it's pretty clear that some of the defensive players that we brought in
Ovie Oghoufo, Omar Speights, I think you know, (Jordan) Jefferson you know, to name a few, are going to be guys that are going to be impactful.
I think the depth of the cornerback position, all of them, are really talented players. Watching one-on-one today. It looked pretty good. There's some things that we will continue to evaluate. It's day one, but I'm pretty confident that the transfers that we brought in will make an impact. And, in particular, on the defensive side of the ball.
Aaron Anderson is coming back from surgery, so we haven't seen him yet, but you know, we know about his story and how great of a high school player he was here in the state. If you can carry that onto the field here at LSU, we're penciling him in, you know, obviously somewhere. So yeah, look, you don't know until you get into camp and you really get into the nitty gritty of it. But we feel like we've supported our football program with the right people because they have fit in so well over the past few months in our, our program itself. And that really is the most important thing."
Will transfer portal signees help with load on defensive line, other positions?
"I think it was, it was in its totality. I think it was corner, I think it was safety. I think it was defensive line. If you look at the SEC games, there was a lot of compressed formations where they were cracking down on our best players and, you know, forcing some guys that were less than a hundred percent to make plays in the run game. And, and so, we had to address that with depth at the cornerback position, and depth at defensive tackle, in particular, and certainly the safety position.
So, yeah, it, it was certainly in the tail end of November, it was becoming pretty clear that that needed to be addressed."
Will the offense be able to evolve in Year 2?
"When you talk about offensive philosophy, there's a line to be drawn about how you look at each play, right? And, if you look at the NFL, right, I mean, there's so much focus and effort placed on the singular play in the NFL, right? There's the huddle and then there's all kinds of motion. And then that play itself is just a full commitment to a singular play. And that's why they run less plays than college. College sometimes is like run as many plays as you can. And, and so my philosophy, and our philosophy, is we still want that play to have the quality elements of striking on a wide front where it can hit everywhere and it forces defenses to defend that play. And you have compliments you run off of it. So, I think we look at the singular play more than anything else and evaluate it as such. So, they have to have compliments, there has to be a way to get the defense moving. You want the defense to be able to change their eyes with motion and make sure that they're forced to communicate. I really think it's about the singular play philosophically that we're looking at, more so than this comprehensive, let's get another play in."