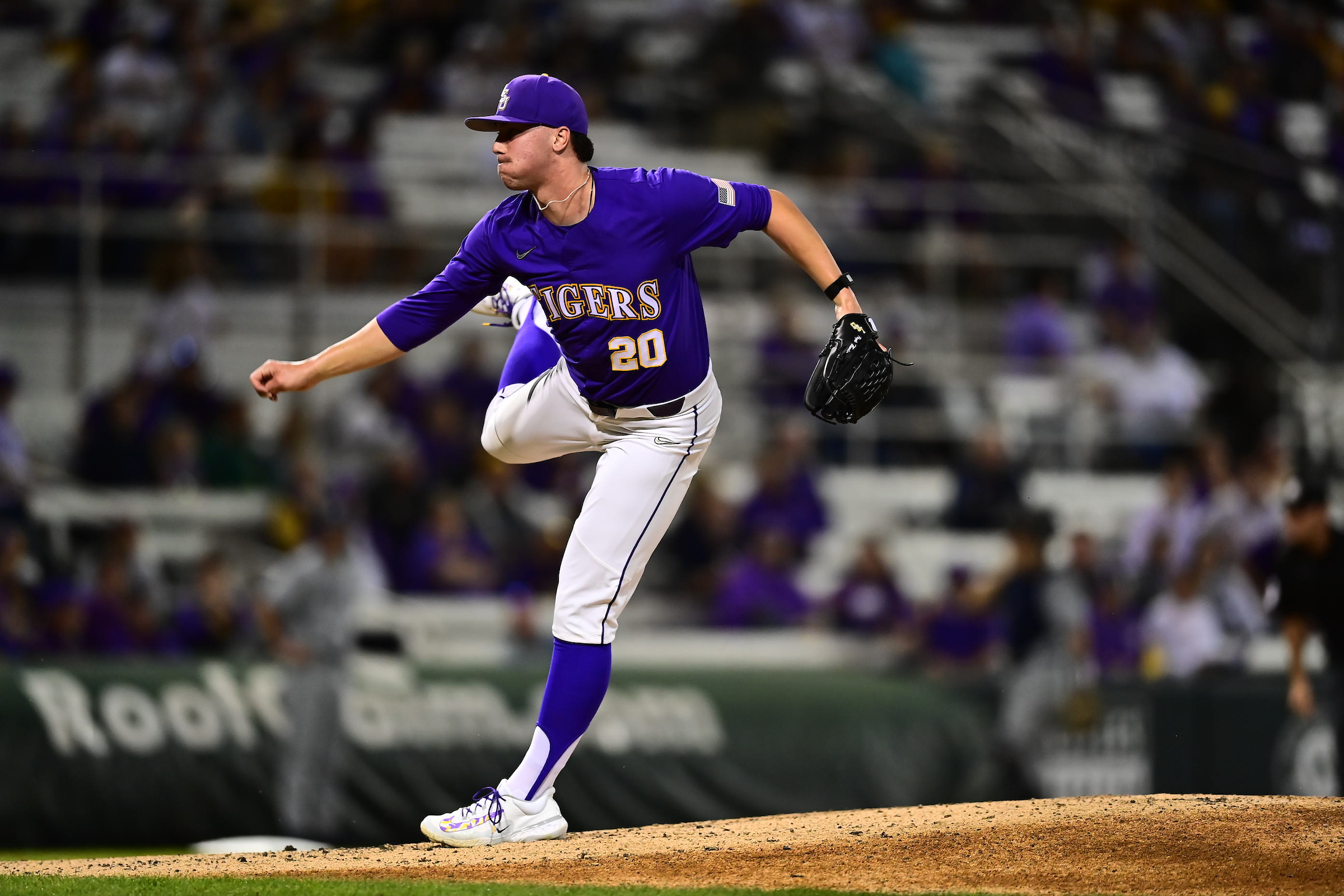 Samford Bulldogs (6-6) at No. 1 LSU Tigers (12-1)
Military Appreciation Weekend
DATES/TIMES
· Friday, March 10 @ 6:30 p.m. CT
· Saturday, March 11 @ 6:30 p.m. CT
· Sunday, March 12 @ 1 p.m. CT
STADIUM
· Alex Box Stadium, Skip Bertman Field (10,326)
RANKINGS
· LSU – No. 1 in all college baseball polls
· Samford – unranked
RADIO
· LSU Sports Radio Network affiliates, including 98.1 in Baton Rouge
· Friday's game will air on 100.7 FM in Baton Rouge if the LSU men's basketball team is still playing in SEC Tournament
· Live audio for LSU games at www.LSUsports.net/live; Live stats for LSU games at www.LSUstats.com
ONLINE
· The games will be streamed live on SEC Network +
LSU SERIES RECORD VS. SAMFORD
· Friday's game marks the first-ever meeting between LSU and Samford, which plays in the Southern Conference … the Tigers are 13-0 all-time against teams currently in the Southern Conference – LSU is 9-0 vs. Mercer, 2-0 vs. The Citadel, 1-0 vs. UNC Greensboro and 1-0 vs. Western Carolina.
PITCHING MATCHUPS
Game 1
LSU – Jr. RH Paul Skenes (3-0, 0.50 ERA, 18.0 IP, 3 BB, 36 SO)
Samford – Jr. RH Jacob Cravey (1-1, 4.86 ERA, 16.2 IP, 10 BB, 23 SO)
Game 2
LSU – Jr. RH Ty Floyd (2-0, 1.54 ERA, 11.2 IP, 2 BB, 15 SO)
Samford – Jr. RH Brody Westbrooks (0-0, 0.90 ERA, 10.0 IP, 7 BB, 11 SO)
Game 3
LSU – TBA
Samford – So. RH Will Lynch (0-1, 8.25 ERA, 12.0 IP, 7 BB, 14 SO)
QUOTING COACH JAY JOHNSON
"I'm proud of our guys and their approach to each game; they're not taking any pitches off. We do have talented players, and they're focused and they're not giving away pitches. This weekend's series is important, because it's the next one. I really trust our players to be in the right frame of mind; we're going to get challenged, and I trust them to respond. We've just got to keep improving; Samford has some talented pitchers and a team that's very capable, so we're excited about this challenge this weekend."
ABOUT THE TIGERS
· LSU enters the Samford series riding a seven-game win streak … LSU has batted .371 (89-for-240) during the seven-game streak with 25 doubles, three triples and 15 homers, and the Tigers have outscored their opponents, 90-12 … LSU's 26-4 win last Saturday over Central Connecticut State marked the most runs scored by the Tigers since a 27-0 victory over Northwestern State on May 13, 2014 … the LSU pitching staff has posted a 1.58 ERA during the seven-game win streak, limiting opponents to just 34 hits and a .169 batting average … LSU has recorded three shutouts in its past six games – at Texas on February 28, versus Central Connecticut State on March 5 and versus Butler on March 6.
· LSU ranks No. 2 in the nation with a .990 fielding percentage; the Tigers are No. 4 in the nation in on-base percentage (.469), No. 6 in hit by pitch (33) and No. 6 in runs scored (143) … the Tigers' pitching staff is No. 1 in the nation in shutouts with four … LSU is No. 4 in the nation in hits allowed per nine innings (5.86) and No. 4 in WHIP (0.96 – walks + hits per inning).
· Junior right-hander Paul Skenes is No. 1 in the nation in strikeouts this season with 36 Ks … he improved to 3-0 this season as he defeated Butler last Friday in a dominating six-inning outing … he limited Butler to no runs on one hit with no walks and a career-high 13 strikeouts, firing 80 pitches in the outing … he allowed a two-out single in the first inning, then retired 16 straight Butler hitters to complete his outing … his 13 Ks represented the most by an LSU pitcher since March 2, 2018, when Zack Hess recorded 13 strikeouts against Toledo … Skenes has a 0.50 cumulative ERA this season in 18 innings, allowing only one run on six hits with three walks and 36 strikeouts … he is limiting opponents to a .100 batting average.
· Junior centerfielder Dylan Crews is hitting .462 (12-for-26) during LSU's seven-game win streak with six doubles, two homers, 14 RBI and 12 runs scored … sophomore DH Tommy White is batting .458 (11-for-24) during LSU's seven-game win streak with five doubles, three homers, 13 RBI and eight runs … he has also walked three times and has been hit by five pitches, posting a .594 on-base percentage in seven games … in the Tigers' win over Central Connecticut State last Saturday, White was 3-for-3 with one double, two homers, five RBI and three runs.
· Freshman rightfielder Paxton Kling has 10 hits in his last 15 at-bats (.667), collecting two doubles, one triple, two homers, three RBI and seven runs in the Tigers' last seven games … graduate second baseman Gavin Dugas has eight RBI in the Tigers' last seven games, including a three-run homer on February 28 in the top of the ninth inning to lift the Tigers to a 3-0 win at Texas … graduate first baseman Cade Beloso is 6-for-10 at the plate in LSU's last five games with one double, two homers and seven RBI … junior shortstop Jordan Thompson is hitting .348 (8-for-23) during LSU's seven-game win streak with two doubles, six RBI and four runs.
· Junior right-hander Ty Floyd improved to 2-0 this season as he defeated Central Connecticut State last Saturday in his first start of the year … Floyd limited the Blue Devils to one run on three hits in 5.2 innings with one walk and six strikeouts … left-hander Nate Ackenhausen earned two relief wins last week, including a brilliant outing at Texas on February 28 … Ackenhausen worked 3.1 shutout innings against the Longhorns, allowing just one hit with one walk and four strikeouts … he also earned the win last Sunday versus Central Connecticut State, entering the contest in the fourth inning with the bases loaded and two outs – he recorded a strikeout to end the inning and pitched a perfect fifth inning to secure the victory.
· Sophomore right-hander Thatcher Hurd recorded 11 strikeouts in six scoreless inning Monday night to lead top-ranked LSU to an 11-0 win over Butler … Hurd (1-0) allowed just three hits in six innings with one walk and 11 strikeouts, firing 73 pitches … the 11 Ks were just one shy of his collegiate career high – he posted 12 strikeouts for UCLA last season in a game versus Long Beach State.
ABOUT THE BULLDOGS
· Samford is 6-6 this season, and the Bulldogs dropped an 11-6 decision at Alabama on Tuesday in their most recent game.
· Former LSU baseball and football player Maurice Hampton Jr. is an outfielder for Samford; he's appeared in four games with two hits, including a double, in 10 at-bats with two RBI.
· Samford is hitting .263 as a team with 12 homers and eight steals in 11 attempts … the Bulldogs are led offensively by infielder Garrett Howe, who is hitting .366 with three doubles and 10 RBI … catcher/first baseman Lucas Steele is hitting .357 with three doubles, three homers and nine RBI … infielder John Anderson is batting .311 and also has three homers and nine RBI.
· The Bulldogs' pitching staff has compiled a 5.68 ERA with 119 strikeouts in 103 innings.