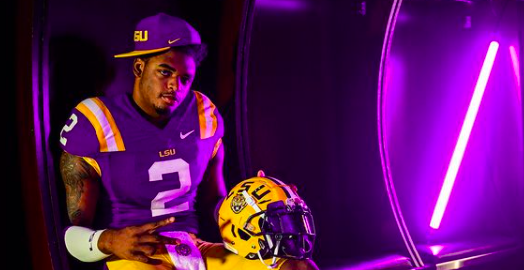 LSU's first-year head football coach Brian Kelly showed in a short amount of time he could compete against future SEC rivals and land his first big signee.
After taking the job on Dec. 1, it took Kelly two weeks to secure a commitment from Madison Prep four-star defensive end Quency Wiggins who signed Wednesday with the Tigers during a ceremony at his school's gymnasium.
"Coach Brian Kelly, so far, has given me a good impression and made me feel welcomed," Wiggins told Rivals.com. "He came to my school to check on me and I trust what he'll do at LSU bringing back national titles that they have the power and the skill to do. The rest of the staff I'm already close with; nothing has changed. When Coach O (Ed Orgeron) left, it changed a little bit, but after meeting Brian Kelly it made a good impression. He's a good coach and a winner and that's what I like in a coach."
Wiggins, who's only played two years of organized football after growing up a basketball player, took an official visit to LSU last weekend and narrowed his finalists to the Tigers, Alabama and Florida. He pulled an LSU hat after from a bag after first discarding an Alabama hat, revealing a purple LSU t-shirt underneath a black sweatshirt.
"It came down to the process and the plan that they have over there," Wiggins said. "It feels like Brian Kelly is a winner and can put me in a position to best succeed. Not that (Florida) Coach (Billy) Napier or (Alabama) Coach Nick Saban wouldn't. I trust what he (Kelly) is doing. I've heard nothing but good stuff about the program and last but not least – it's home; why not go win a national championship for LSU?
"The bond I built with some of the players already on the team, the bonds I built with some of the reacts – some guys that might commit and some guys already committed (to LSU), my host Maason (Smith) and I are already close, and this weekend gave me a chance to bond with those dudes, to get to know the coaches and what the future of LSU holds."
The 6-foot-6, 265-pound Wiggins, the nation's No. 18 rated player at his position and Top 300 nationally by ESPN, provides LSU with a key addition with the Tigers losing both of their starting defensive ends in Andre Anthony and Ali Gaye.
Wiggins, who has been invited to play in the Adidas All-American Bowl, played a key part in helping Madison Prep to its first Class 3A state title in 2020. He was a first-team All-State selection with 53 tackles, 14 tackles for loss and seven sacks as a junior.
Wiggins was voted the District 7-3A Defensive MVP this past season, leading the Chargers to the state quarterfinals before losing to Sterlington. He wound up with 56 tackles, 26 tackles to loss, 13 sacks and recovered three fumbles.
"To stay home and put on for the entire state, at Louisiana State University – it doesn't get much better," Wiggins said. "I get a chance to show why Louisiana has the best football. The home games in Death Valley are just different. It's loud and the fans are crazy, and it's mad love here. At LSU, you can't go wrong."