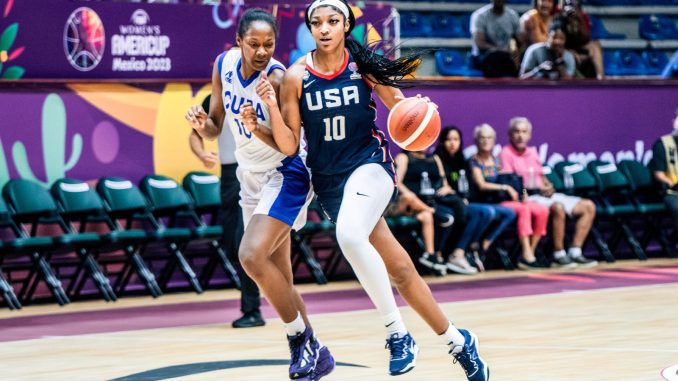 The reign of the United States as champion of the AmeriCup is over after two straight years.
Brazil overwhelmed Team USA in the second half of Sunday's gold medal game, powered by 6-foot-8 center Kamilla Cardoso of South Carolina, to take a 69-58 victory in Leon, Mexico.
Cardoso led Brazil with a double-double, scoring 20 points with 11 rebounds and three steals. Emanuely De Oliveira added 13 and Damiris Dantas 11.
Brazil shot 46.7% (29 of 62) and made 6 of 19 shots (31.5%) behind the 3-point line. The U.S. countered with 29.5% (21 of 71) shooting and was just 3 of 23 (13%) from behind the arc.
Tennessee's Rickea Jackson scored 17 of her game-high 22 points in the first half when Team USA held a 37-35 lead at halftime. UCLA transfer Lauren Betts added 10 points and a team-high 11 rebounds.
LSU All-American Angel Reese struggled in her 22 minutes of playing time. She was 1 of 6 from the field and wound up with four points, six rebounds and two assists.
The Americans led 16-14 after the first quarter behind 10 points from Jackson and it was a 3-pointer from UCLA's Jewel Spear that made it 27-22 with 4:37 to go before halftime.
Jackson's turnaround at the 2:23 mark kept Team USA ahead 33-27 when Brazil outscored the Americans 8-4 and trailed by two at the break. It was Jackson's basket on an assist from Reese that provided the lead at halftime.
Brazil outscored Team USA 25-10 in the third quarter, taking control midway through when Cardoso scored six straight points and Dantas added a field goal for a 53-43 advantage at the 2:57 mark.
The Americans trailed 60-47 entering the fourth quarter and fell behind by as many as 16 points (67-51) on Alana Goncalo's 3-pointer with 4:10 left.
Spear's 3-pointer stopped Brazil's run and Reese ended her 0 of 5 stretch from the field with her first goal with 2:45 to play, leaving the Americans with a 67-56 deficit.
They were outscored 34-21 in the second half.