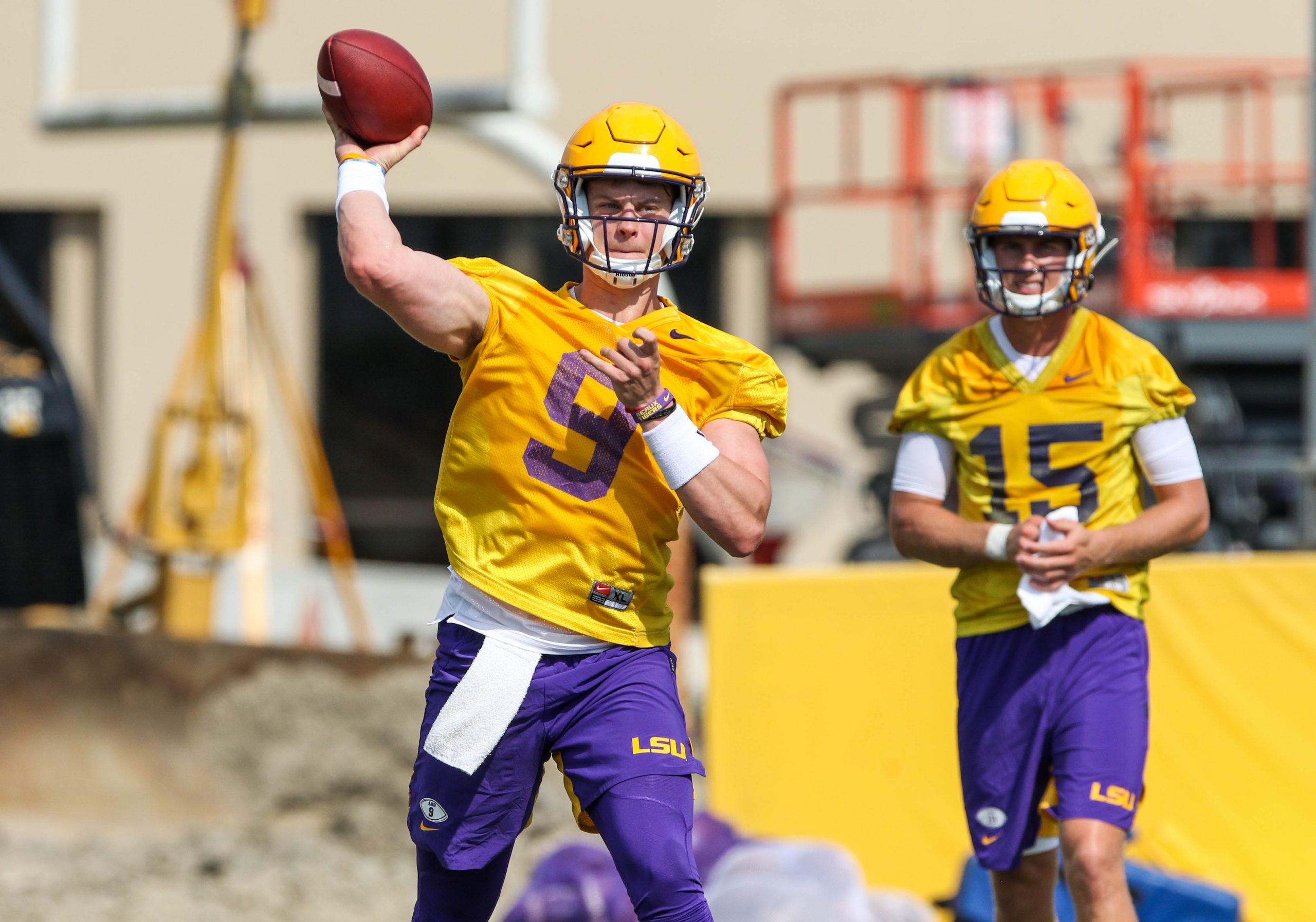 A week after what sounded like a disastrous first scrimmage for LSU's new offense, the Tigers' offensive unit flipped the script a bit two weeks ahead of the season opener.
After facilitating the second scrimmage of fall camp in Tiger Stadium, it didn't take long for LSU head coach Ed Orgeron to relay his thoughts on how the offense performed, this time with a healthy Joe Burrow.

"The offense came out and really, really moved the ball against the first defense," Orgeron said in his opening statement. "In the second half, the defense topped the offense pretty well. Then we ended up with a two-minute drive. Joe scored with a two-minute drive, and it went to overtime. Both teams kicked a field goal. Lightning was coming so we had to stop it then."
Starting quarterback Joe Burrow — who missed the first scrimmage after suffering a minor injury late last week — completed 14 of 24 passes for 160 yards and two touchdowns, Orgeron said. He also was the recipient of a pair of sacks.
"Joe's leadership and his ability to move the ball, throw the ball to the right receiver, the ability to escape pressure in the pocket," Orgeron said. "We didn't run with Joe much today."
He also praised backup quarterback Myles Brennan for an improved second scrimmage.
Last week, Brennan reportedly struggled a bit, but Orgeron gave a glowing review this Saturday, saying he completed 13 of 25 asses for 260 yards and a touchdown. He even had one go for 56 yards.
"I thought Myles had a tremendous day," he said. "He moved around the pocket, made some deep throws. And some of the balls that were not completed, the receiver got the ball right in his hands."
He added that analyst and legendary former USC head football coach John Robinson had high praise for Brennan and the amount he's improved in the two weeks of fall camp.
"We have to quarterbacks who can go in the game right now and win one for us."
As for receivers, it seems everyone got a shot to make an impact as the Tigers' top returning receiver and projected starter in the slot Justin Jefferson did not participate. Orgeron said there is no injury to worry about with Jefferson, he just needed a break.
Orgeron pointed to Racey McMath (6 receptions, 56 yards) and Jarae Jenkins (4 receptions, 73 yards) as a pair of receivers who stepped up Saturday. He also added that projected starter Ja'Mar Chase had 5 receptions for 45 yards and tight end Stephen Sullivan caught two passes.
As for the rush attack, Orgeron had a lot of praise for his freshmen running backs John Emory and Tyrion Davis-Price, as they seemed to get a bulk of the carries with Clyde Edwards-Helaire sitting out for reasons similar to Jefferson.
Chris Curry also did not participate for reasons not specified by Orgeron.
"We wanted to play our young running backs today," Orgeron said. "They handled most of the carries and most of the snaps. John Emory had 11 attempts for 68 yards and a longest of 36. Tyrion Davis-Price had 13 attempts for 20 yards. He had some good, tough (plays), especially in short-yardage and at the goal line. Both of those guys looked outstanding."
Orgeron said it was no accident that Davis-Price and Emory received a lot of snaps.
"We wanted to get them the ball," he said. "Steve (Ensminger) and I talked about that last night (Friday). Those guys did a good job."
Still, Orgeron said the offense still has plenty of room to improve, both technically and schematically.
He said the Tigers threw the ball more than they ran it, which he hopes will became closer to a perfectly balanced 50/50 by Aug. 31's season opener against Georgia Southern. He also mentioned that the defense tallied six sacks, which is likely more than he'd prefer.
But the offensive unit showed a marked improvement from last week, and it seems Orgeron had them fired up with something to prove.
"No question. We moved the ball," Orgeron said. "We got after the defense today. You hear me say 'we'? I was a big offensive guy in the first half. We got after the defense. They came out with the upper hand. They controlled probably about the first half of the scrimmage. The defense came out and controlled the second half. Then the offense came out and had a great two-minute drive."
Photo Credit: Jonathan Mailhes