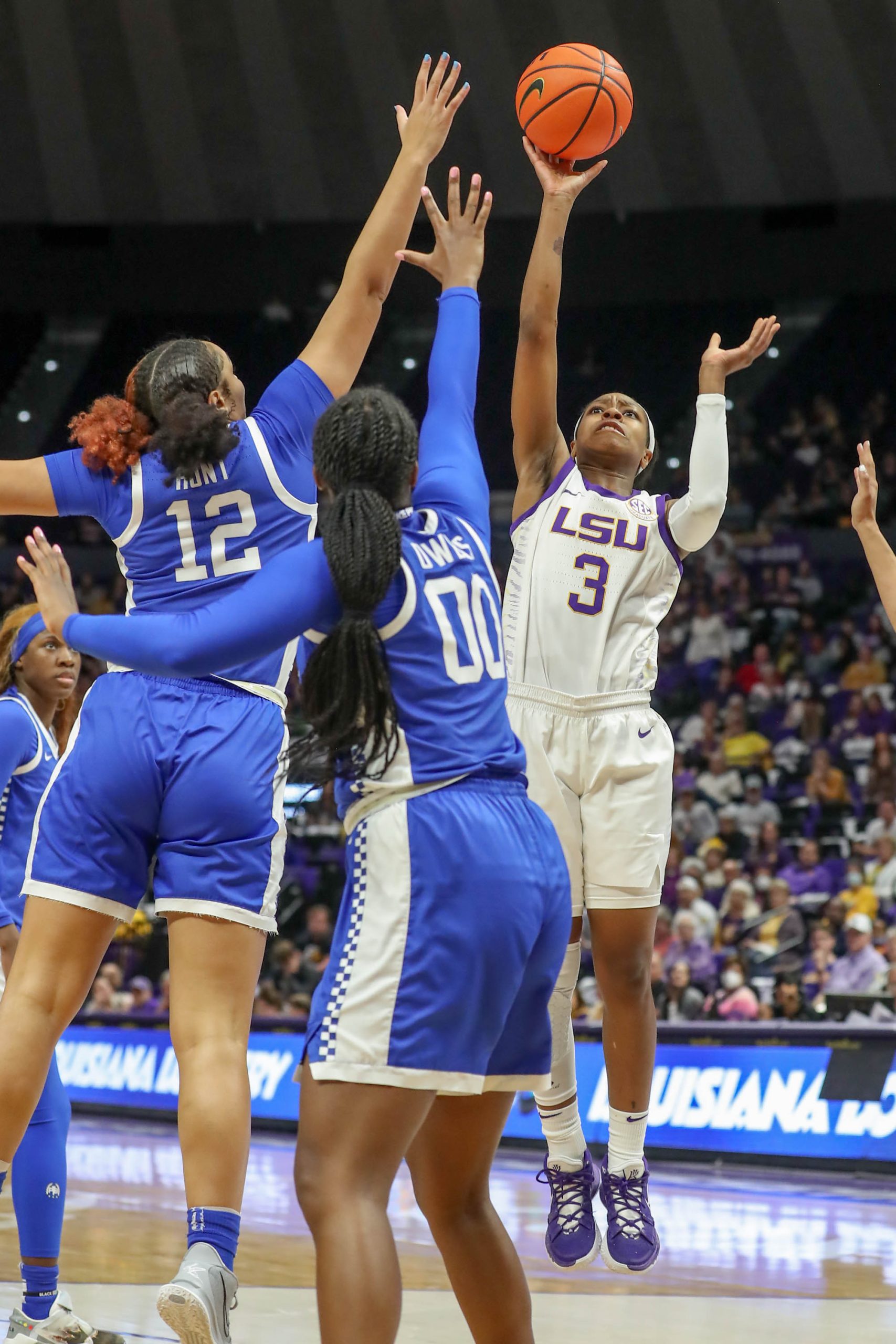 With the rise of the LSU women's basketball program back to national relevancy in the
first season under coach Kim Mulkey, there's a litany of areas ranging from win streaks, rankings and overall record that have sent those covering the sport back to the record books.

You have to venture back more than a decade to find such a time when the Tigers were ranked as high as No. 10 and a projected No. 3 seed and host for the first-and-second round of the NCAA Tournament.

You also have to go back that far to find the last time LSU's produced a player worthy of first team All-America honors and being a candidate for the Southeastern Conference's Player of the Year.

Two of the program's greatest players – Seimone Augustus and Sylvia Fowles – both of whom have their numbers retired – are the last players to earn such distinction in part because of their legacy that's connected to school's heyday of five consecutive appearances in the Women's Final Four.

They were both first team All-Americans and SEC Players of the Year, the type of rarified air graduate student point guard Khayla Pointer's approached this season.

"I don't think KP gets enough recognition," Mulkey said of Pointer during a Jan. 12 news conference. "We recognize her at LSU. I think she needs to be talked about more. She's one of the premier, elite guards in the country. What can't she do that makes somebody better than her?"

It's a valid argument, one that doesn't really need Mulkey's power of persuasion to make.

One look at LSU's 18-4 record going into Monday's road game at Ole Miss, place among the nation's best teams with a chance to go deep into the postseason are intertwined in the multi-dimensional 5-foot-7 product of Marietta, Ga. who decided to come back from one more year instead of turning professional after coach Nikki Fargas, her aunt, left to become president of the WNBA's Las Vegas Aces.

For the second straight Pointer's not only LSU's leader in most offensive categories such as scoring (19.14), assists (5.14) and steals (58), but with seven conference games remaining, those numbers pale in comparison to the intangibles she brings to this year's team success.

She's also No. 2 in the SEC in assists, third in scoring, sixth in assist-turnover ratio (1.95), 11th in steals and 15th in rebounding (6.27).

Moreover, she's the league leader in minutes played at 36 per game.

"I just try to be everything for my team," Pointer said after making the go-ahead basket Jan. 13 in an 87-85 overtime win over Missouri. "Whatever that looks like. If that's going to get a rebound, making a big stop on defense. I didn't feel like going into another overtime. I had enough confidence in myself to take the last shot and I wanted to win it for us."

At this point in the season there hasn't been anyone on the team other than Pointer to step forward with a game on the line and deliver in such clutch moments. It's the type of instances that define All Americans, the kind of player Mulkey gravitates toward.

Pointer has made it look commonplace, the innate ability to shoulder the burden and lift her team when other resources have proved ineffective. She's developed an uncanny knack, where everyone in the building knows where the ball is going, to beat the buzzer with either court-length drives, a dazzling move and tough shot to end a quarter or half.

"She's always been talented," Kentucky coach Kyra Elzy said of Pointer after a Jan. 30th loss to LSU. "This season's she been so much more aggressive, downhill but she's shooting the 3. Her leadership, her ability to make her team better is what makes her special."

By her own standards, Pointer was coming off a subpar 13-point performance in a road loss to Arkansas on Jan. 27 when she went into overdrive over the final 10 minutes against Kentucky to remind everyone why she's the heartbeat of this year's team.

LSU came into game on a season-high, two-game losing streak when a shorthanded Kentucky team pushed the Tigers to the brink of a third straight loss, taking a five-point lead into the final quarter.

Pointer single-handedly helped LSU restore order. She tied the game with five straight points, scored 13 of her team's first 15 points and wound up with 19 of her game-high 28 points in the final quarter (outscoring the 16 of Kentucky's entire team) to ensure victory.

It was the 11th time Pointer's scored 20+ points this season which she began with her first career triple-double – the third player in school history to achieve that feat – and also has five double-doubles.

LSU's longtime "Voice of the Lady Tigers" – Patrick Wright – said in a recent interview that Pointer had elevated herself to a stratosphere among the program's best players – not just point guards.

No player has accomplished what Pointer's done with plenty of work ahead. She's the school's eighth-leading scorer (1,727 points), No. 3 in assists (544) and with her 505 rebounds, is the only player in program history with such credentials.

Ultimately, Pointer will be attached the success of the team as to whether she'll receive consideration for SEC Player of the Year or first team All-America honors, but she's certainly merited inclusion in the conversation for both.

"I don't think she gets enough recognition," Mulkey said. "That comes with winning. The more we win, the more recognition we will get and the more recognition she will get."