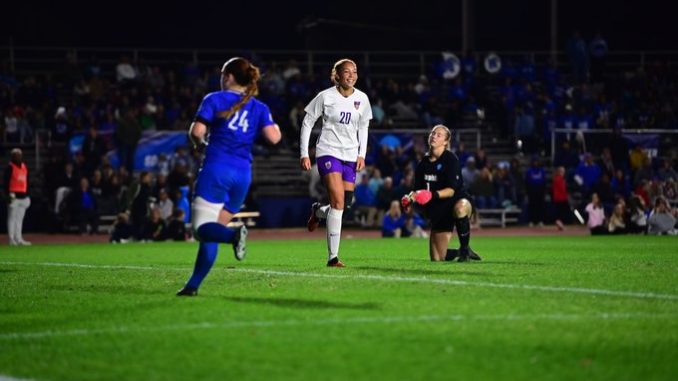 MEMPHIS, Tenn. – An early two-goal salvo from host Memphis threatened to bury LSU's soccer team in Saturday's first round of the NCAA Tournament.
The host No. 8 Tigers took an 2-0 lead on consecutive goals within a 20-second span before the visiting Tigers of coach Sian Hudson settled in, got a goal back in the 70th minute before falling, 2-1, before a record crowd of 2,073 at Memphis' Billy J. Murphy Soccer Complex.
"While ending the season is always disappointing, I'm just proud of the team for fighting until the death," Hudson said. "Obviously it was difficult to go down two-nil early in the game, but I thought that we steadied ourselves and had some good moments later in the game."
LSU concluded its season 8-8-4 after making its third straight trip to the NCAA Tournament under Hudson.
Memphis (19-1) extended its winning streak to 16 straight and improved to 9-0 at home this season.
Mya Jones picked up her 11th goal of the season and Momo Nakao followed with her sixth goal to clearly put LSU on its heels with redshirt freshman Bailey Herfurth making her first start in goal. The native of Northport, N.Y, finished with four saves after a rocky beginning.
"All credit to Bailey Herfurth in her first start for the Tigers," Hudson said. "She had some unbelievable moments and some big saves for us. Mollie Baker had a great turn to drive past the defense and give a fantastic pass to Ava Galligan for the goal."
Herfurth had her work cut out against an aggressive Memphis offense which finished with six of its 13 shots on goal to go with seven corners.
Memphis took a 2-0 lead into halftime before LSU, which had two shots on goal, made it 2-1 in the 70th minute when Mollie Baker found Ava Galligan on a beautiful cross inside the 18. Galligan, a second team All-SEC performer, then beat Memphis goalie Kaylie Bierman on a one-time shot into the right corner of the net.
It was Galligan's fourth goal of the season and gave Baker a share of the team lead with her fifth assist.