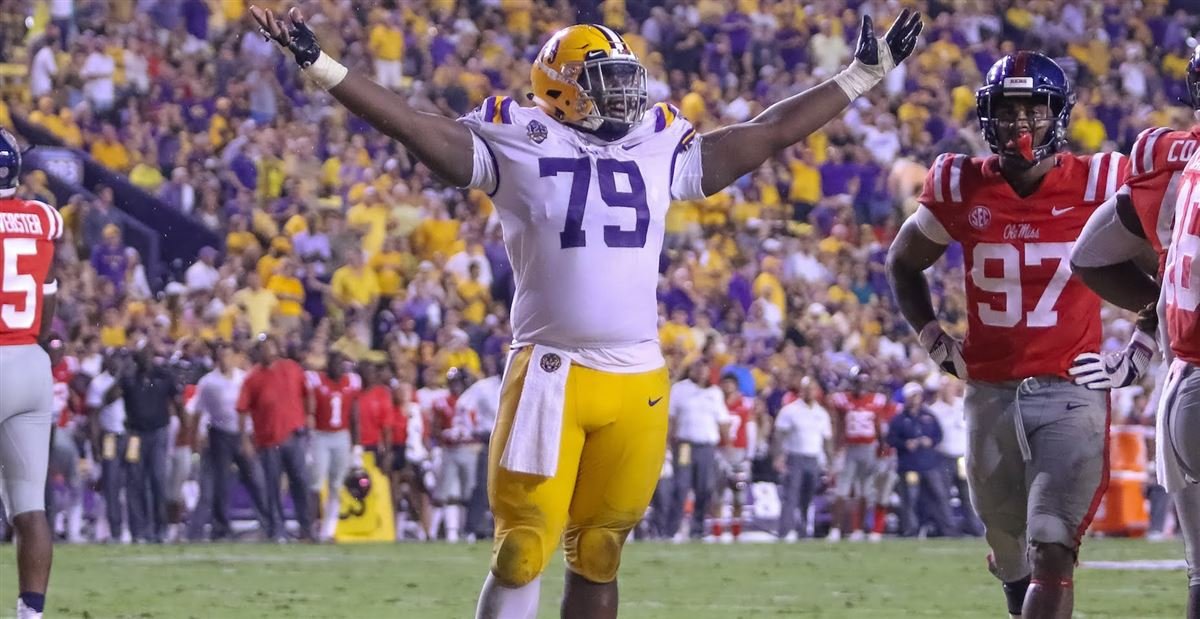 Damien Lewis grew up in Canton, Miss., a small city of about 13,000 people located north of Jackson. He received no Division I offers coming out of high school and enrolled at Northwest Mississippi Community College. There he played home games in front of crowds of roughly 2,500 people.
As physically prepared as the massive guard was to hold his own in the Southeastern Conference, the communication part of the job — a lynchpin of any good offensive line — took some getting used to with 100,000 screaming fans in the stands.
"Communicating on the field, a big crowd will get to you," Lewis said. "You've got to be honed in. You've got to be focused on everything happening out there on the field."
Lewis may have been one of the stronger links, but LSU's offensive line as a whole struggled with consistency during the 2018 season. And with Joe Burrow back at quarterback surrounded by so many weapons, those on the line are well aware their improvement will be the key in 2019.
Protecting Burrow was perhaps LSU's greatest liability as a team. The Tigers allowed 35 sacks last season, which ranked No. 106 nationally and was tied for the most allowed in the SEC. A whopping 16 of those sacks came in LSU's three losses to Florida, Alabama and Texas A&M.
LSU knows it must improve in that area as it returns four starters from the 2018 group and a fifth contributor in Chasen Hines who played in eight games at left guard. And as leaders of the group, Lewis and center Lloyd Cushenberry are making sure it's a point of emphasis this spring.
"That's all we're focusing on right now," Cushenberry said. "We know we can run the football. We're focused on protection. The games we lost, if we don't give up a sack or a fumble, we win that game, so it's on us. We've got to take accountability and get better from it."
That prioritization goes straight to the top. LSU coach Ed Orgeron and his staff — both assistants and analysts — meet every morning to discuss pass rush, both in terms of generating it on defense and blocking it on offense.
"We're getting better," Orgeron said. "We're getting better at some techniques. We're getting better at some alignments. There's still a ways to go, but those guys have made some improvements."
Getting stronger play from the tackle positions is certainly part of the equation. For what it's worth, Orgeron called left tackle Saahdiq Charles LSU's "most improved lineman" thanks to tireless hours spent refining his footwork. The right tackle spot remains an open competition.
In a more macro sense, the offensive line as a whole must communicate better to improve in pass protection. Cushenberry demonstrated a knack for leadership during his first season as a starter, but the entire unit needs to do a better job of being on the same page.
To be fair, first-year assistant James Cregg and a young group did the best they could given a revolving door in terms of personnel. LSU didn't start the same five up front in consecutive games until the back half the season, which stunted any chances they had of building cohesion.
That will no longer be a good excuse with so many players returning this season, and the only way to get better is practice.
"We struggled last year in pass protection, but I think we've picked it up," Lewis said. "It's just about communicating out there. You've got to know your circumstances and know what you've got to do. It's simple. You've got to talk to the man beside you and you've got to trust him. You've got to trust the system and the man beside you has to trust you."