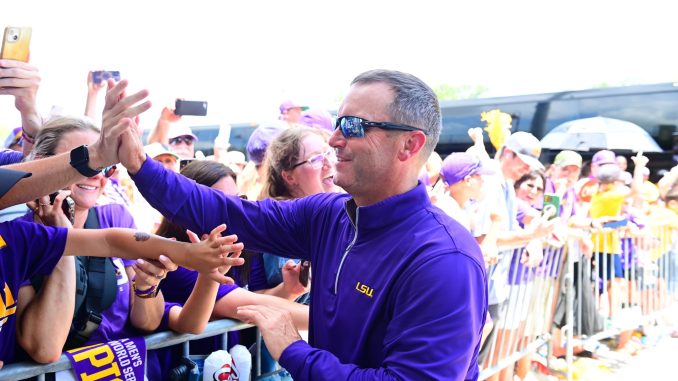 TUCSON, Ariz. – LSU coach Jay Johnson has been named 2023 National Coach of The Year by Collegiate Baseball newspaper.
Johnson became the first coach in history to lead a team to a national title in either his first or second season and it was the seventh national crown for the Tigers. He continued a trend by becoming the fifth straight Coach of the Year honoree by Collegiate Baseball.
LSU (54-17) defeated Florida, 18-4, for the title behind a 24-hit attack. The Tigers posted 11 wins during the NCAA Tournament, six of them against SEC teams.
After a 3-2 loss to No. 1 seed Wake Forest early in the College World Series, Johnson's Tigers came through the loser's bracket by eliminating Tennessee before earning consecutive wins over the Demon Deacons to setup a best-of-three championship series against No. 2-seeded Florida.
LSU won Game 1 of the series, 4-3 in 11 innings, before Florida drew even with a 24-4 victory in Game 2. Then the Tigers had a remarkable game in the third Championship Series contest to win the 2023 national title.
LSU was ranked No. 1 by Collegiate Baseball in its pre-season poll compiled last December and was ranked No. 1 by Collegiate Baseball 13 times during the 2023 season.
The Tigers captured five national titles (1991, 1993, 1996, 1997 and 2000) under ABCA Hall of Fame Coach Skip Bertman, and added a sixth when ABCA Hall of Fame Coach Paul Mainieri in 2009 over Texas.
LSU was led throughout the 2023 season by Collegiate Baseball's National Player of The Year right-handed pitcher Paul Skenes and Collegiate Baseball first team All-Americans Dylan Crews and Tommy White.
The Tigers averaged 8.9 runs per game this season as the team hit 144 homers (2nd in the nation). They also ranked second in the nation in walks received (413), hit-by-pitches (143), on-base percentage (.432) and pitcher strikeouts per nine innings (11.7).
LSU was No. 1 in the nation in runs scored (634) and shutouts by its pitching staff (12).
The pitching staff recorded a school record 798 strikeouts led by Skenes (209, school and SEC record) and right-hander Ty Floyd (120).
Previous Collegiate Baseball National Coaches of The Year include:
• 2022: Mike Bianco, Mississippi
• 2021: Chris Lemonis, Mississippi St.
• 2020: Mike Bianco, Mississippi
• 2019: Tim Corbin, Vanderbilt
• 2018: Pat Casey, Oregon St.
• 2017: Kevin O'Sullivan, Florida
• 2016: Gary Gilmore, Coastal Carolina
• 2015: Brian O'Connor, Virginia
• 2014: Tim Corbin, Vanderbilt
• 2013: John Savage, UCLA
• 2012: Andy Lopez, Arizona
• 2011: Ray Tanner, South Carolina
• 2010: Ray Tanner, South Carolina
• 2009: Paul Mainieri, LSU
• 2008: Mike Batesole, Fresno St.
• 2007: Pat Casey, Oregon St.
• 2006: Pat Casey, Oregon St.
• 2005: Augie Garrido, Texas
• 2004: George Horton, Cal. St. Fullerton
• 2003: Wayne Graham, Rice
• 2002: Augie Garrido, Texas
• 2001: Jim Morris, Miami (Fla.)
• 2000: Skip Bertman, LSU
• 1999: Jim Morris, Miami (Fla.)
• 1998: Mike Gillespie, Southern Calif.; Mike Batesole, Cal. St. Northridge
• 1997: Skip Bertman, LSU
• 1996: Skip Bertman, LSU; Andy Lopez, Florida
• 1995: Augie Garrido, Cal. St. Fullerton
• 1994: Larry Cochell, Oklahoma
• 1993: Skip Bertman, LSU
• 1992: Andy Lopez, Pepperdine
• 1991: Skip Bertman, LSU
• 1990: Steve Webber, Georgia
• 1989: Dave Snow, Long Beach St.
• 1988: Larry Cochell, Cal. St. Fullerton
• 1987: Mark Marquess, Stanford
• 1986: Jerry Kindall, Arizona
• 1985: Ron Fraser, Miami (Fla.)
• 1984: Augie Garrido, Cal. St. Fullerton
• 1983: Cliff Gustafson, Texas
• 1982: Ron Fraser, Miami (Fla.)
• 1981: Jim Brock, Arizona St.
• 1980: Jerry Kindall, Arizona