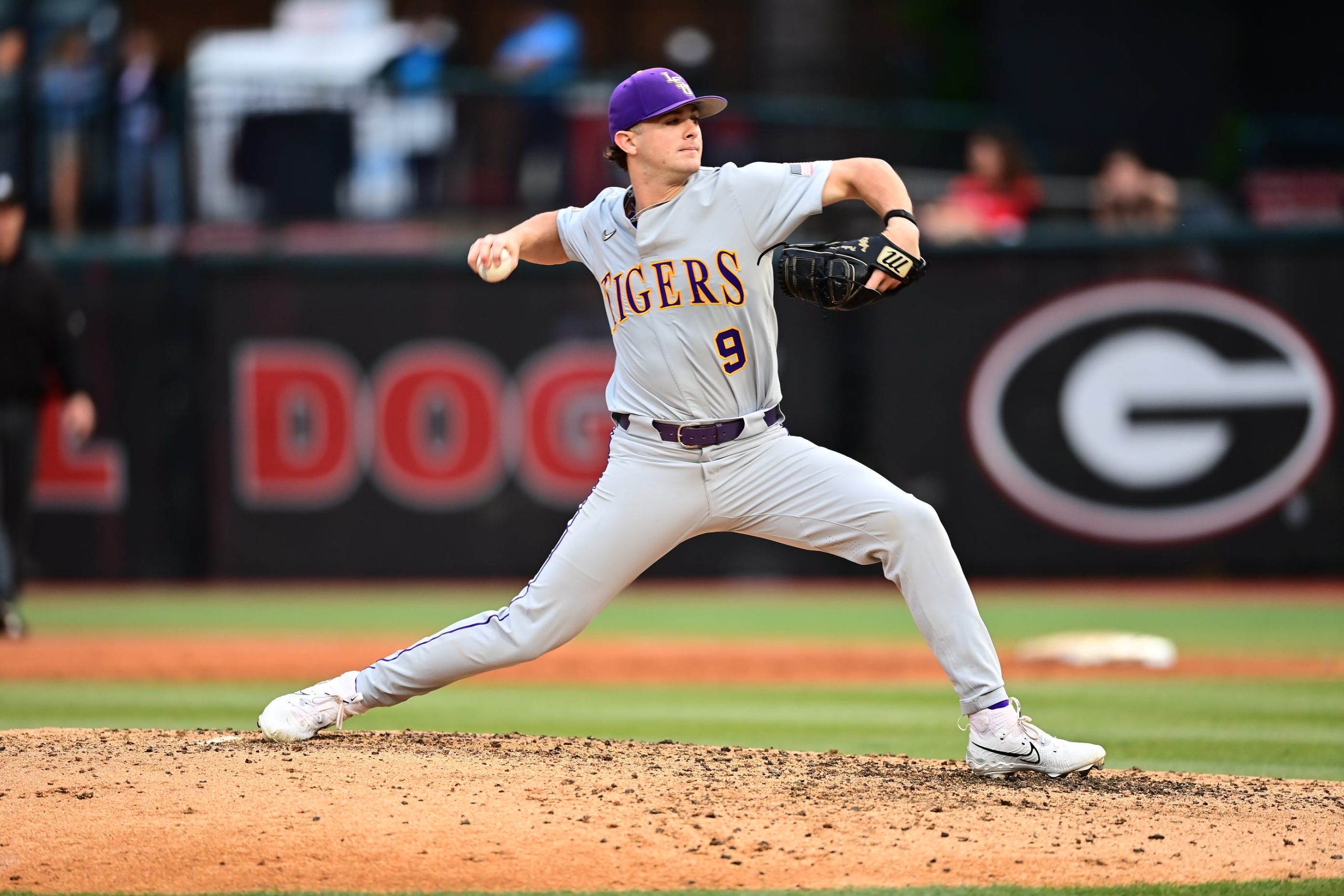 Ty Floyd scattered five hits and struck out seven in seven innings, while Tommy White and Hayden Travinski each homered for No. 5 LSU in an 8-4 series-clinching Game 2 win over Georgia at Foley Field in Athens on Friday night.
LSU (42-12, 19-9 SEC) spotted Georgia (28-26,10-19) two runs in the first inning when third baseman Parks Harber hit a two-out, two-run home run to right field.
LSU scored three runs each in the fourth and fifth innings and two more in the sixth to take an 8-2 lead into the bottom of the seventh when Georgia shortstop Sebastian Murillo hit another two-run homer off Floyd (7-0).
Freshman Gavin Guidry handled the eighth and ninth innings for LSU after Riley Cooper faced one batter in relief of Floyd to start the inning.
Guidry allowed no runs on one hit with no walks and struck out three. LSU's bullpen was solid for the second consecutive game.

The Tigers return to action Saturday at noon in the third game of the series. The game can be streamed on SEC Network+, and it can be heard on the LSU Sports Radio Network affiliates.
"I think we've played two very good games, LSU baseball coach Jay Johnson said. "I like how we have responded all weekend in a park that's particularly tough to pitch in.
"We gave up the home run early and their 2-3-4 hitters have a lot of power. We got behind but kept putting pressure on them early even though we didn't score."
"Ty starting like that simplifies the game for the rest of the staff and helps those guys be better," Johnson added. "It also helps our hitters relax a little bit. It was a really good performance."
Charlie Goldstein (3-2) started for Georgia and took the loss. He went 4.1 innings and allowed five runs on six hits with three walks and a pair of strikeouts.
UGA got on the board first in the bottom of the first inning to take a 2-0 lead. With a runner on after a hit by pitch, Harber hit a two-run home run.
LSU capitalized in the top of the fourth inning and plated three runs to take the lead. With the bases loaded after a hit by pitch and two walks, right fielder Josh Pearson drew a walk to bring in Cade Beloso for the first run of the game. Center fielder Dylan Crews laced a single to left field to tie the game and White scored Jordan Thompson on a sacrifice fly to right field.
The Tigers loaded the bases in the fifth after a one-out single by Beloso and a pair of hit by pitches. Thompson hit a sacrifice fly to left field to score a run. With a pair of runners in scoring position after a failed pickoff attempt, Pearson beat Georgia's defensive shift and scored two on a single to right for a 6-2 lead.
LSU added two more runs in the sixth to make it an 8-2 game after solo home runs from White and Travinski, who started at catcher. Georgia added two runs in the bottom of the seventh UGA scored two runs in the bottom half of the seventh inning on Murillo's two-run homer.
"Those were some good at bats in the fourth inning that set us up with the walks and hit by pitches," Johnson said. "Then you have Dylan and Tommy there, which is exactly where you want to be, and they execute. Ty came back out and went three up, three down to continue to control the momentum. It allowed us to go out and immediately put more runs on the board and then once again in the sixth with Tommy and Hayden."
Joseph Tyson Floyd.

The kid from Rockmart, Georgia putting on a show pic.twitter.com/tOyvwwlV3h

— LSU Baseball (@LSUbaseball) May 20, 2023
Bot 6 | Dugas Double Play @gavin_dugas04 | SECN+ pic.twitter.com/gtQlMpcpiI

— LSU Baseball (@LSUbaseball) May 20, 2023
Oh My Goodness @haydenrt_ | SECN+ pic.twitter.com/XkM8STUt6v

— LSU Baseball (@LSUbaseball) May 19, 2023
Not Gonna Get It ➡️ 🌲🌲🌲🌲@tommywhite44 | SECN+ pic.twitter.com/V4gIea7hIt

— LSU Baseball (@LSUbaseball) May 19, 2023