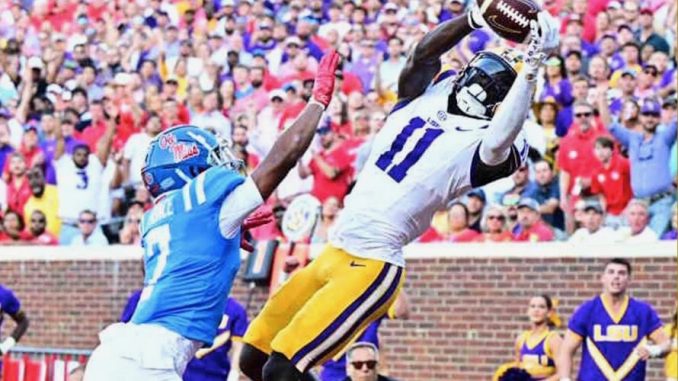 Just when it appeared LSU could come up for air, building a nine-point lead with more than eight minutes remaining, Ole Miss countered with a pair of gut punches that flattened the Tigers.
No. 20 Ole Miss took the lead with two touchdowns in less than five minutes and withstood one final attempt from LSU when quarterback Jayden Daniels threw incomplete for Chris Hilton Jr. on the final play, sending the No. 13 Tigers to a heart-wrenching 55-49 loss Saturday before a crowd of 66,703 at Vaught-Hemingway Stadium.
The final play had Daniels, on second-and-20, retreating away from pressure to Ole Miss' 35-yard line and heaving the ball toward the middle of the end zone. It appeared Hilton was open amidst a blanket of light blue jerseys, and the pass sailed slightly above Hilton's hands and hit the turf, triggering a mad rush of fans onto the field.
"That's not the way I like to play football," LSU coach Brian Kelly said. "Hats off to Ole Miss. They made a couple of plays at the end that they needed to and deserved to win."
LSU (3-2, 2-1), the reigning Southeastern Conference West Division champions, had its three-game winning streak stopped and fell out of first place in the league standings.
Both offenses ruled the day with teams combining for 14 touchdowns and 1,379 total yards, including 760 in the opening half. It was the fifth most yards in SEC history and third highest between SEC schools.
The combined 104 points tied for seventh place in SEC history and third most between SEC opponents in regulation play.
Daniels compiled 513 total yards and five touchdowns. He completed 27 of 36 passes for 414 yards and four touchdowns, three of which went to Brian Thomas Jr. (8-124).
With running back Logan Diggs leading the ground game with 19 carries for 101 yards and two TDs, Daniels added 99 yards and score on 15 attempts.
LSU rolled up 673 yards on 75 plays, averaging 8.5 yards per plays, but it paled in comparing to Ole Miss' dazzling offense. The Rebels (4-1, 1-1) had a school-record 706 total yards in an SEC game on 88 plays, averaging 8.1 yards per play.
It was the most yards an LSU defense has ever given up in a game.
"We had a couple of opportunities to put the game away offensively and we didn't," Kelly said. "They played well. I wish we could have made a couple of plays."
Dart completed 26 of 39 passes for 389 yards and four touchdowns, including nine completions to Lafayette native Tre Harris for 153 yards and the go-ahead score. Running back Quinshon Judkins powered his team's 322-yard rushing explosion with a season-high 33 carries for 182 yards and a TD.
The Rebels took full advantage of the Tigers' youth in the secondary and continually picked on sophomore Laterrance Welch, freshman Ashton Stamps, sophomore Denver Harris and Southeastern Louisiana transfer Zy Alexander. The team's two most experienced cornerbacks weren't with the team with Ohio State transfer JK Johnson out for the regular season with a leg injury and junior Duce Chestnut, a transfer from Syracuse, didn't make the trip.
"We're playing with inexperienced players," Kelly said. "There's nobody else walking through the door. We don't have another corner. These are the guys that have to play for us, and we have to continue to develop them. We have to continue to work each and every week at getting better. That's where we're at. We've just got to keep working on it, working to get better."
LSU built leads of 42-34 on Diggs' 12-yard TD run with 3:41 to go in the third quarter and 49-40 with 8:34 remaining in the game on Daniels' third TD strike to Thomas – a 34-yarder that had to be reviewed before being upheld.
Ole Miss, which failed to score a touchdown in the third quarter, closed to 49-47 with 5:06 lead on Dart's 1-yard sneak and Caden Davis' extra point.
The Tigers were forced to punt the ball back to the Rebels at the 12-yard line with 2:36 remaining. They picked up four first downs, marching 88 yards in eight plays, with Dart connecting on a first-and-10 play to Harris who weaved his way to a 13-yard TD with 39 seconds left and Judkins added the two-point conversion.
Daniels moved LSU to Ole Miss' 33 on a 42-yard completion to Hilton on a crossing route on first down. The Tigers advanced to the Rebels' 16 with 12 seconds left on a 5-yard scramble from Daniels and a 15-yard personal foul penalty for a horse collar.
LSU's final drive fizzled, though, and went backward when Daniels threw incomplete for Diggs and the Tigers endured false start penalties against offensive tackle Will Campbell and Nabers.
Despite falling behind by 14 points on three occasions, LSU rallied to trail 31-28 at halftime when Daniels found Kyren Lacy for the first time in three games on a 29-yard scoring play with 58 seconds to go.
Ole Miss scored touchdowns on four of its first five drives, opening leads of 14-0 and 21-7 in the first quarter and 28-14 at the 8:10 mark of the second quarter. Dart, who was 17 of 23 for 243 yards in the opening half, threw TD passes of 4 yards to Junkins, 63 to Jordan Watkins and 15 yards to Dayton Wade.
The combination of Daniels and Thomas worked for first-half scores of 20 and 11 yards, respectively, during a stretch where LSU reeled off four straight touchdowns in the first half.

But it wasn't enough.
"Everybody has to respond to adversity. Coaches and players alike," Kelly said. "It's life. Everybody's going to have to deal with adversity in some manner. We have adversity in front of it. Let's see how we're going to handle it. I think our guys will respond.
"They made a couple of plays, we didn't," Kelly said. "It was that close of a game. It was a six-point game, and we got our hands on the ball in the end zone in the end. It was that kind of game."