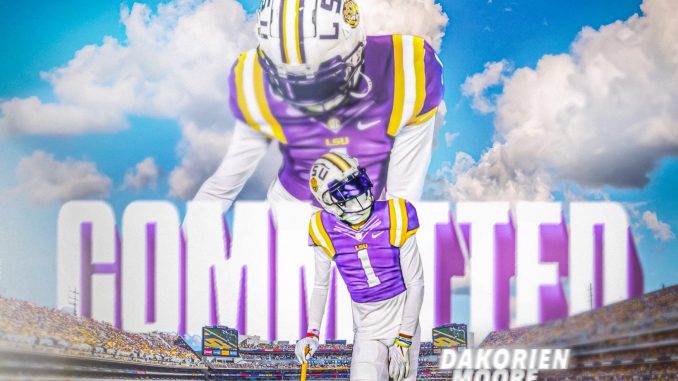 A second nationally ranked prospect from the Duncanville, Texas football team LSU anxiously awaited arrived on Saturday.
Two days after landing a commitment from Class of 2024 four-star running bac Caden Durham, the Tigers picked up '25 five-star wide receiver Dakorien Moore over Texas and Oklahoma.
The 5-foot-11, 175-pound Moore announced his decision on social media, giving coach Brian Kelly four commitments in the Class of '25. The Tigers are ranked fourth nationally in the team standings according to both On3 and 247.
"We came back from LSU, and it was just a feeling," Moore told Dave Campbell's Texas Football magazine. "They treated us like family up there."
The Duncanville-to-LSU connection added its first member Thursday when Durham became the Tigers lone running back commitment in their current class, while teammate Colin Simmons opted for Texas.
A third member – Moore – had previously been to LSU on two occasions for unofficial visits with the most recent trip taking place in July at the massive 'Bayou Splash' recruiting event that also hosted Durham and Simmons.
Wide receivers coach Kortez Hankton and safeties coach Robert Cooks are credited with taking the lead in Moore's recruiting process for the Tigers.
"Ever since they started recruiting me, they never let up," Moore told 247. "Even when they were recruiting the upperclassmen, they never let up. They were showing me the same love and probably more than they were showing other kids that they were recruiting. When I went down there, they were showing me a lot of love like I was family. They showed me everything, and when I saw what they have, I knew where it was, I needed to be."
Moore is rated the nation's No. 5 overall player by 247, the No. 2 wide receiver per 247 and ESPN and the top-rated player in Texas by 247 and ESPN.
Duncanville captured the Class 6A, Division I state championship with a perfect 15-0 record in 2022.
Moore earned a spot on the MaxPreps.com Junior All-American team with 44 catches for 767 yards and seven touchdowns. He was also a standout on the track team with personal bests of 44-7 in the triple jump, 10.63 in the 100 and 21.38 in the 200,
"I liked just the vibes and energy from the coaches," Moore told On3. "It's a cool place, to play ball and to just live around. They have always been at the top for me. It's just WRU. You're wrong if you didn't have LSU at the top as a wideout."