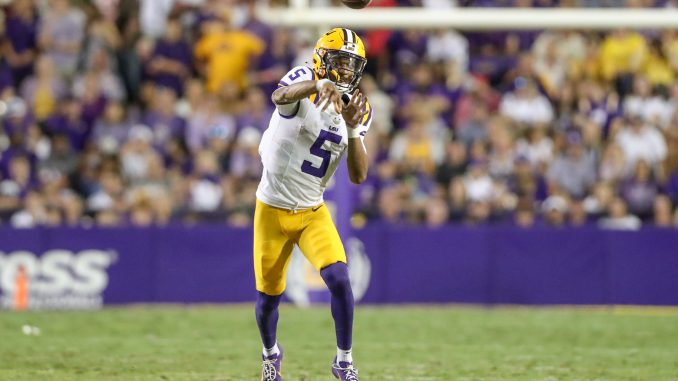 Turns out three quarters of Jayden Daniels playing quarterback at his highest level is better than four full quarters of KJ Jefferson.
The proof was in the pudding on Saturday night at Tiger Stadium.
There are some ifs to that conclusion that must be considered.
If . . . Daniels gets the ball last – and, if . . . you give Daniels two gifted and fast receivers, namely Malik Nabers and Brian Thomas. Those are the built-in conditions.
And, if so, that likely means this makes two consecutive years a three-point win over Arkansas clinches the SEC West for LSU.
Of course, this year it is not as clear and obvious as it was for LSU last season but that does not make it any less true. It just means you'll wait longer to see if it proves true. I think it will.
Last year, without KJ Jefferson, LSU clinched the West with 13-10 "defensive struggle" win over Hogs.
Earlier this week, Brian Kelly chuckled at that characterization of the Tigers' win over Arkansas.
Kelly said to him it was not so much a defensive struggle from his perspective but really more of an offensive struggle – and he said Daniels had now grown and advanced in his mastery of the QB position so far that Daniels was to the point now where he wouldn't get bogged down and befuddled by Arkansas' defense this year.
It took Daniels one quarter to get in his groove Saturday night.
But when he did, Daniels proved that not only was Kelly right about what he can do, Daniels also proved he is the best quarterback in the SEC.
For his part, the 252-pound Jefferson proved on Saturday night in that he is QB2 in the SEC.
Keep in mind, the conditions I set forth for Daniels above matter significantly because as good as Daniels is when he is playing top notch ball – and he is very good – you must keep in mind no matter how offensive and potent he may be, LSU currently has no defense to speak of. Jefferson demonstrated that for the world to see on Saturday night.
With the win, LSU not only moved 3-1 and 2-0 in the SEC, it also very likely played the winning hand that two months from now should end up putting the Tigers back in the SEC Championship game as repeat champions of the West.
That's how big LSU's win over Arkansas will ultimately prove to be if I'm reading the tea leaves right. I think I am reading them right.
Of course, we won't know for about two months. But LSU will be favored in Oxford against Ole Miss next week. The Tigers should beat the Rebels. Ditto for the following week in Columbia against – get this – a currently unbeaten Missouri. It should be the same story for LSU against Auburn, against Florida, and against Texas A&M, too.
Who'd I leave out? (As if I didn't know.)
Oh, that's right – Alabama at Tuscaloosa.
It's hard to predict that one right now.
If the Tigers and Tide were scheduled to play in October, LSU would be favored.
Bama's in a funk, if you didn't know, even though the Tide slapped back Ole Miss pretty convincingly on Saturday.
But there's no telling what kind of magic Saban can conjure up by November.
However, simply crystal balling it right now, LSU's offense when Daniels is firing on all cylinders like he was for three quarters on Saturday night versus Arkansas means the Tigers will likely be favored over the Tide in November.
Daniels is LSU's distinguishing factor.
Now don't get me wrong. I'm not saying any of LSU's upcoming SEC games are a given.
All I'm saying is LSU should be favored in all those games and has the offense to beat them all.
Daniels is playing the quarterback position at the higher level than anyone else in the league one full quarter into the season. Daniels clearly knows how to push all the right buttons on LSU's offense. He pushes them at the right times. And LSU's offense is powerful and has a lot of 'right buttons' and the Tigers can score a lot of points, can strike quickly, strike efficiently and can do so against any team in the country.
The defense, however, is bad right now.
Still, you have to think the defense will get better as the season moves along.
At this point, though, it appears LSU's offense can manage the burden its poor defense creates.
Against Arkansas last night, Daniels passed for 320 yards and four touchdowns, but still had to rely on a Damian Ramos 20-yard field goal with 5 seconds left to seal it up for the Tigers
Daniels hit Thomas twice for 49-yard touchdowns and found Nabers for 8- and 20-yard TDs.
Daniels started LSU's game-winning drive with a 36-yard pass to Nabers. Running back Logan Diggs followed with a 21-yard run up the middle to help set up Ramos' game-winner.
Thomas finished with 133 yards receiving on five catches. Nabers had eight receptions for 130 yards and Diggs rushed for 97 yards on 14 carries.
Jefferson, meanwhile, passed for 289 yards and three touchdowns for Arkansas. Jefferson routinely frustrated LSU constant pass rush with his ability to escape the pocket, especially on a pair of game-tying touchdown drives in the fourth quarter.
Jefferson escaped two near sacks before rolling right and finding Luke Hasz uncovered for a 59-yard scoring play. Zy Alexander bit when he thought Jefferson, who had extended the play by being evasive for so long Alexander assumed Jefferson would run. Alexander released Hasz and that was all she wrote.
Jefferson followed that up by finding Hasz again for 2-point conversion after a false start had pushed Arkansas back to the 8-yard line. This illustrious turn of events tyed the game at 24.
With 5:06 left, Jefferson's short touch pass in the face of two onrushing defenders hit Hasz for an 11-yard scored to tie it at 31.
Hasz finished with six catches for 116 yards.
Arkansas running back Rashod Dubinion rushed for 78 yards on 15 carries.
Jefferson finished with 48 yards rushing.
Arkansas dominated time of possession in the first half, spending nearly 19 minutes with the ball. However, two Razorbacks drives inside the LSU 10 ended with field goals.
Daniels, according to Kelly, was out of rhythm until the second quarter began, and Arkansas held LSU without a point until Ramos' field goal with 4:02 left in the first half.
Arkansas took a 13-3 lead on Jefferson's 19-yard pass to Tyrone Broden with 48 seconds left in the half.
But Daniels was now in rhythm.
In just 18 seconds, Daniels found Thomas behind everyone for his first long touchdown pass and LSU cut the Hogs' lead to 13-10 before halftime.
Daniels was only getting started.
More followed, as LSU put together four consecutive TD scoring drives including one to start the third quarter that Kelly said was as outstanding and efficient of a drive as any LSU's had this year. Daniels was perfect in making his reads, his calls, and in his execution and accuracy even though Arkansas was mixing everything up and throwing the kitchen sink at LSU on that drive. In fact, after LSU started the game with a punt, and interception, and then another punt, the Tigers scored every time it possessed the ball again for the rest of the game: field goal, touchdown, touchdown, touchdown, touchdown and field goal – for the win.