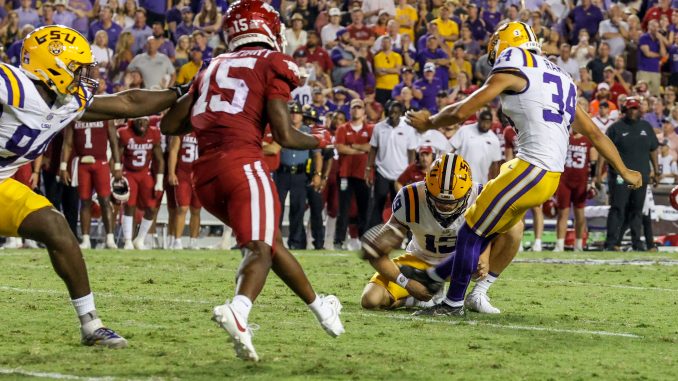 No. 12 LSU had to hold on for one final play before exhaling.
With Arkansas' mammoth quarterback KJ Jefferson heaving the ball about 50 yards in the air, LSU finally put the exclamation point on a frenetic 34-31 home Southeastern Conference victory Saturday with an interception from Zy Alexander on the game's final play at the Tigers' 25.
"It's a rivalry game between Arkansas and LSU and has come down to a field goal the last three years, now make it four," said LSU football coach Brian Kelly, who team won its third straight game. "It's just the nature of two teams that are in close proximity playing for a (Golden Boot) trophy."
LSU (3-1, 2-0 in SEC) rallied from a halftime deficit and scored on six consecutive drives, including four in the second half, with the game-winning points coming on Damian Ramos' 20-yard field goal at the end of a 5-plus-minute drive with five seconds to play before an announced Tiger Stadium crowd of 99,648.
LSU quarterback Jayden Daniels engineered his team's comeback, combining for 356 total yards and four touchdowns. He overcame a slow start to complete 20 of 29 passes for 356 yards and four touchdowns – two each to Malik Nabers and Brian Thomas Jr.
"He was out of rhythm," Kelly said of Daniels' early struggles. "If you watch him a little bit, his drop was a little bit off and then he was rushing into his throws. We just kept reminding him about picking up his rhythm of being a lot quicker, which is how he played and has to play. And once he was able to speed up his drop, he was in a much better rhythm."
Running back Logan Diggs was the team's top rusher with 97 yards on 14 carries, while Nabers had eight catches for 130 yards and Thomas added five receptions for 133 yards.
LSU outgained Arkansas 509 to 426 despite running 10 fewer plays and holding onto the ball nine minutes less than the Razorbacks.
Daniels ended the first half with a 49-yard TD pass to Thomas and led LSU on two straight 75-yard scoring drives that provided the Tigers with leads of 24-16 and 31-24, the second score coming with 9:43 remaining in the game.
LSU took its first lead at 17-13 on Daniels' second 49-yard TD pass to Thomas a minute into the third quarter. Consecutive scoring tosses of 8 and 20 yards, respectively, to Nabers helped the Tigers take a 24-16 and then snap a 24-24 deadlock with 1:40 showing in the third quarter.
Arkansas (2-2, 0-1), a 17 1/2-point underdog, wouldn't go away and twice tied the game over a nine-minute stretch of the fourth quarter.
Jefferson, who combined for 337 total yards and three touchdowns, tied the game at 24-24 when he extended a play, got outside the pocket and found tight end Luke Hasz wide open behind coverage for a 59-yard TD at the 14:11 mark. The duo also teamed on the two-point conversion for the first tie of the game.
"KJ Jefferson was outstanding tonight," Kelly said. "He kept plays alive. We couldn't get them on the ground. We tried to get him on the ground but weren't allowed to get him on the ground. So it's just one of those games where we were the last one to have the football and I wasn't interested in letting Arkansas have another chance."
Five minutes after Daniels' 20-yard scoring strike to Nabers to the corner of the end zone, Jefferson overcame a roughing-the-passer penalty against LSU's Harold Perkins Jr. and connected with Hasz on an 11-yard score for a 34-all game with 5:06 remaining.
Jefferson went 21 of 31 for 289 yards with two interceptions and three touchdowns. Hasz was his top target with six catches for 116 yards and two TDs.
LSU mixed up the run and pass on its final drive that covered 72 yards in nine plays. With Arkansas out of timeouts, the Tigers were content to try and take up as much time as possible, eventually spending all three of their own timeouts on the drive.
After an incompletion from Daniels for Nabers in the end zone, Ramos came onto the field on fourth down, and out of the hold of Jay Bramblett from the left hash, remained perfect on season with his fifth field goal.
"We had to let the clock run all the way down to get the mathematical number to that level or we would have risked our situation to be such that we would have had to run the field goal team out there without a timeout," Kelly said. "I wasn't going to put us in that kind of situation."
For the first time LSU trailed at halftime this season, but the Tigers perfectly executed their two-minute drill with Daniels connecting with Thomas in stride on a 49-yard scoring pass to reduce Arkansas' lead to 13-10 with 30 seconds to go.
Arkansas had just increased its lead to 13-3 on 75-yard drive that Jefferson capped with a 19-yard TD pass to Tyrone Broden who beat LSU's Denver Harris, getting his right knee down in the end zone for the touchdown with 48 seconds showing.
Daniels, with three timeouts to work with, threw incomplete on first down on the team's final series of the half before finding Thomas for the first time in the half – connecting with the Walker native on 26 and 49 yards, respectively, to get back within a field goal at halftime.
Arkansas controlled time of possession, holding the ball for more than 15 minutes of the first 21 minutes of the game, but managed only a pair of 23-yard field goals from Cam Little – one in each quarter – to build a 6-0 lead.
LSU, which punted twice and turned the ball over when former Tiger Dwight McGlothern intercepted Daniels, finally got on the scoreboard with 4:02 remaining before halftime when Ramos booted a 24-yard field goal. The Tigers' drive stalled after reaching the Razorbacks' 6 following Josh Williams' 39-yard run and 10-yard horse collar penalty.
"These are the games that you got to find a way to win," Kelly said. "We didn't have our best performance early on, but I thought we really played well at the end of the (first) half and in the second half in particular on offense. And defensively, you know, there's a lot that has to continue to get better and most of them are self-inflicted wounds that are going to have to get better as we go on the road these next two weeks. But all in all, happy with the victory."