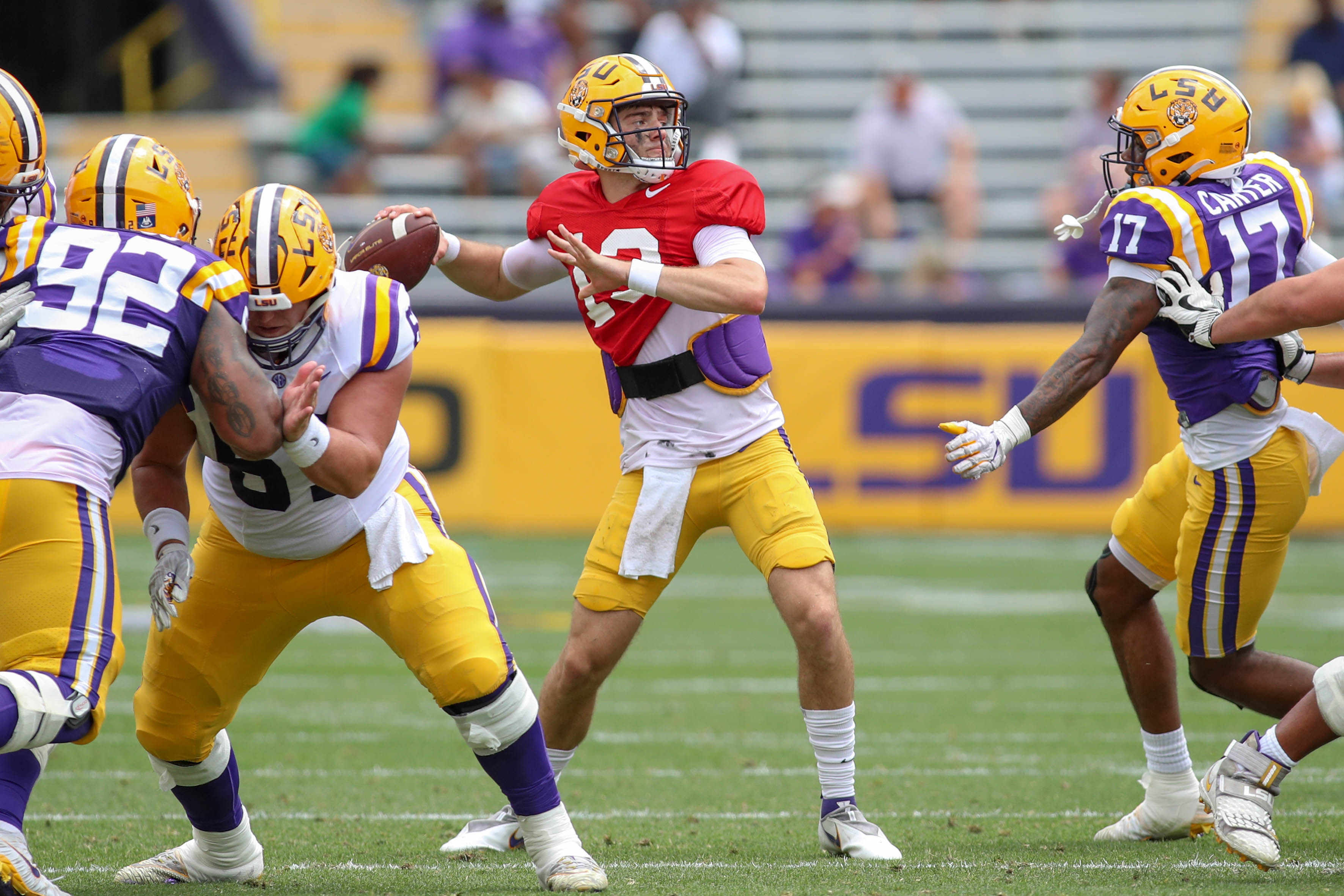 Arizona State transfer Jayden Daniels took the overwhelming majority of snaps, ahead of returnee Myles Brennan, with the first team offense late in LSU's open-to-the-media practice Thursday.
But don't take that to mean there has been separation in the battle for the Tigers' No. 1 quarterback job.
Rather, redshirt freshman Garrett Nussmeier – who appears to have emerged alongside Daniels early in preseason camp as one of the top two favorites to start when LSU opens its 2022 season Sept. 4 against Florida at the Superdome in New Orleans – was limited due to an ankle injury.
"I think you have a very competitive situation still going on," coach Brian Kelly said.
"Nuss (Nussmeier) would have been in there taking first-team reps as well. You know, Myles … is as effective and as smart as any quarterback. And Walker Howard continues to – I mean, for a freshman – amaze me in terms of what his knowledge base is and the strength of his arm.
"So, no," Kelly added, "we're not ready to change the kind of thought process relative to who's getting what reps at this point."
   Kelly said Nussmeier, who was taking most of the first-team snaps along with Daniels when camp opened, has a Grade 1 ankle injury. It's presumably a sprain.
"He'll be back, probably taking 7-on-7 reps either (Friday) or Saturday.
The injury evidently occurred during practice earlier this week for the Tigers, who had six sessions after camp opened last Thursday before taking a recovery day off Wednesday.
"He just came down very similar to when, you know, a basketball player comes down on somebody else's foot," Kelly said. "A very similar situation. And (he's recovering quite nicely. So, just a minor ankle situation for him."
Nussmeier preserved his redshirt by appearing in only four games last season. Daniels was a three-year starter at Arizona State and Brennan, who was in the NCAA transfer portal before being convinced by Kelly to stick with the Tigers, was injured and out all last year.
BRIAN THOMAS JR. MAKES BIG CATCH
Receiver Jack Bech didn't participate Thursday, and neither did receiver Chris Hilton Jr.
Kelly said when camp opened that Bech was dealing with shin splints.
With Bech out at least for now, LSU's top five receivers appear to be star Kayshon Boutte and – in no particular order – Brian Thomas Jr., Malik Nabers (working out of the slot), Jaray Jenkins and Louisiana transfer Kyren Lacy.
Thomas pulled in a 60-something-yard touchdown bomb thrown by Brennan early in the practice, and Lacy had a couple drops that arguably should have been caught.
AT THE CORNERS
Kelly indicated he is quite pleased with the quality of depth his cornerback group has exhibited throughout the past week.
"I think there was a point where we all didn't know what to expect," he said, "but whether it be younger players, older players, all of them have really shown in camp."
Kelly gave shoutouts to Colby Richardson, a graduate transfer defensive back from McNeese, and Jaelyn Davis-Robinson, a true freshman cornerback from Waxahachie (Texas) High.
He said Richardson has proven to look like "somebody who can compete for us right away" and that Davis-Robinson has been "out there competing at a high level."
Kelly also said Ohio State graduate transfer cornerback Sevyn Banks, who came to LSU fresh off a hip injury late in his Buckeyes career is now "cleared for 7-on-7."
Banks, who was limited at the start of camp last Thursday, joins a remade room that also includes Oklahoma State transfer Jarrick Bernard-Converse and Louisiana transfer Mekhi Garner.
Garner flashed well several times during Thursday's practice, which was open to media members from beginning to end for the first time since camp opened, and Bernard-Converse, who sustained a Jones foot fracture during spring drills, participated as well.
"So an area where we were concerned has now begun to look like one of great depth," Kelly said.
MAJOR BURNS BACK
Kelly also suggested his safeties group has been lifted with the return of Major Burns, who missed spring practice due to a foot injury sustained last season.
He said Burns is "a guy with a lot of smarts and savvy."
"So I just feel right now that the concerns we had there (in the secondary) are starting to be alleviated by the production and their play – not by wishing and hoping, you know?" Kelly said. "I think there was a lot of wishing and hoping coming in, and we're actually seeing production and consistency out there."
ON THE D-LINE
The emergence in camp of Desmond Little as a backup playing LSU's hybrid Jack linebacker/defensive end position behind BJ Ojulari, Kelly suggested, has given the Tigers a big lift in an area where it needed one on the edge.
"Because we were considering maybe that we would have to look at maybe (defensive end) Ali Gaye playing both positions and giving us a little bit more," Kelly said, "but I think with Desmond playing really well at that Jack position it allows us to solidify that group, and now it's just a matter of continuing to build the depth."
MISC.
Jordan Toles still was listed on LSU's online roster as of late Thursday afternoon, but The Athletic reported Thursday that the little-used defensive back had entered the transfer portal. He went into preseason camp vying for time at safety. A junior from Baltimore, Maryland, Toles had 16 total tackles in 14 career games (no starts) over two seasons with the Tigers. … Banks also was auditioning as a punt returner Thursday, along with Nabers, safety Sage Ryan and walk-on receiver Javen Nicholas. … Micah Baskerville was a limited participant Thursday, but Kelly said "he's going to be somebody that helps us this year" in a group of a half-dozen top linebackers that also includes Mike Jones Jr., Greg Penn III, Harold Perkins and Virginia transfer West Weeks. … Kelly said two LSU players – Jenkins and Gaye – will graduate Friday, and tight end Nick Storz will receive a master's degree.