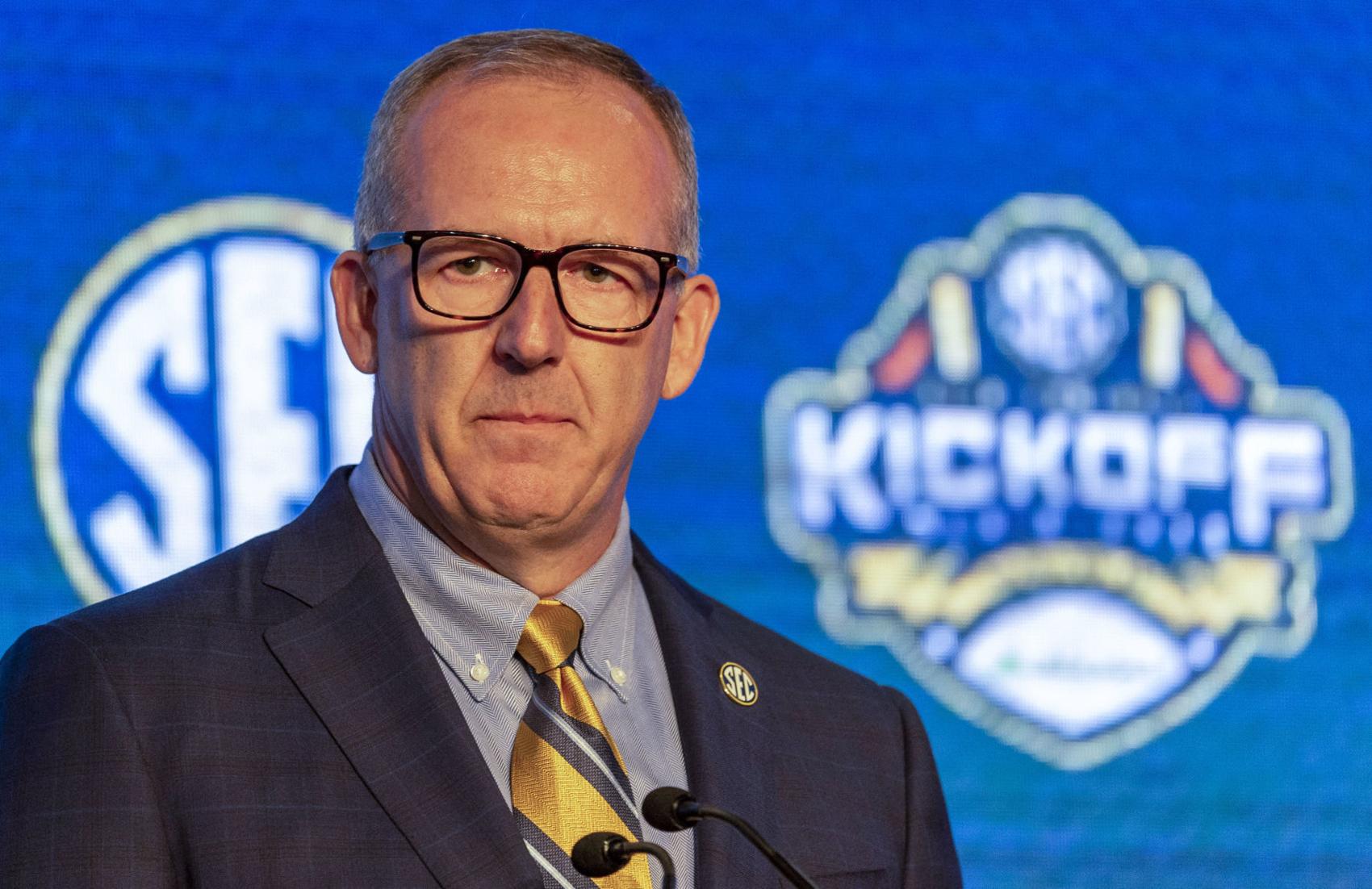 Brian Kelly, Scott Woodward, SEC Commissioner Greg Sankey, Nick Saban and several other SEC big shots spent several days in early June in Washington DC meeting with government leaders to fight for reform in NIL.
During the SEC meetings a few days before that, Kelly told the SEC Network's Paul Finebaum that college football needs to somehow find a way to "put the genie back in the bottle," alluding to the drastic and rapid ways in which NIL has influenced recruiting in college football.
As currently constructed, NIL laws differ state by state.
Kelly and Saban are each fighting to change that and create parity in college football by instituting federal NIL laws, they say.
They are asking for federal help in regulating the expanding ability of college athletes to earn money while still in school.
The second annual NIL Summit (they've done this before, to no avail) delivered predictions of more dramatic changes to the landscape of college sports.
The Summit was held at the College Football Hall of Fame.
Speakers at the Summit said college athletes' new-found ability to earn money off their name, image and likeness has the potential to create even more dramatic change in all college sports than it already has.
Max L. Forer, a partner in the Miller Nash law firm based in Portland, Oregon, is active in the rapidly expanding NIL world, and Forer told the Associated Press he doesn't expect federal action on the matter.
Instead, Forer said he expects schools to continue to follow state statutes on NIL regulations. State rules make it possible for student-athletes to benefit financially as soon as they sign letters of intent, even before stepping on campus.
In other words, Pay-for-Play, which is against NCAA rules is not only happening as we speak, but is also only going to become more prevalent.
"Will this continue to go down this path where states are protecting their institutions? And what happens? And from this seat I don't think the federal government is going to act. I just think it's there's a lot going on. I think state laws will continue to stay more aggressive and the NCAA is going to have to have a decision what they're going to do," Forer said.
Change can be scary, even for some SEC schools which have the potential to look even more attractive to recruits who hope to land NIL deals with eager-to-please local businesses.
According to the On3 website, current 2024 college football recruiting rankings list two-time defending national champion Georgia, Alabama and Florida among the top four signing classes — and among the top four average NIL deals
Georgia tight end Brock Bowers was a nominee for Student NIL Male Athlete of the Year, which recognizes those who have best leveraged their NIL across multiple brands. Bowers, who will be a junior this season and possible first-round pick in the NFL draft, earns more than $720,000 annually on NIL deals with Associated Credit Union, Zaxby's, Dick's Sporting Goods, and others, according to On3.
Kelly and Saban, along with Woodward, Sankey and the rest of the SEC contingency, met with lawmakers in Washington and asked for federal assistance in regulating how college athletes can generate NIL income. NCAA president Charlie Baker also said he believes college athletes need legal protections which federal legislation could provide.
Many are predicting college athletes will be classified as employees instead of student-athletes in the very near future, as in next few years, and ultimately will work under union protection – see the NFL. That would include having a seat at the table when TV rights are negotiated, just as the NFL players association has a say in NFL business.
Forer said the National Labor Relations Board "is very union friendly and this is a priority for them and has been since they really got into office. And, so, I think this is a very high probability this happens. … It's going to look pretty similar to professional sports in some ways."
Forer caused a stir in the audience, which included college professionals, when he said the issue of college athletes being required to attend classes in the future could be decided by collective bargaining agreements.
Saban also has offered warnings that the SEC will only grow stronger if the feds don't intervene.
I'm telling you now, the NCAA is powerless over this issue. The federal government is going to be slow to act, if it ever does, and the "Power Five" is going to break away from the NCAA within the next three years.