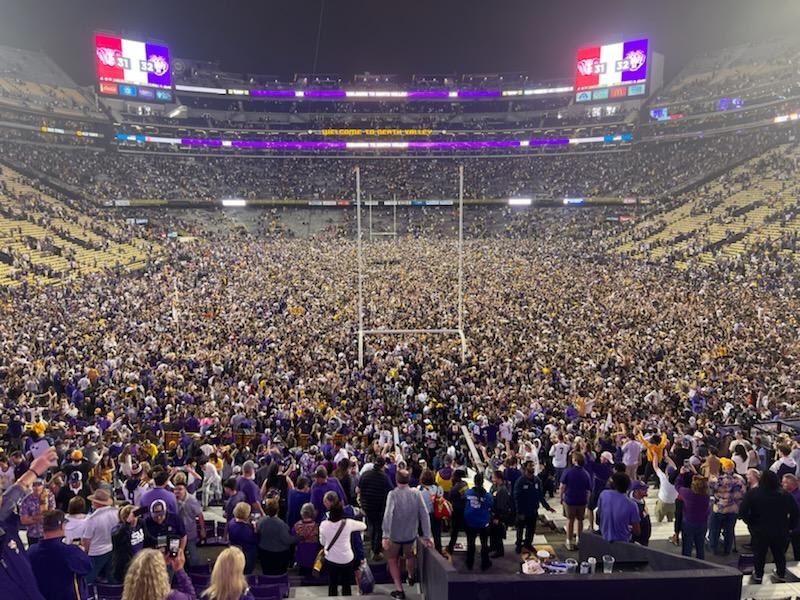 The SEC may eventually rue the day when Texas and Oklahoma joined the league. In 2024, the annual football schedule is transformed from competitive to cannibalistic with too many top rate powers vying for conference honors. Nick Saban is not only the preeminent coach in the game, but he can also count. Saban knows that unless he's Les Miles in 2007, he is not going to win the national title with two losses.
The odds of surviving a Mount Rushmore conference schedule of college titans with just one defeat are daunting. Even without increasing the league schedule by one game per season, the quality of the opposition increases in most years with Texas and Oklahoma in the mix. Together, the schools have produced 11 national titles and are credited with another 15 unclaimed crowns.
It is probable the SEC will someday soon field the best team in the country, and the unit will not prevail nationally because of too many defeats or too many injuries received in a grueling succession of matchups against the best talent in the land.
It is little wonder that Saban opposes a 9-game slate against his brethren. The Alabama guru may even be willing to forego his yearly hate fest vs. LSU. Saban has lost to LSU four times while at Alabama. His idea of a perfect rival is Arkansas. He has not lost to the Hogs since 2002 when he was in his third year at LSU.
Saban boasts 18 consecutive victories against the Razorbacks and has lost four times in 17 games against his former employer in TigerTown. For a man who has endured only 14 SEC defeats in the past 15 seasons, a nostalgic trip to Baton Rouge every two years does not appeal to the septuagenarian wizard. Any fond memories are erased when Alabama occasionally loses in Tiger Stadium.
LSU has not fared well historically against the monolithic power in Tuscaloosa. Alabama leads the series 55-27-5 even though LSU won the first two battles between the rivals in 1895 and 1902. LSU has played Alabama every year since 1964 and holds a record of 18-41-1 against its most hated foe in the last 59 seasons.
The LSU coach with the best record vs. Alabama is Paul Dietzel, who in two assignments, beat the Tide in 1957 and in 1958 in Bear Bryant's debut as head coach of the Crimson Tide. Brian Kelly can equal Dietzel's 2-0 record with a win over the Red Elephants on Nov. 4 at Bryant-Denny Stadium.
LSU leaders with the most wins against Alabama are Les Miles and Nick Saban. Miles was 4-8 vs. the Tide from 2005-16. Saban was 4-1 against Bama from 2000-04. With 17 wins combined, Saban is the winningest coach in the series. The Bear was 16-4 vs. LSU at Alabama. Saban is 13-4 at Alabama and 0-1 at Michigan State against the Tigers, losing 45-26 before 48,835 patrons at the 1995 Independence Bowl to Gerry DiNardo.
It would be a travesty if a great rivalry died because of interlopers from Austin and Norman into the SEC. Alabama and LSU have captured 9 of the last 20 national titles with Saban winning 7 times overall and Miles and Ed Orgeron winning once apiece at Death Valley.
LSU-Alabama has become the most anticipated conference showcase in a league that has dominated the college game over the last generation. Robust television ratings could ultimately save the game.
Alabama has the edge in the 21st Century, but LSU has a respectable 10-14 scorecard vs. the Tide since 2000. Here are the records of coaches in the series from 2000-22.
Coach Record
Nick Saban 17-5
Les Miles 4-8
Brian Kelly 1-0
Dennis Franchione 1-1
Ed Orgeron 1-5
Mike Shula 0-4
Mike Dubose 0-1
Saban has been the driving force in the rivalry this century. When he was at LSU, the Tigers dominated the Tide at an 80-percent rate of success. At Alabama he is winning 76.5 percent of the time against LSU.
Since 2000, Saban is 17-5 in the series (77.3 percent). All other coaches at LSU and Alabama are a collective 7-19 (26.9 percent) in the same span.
In 24 games during the new century, Alabama has outpointed LSU 575-451 for an average margin of victory of 24.0 to 18.8. Considering the potency of the Tide, the Tigers have held their own against the country's best.
Saban has collected ten SEC championships since 2000 while Miles won two and Ed Orgeron took one for a total of 12 league titles in 23 seasons for LSU or Alabama. This supremacy is bound to drop off some with the Longhorns and Sooners joining the lodge.
Texas and Oklahoma will not win as much either. But their presence will cause all SEC members to win less frequently over time.
A few years ago, a strategy was offered in this space for the SEC to retain two divisions and add two other schools. Former members Georgia Tech and Tulane boast eight league championships without being members in nearly 60 years. By contrast, Vanderbilt, South Carolina, Arkansas, Missouri, Texas A&M, Mississippi State and Kentucky have collaborated for just three SEC football titles in their league tenures.
The Greenies and Yellow Jackets also enhance the conference presence in New Orleans and Atlanta, centers of the SEC universe for 90 years.
The ideal new league would have 18 members, two divisions and play one annual game against a team from the other division. For LSU, this yearly matchup would be with Alabama.
Here is a proposal for revamping the conference with a 9-game annual schedule.
East West
Alabama LSU
Auburn Texas
Florida Texas A&M
Georgia Arkansas
Georgia Tech Tulane
Tennessee Ole Miss
Vanderbilt Mississippi State
Kentucky Missouri
South Carolina Oklahoma
There is a better chance for great teams to survive in this format, and it would be prudent to retain the SEC Championship game.
There will be times under any configuration when stellar players never face a conference foe, but it has happened before.
Alabama's Joe Namath did not play in Tiger Stadium while Heisman Trophy winners Bo Jackson of Auburn and Herschel Walker never faced LSU at all.
No plan is perfect, but some concepts are clearly better for preserving rivalries and preserving competitive balance.