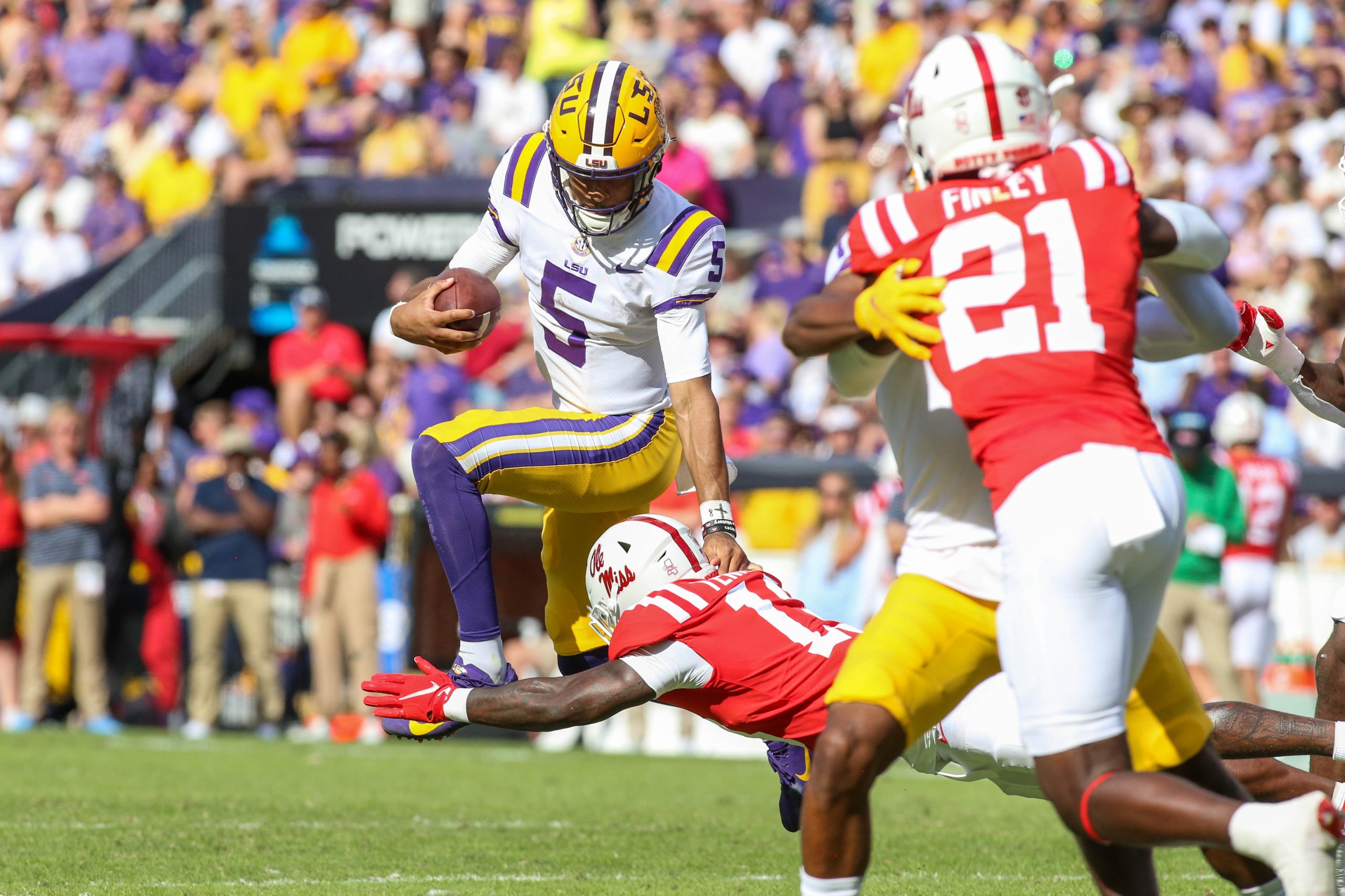 LSU's officially announced its candidacy for the championship of the Southeastern Conference's Western Division.
The Tigers crossed arguably their biggest hurdle of the season to get there, overcoming a two-touchdown deficit by putting together a second half to remember in a 45-20 victory Saturday over No. 7 and previously undefeated Ole Miss before a Tiger Stadium homecoming crowd of 100,821.
A week after combining for six touchdowns, LSU quarterback Jayden Daniels accounted for 369 yards and five touchdowns, and the Tigers (6-2, 4-1 in SEC) reached the 500-yard plateau in total yards to pull share the lead in the SEC's Western Division.
"With a top team coming in, that's why you come to LSU," LSU football coach Brian Kelly said. "Our best players played their best and we needed that. Our defense obviously played great in the second half against a real potent offense."
Daniels completed 21 of 28 passes for 248 yards with two touchdowns. He rushed 23 times for 121 yards and scored three times. Running back Josh Williams was also a key part of the Tigers' 252-yard rushing attack with 17 attempts for 76 yards and a touchdown.
"He was the catalyst for us, making quick decisions," Kelly said of Daniels. "He was assertive, aggressive, ran the ball, the offensive line was outstanding. As you know, we really put the game away at the end. And we got stronger. We exerted our will against our opponent, which is part of what we're building here. We want a dominant mindset amongst our group come the second half. We want to be able to run the ball effectively and control our opponent and move him against their will and I thought we did that. So it's great victory."
LSU wiped away a three-point (20-17) halftime deficit, by outscoring Ole Miss (7-1, 3-1) 28-0 in the second half going into next week's open date. The Tigers, who entertain UAB in a non-conference game (Nov. 12), host Alabama on Nov. 5 before closing with league games at Arkansas (Nov. 19) and Texas A&M (Nov. 26).
LSU took advantage of a poor punt to take its first lead of the game (24-20) at the 8:25 mark of the third quarter and extended that margin (31-20) after the first interception of the season by Joe Foucha.
The Tigers needed to cover on 50 yards following a short punt and did so in 10 plays with Daniels, on play action, finding tight end Mason Taylor on a second-and-goal 1-yard scoring pass.
Ole Miss threatened to regain the lead, driving to LSU's 9-yard line but Tigers linebacker Micah Baskerville forced Dart into an interception by Foucha in the end zone on a second-and-goal pass with 4:03 showing in the quarter.
"The momentum really shifted there," Kelly said. "You know the interception was probably the biggest play because they were threatening to score in that situation. We felt like that was the first time where we got any extension in the game from them because it was score, score, score.
"That was probably the one big play in the game that gave us the ability to obviously pull away a little bit, so that was a huge play," Kelly said. "The pressure obviously had a lot to do with that. So the pressure, he puts it up and we were able to get the big interception."
Dart was 19 of 34 for 284 yards with no touchdowns. In addition to being shut out in the second half, the Rebels were limited to 112 yards with 35 of those coming on their final drive.
"I think we just got a little bit more aggressive," Kelly said. "In talking to (defensive coordinator) Matt (House) at halftime, sometimes we tend to cover up some things that we feel like our weaknesses and they're not really that weak. And we just kind of said, 'let's go play' and were probably a little bit more aggressive maybe in the second half and just let the guys play."
Daniels completed 5 of 6 passes for 58 yards, including back-to-back completions to wide receivers Kayshon Boutte and Brian Thomas Jr. totaling 26 yards into Ole Miss territory. He then kept on first down from the 11, getting a seal block from Taylor, to break the school's single season record for rushing touchdowns by a quarterback with his eighth of the season for a 38-20 lead with 8:36 remaining to be played.
The Tigers capped their second-half dominance with 2:05 remaining on Williams' 1-yard TD run, and scoring on their fourth consecutive series of the half.
LSU dug itself out of a 17-3 hole with consecutive touchdown drives and tied the game at 17-all at the 8:20 mark on Daniels' 3-yard TD run.
"We have found our rhythm," Daniels said. "The biggest thing in the offensive unit is trust, and we all trust each other. I am going to give them the ball where they can go out there and make a play and they trust me to put it in the right spot."
The Tigers went 75 and 78 yards, sandwiched around the defense's first stop of the Rebels' offense, with Daniels connecting on a 34-yard scoring strike. It was an underthrown ball that Jaray Jenkins made a nice adjustment between two defenders near the goal line to make the catch.
LSU tied the game for the first time at 17-17 when Daniels found Taylor who had a season-long 36-yard reception into Ole Miss territory at the 40. Daniels later found Boutte on a crossing route for another 20 yards and two plays later Daniels, who faked out defender Isheem Young, kept on first-and-goal into the end zone.
Ole Miss, who scored on four of its first five possessions, grabbed a 20-17 halftime lead when placekicker Jonathan Cruz made a 48-yard field goal with 4:08 remaining before halftime.
Dart came out firing in the first quarter, leading Ole Miss to 200 yards and a 17-3 lead on the first play of the second quarter.
The Rebels, on back-to-back scoring drives, took a 14-3 lead when Quinshon Judkins scored six yards up the middle on first-and-goal and added a 3-yard score on second-and-goal at the 6:01 mark of the opening quarter.
It turned out to be the final touchdown Ole Miss would score, adding a field goal from Cruz before LSU scored touchdowns on its next four possessions to take control of the game and control its destiny in the SEC's West Division.
"We're executing at a high level, we're exerting our will," Kelly said. "Our best players are now starting to play their best football and they're playing, quite frankly, with a lot of confidence right now and that's a pretty good thing."