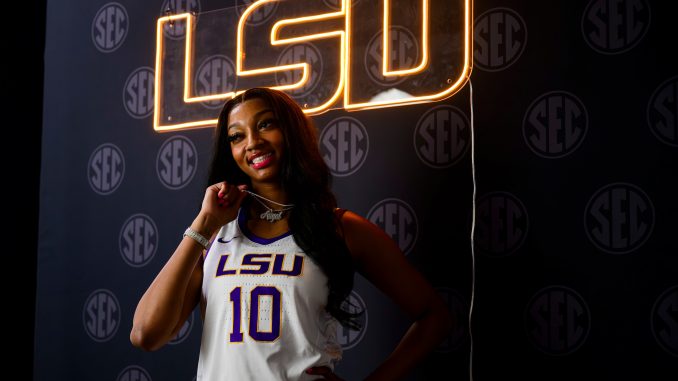 Deep down, like most people, LSU women's basketball coach Kim Mulkey wondered.
Just how would her first team All-America forward Angel Reese handle success and a lifetime of fame squeezed into a four-month whirlwind?
Since helping LSU to its first national championship in April, it was probably easier for Mulkey to keep track of Reese on social meeting, a summer filled with magazine photo shoots, filming commercials and an appearance at the ESPY's where she won an award for Breakthrough Athlete.
As one of LSU's driving forces, Reese was at the pinnacle of her career and the 21-year-old superseded that off the court, surpassing more a $1 million in earnings from Name, Image and Likness (NIL) – making her one of world's most recognizable athletes.
Mulkey meets with each of her players individually before the start of practice and once Reese arrived in Baton Rouge, their much-anticipated get-together helped quell any fears the coach may have had.
"Is Angel Reese hungry? She's making money like crazy. Is she going to be hungry for another ring?," Mulkey asked rhetorically. "I won't ever forget it. She said, 'Coach I'm tired, I'm so glad to be back. I'm ready to play basketball'. I was looking, to hear that and not have to pull it out of her.
"Angel doesn't have all of that when she got here," Mulkey continued. "She doesn't have that unless she has success on the court. She understands she just had the most unbelievable year of her college career, and it was fun, and you're not entitled to that unless you work and she's working. She did her obligations and understands that once she reported here, it's LSU time."
The 6-foot-3 Reese couldn't be more excited for her second season at LSU. The senior is scheduled to graduate this year and could enter the 2024 WNBA Draft or return for a fifth season because of the NCAA's COVID exception.
"I enjoyed my summer," she said. "Just reflecting back on everything it's a blessing to be here at LSU. I don't think I would have had a run like I did if I wasn't at LSU. I just love being here. The community has helped me so much, and helped me grow my platform outside of being a basketball player, and just understanding they've been supportive of me. I have to show love to them and being able to win a national championship and bring it back home was icing on the cake."
Reese's celebrity star shone brightly from the time she exited the United Center in Dallas the Final Four's Most Outstanding Player, leading LSU past Iowa, 102-85, in the national championship game.
Representatives for some of the nation's top corporations lined up, pitching their products in Reese's direction and like the nation's No. 2 rebounder, she gathered as many as she could. She signed deals with Amazon, Bose, Coach, Outback Steakhouse, Sonic, TurboTax, Wingstop and Xfinity.
She also appeared in Sports Illustrated's famed swimsuit edition and was later featured with LSU gymnast Olivia Dunne on the cover of Sports Illustrated's Money Issue.
Moreover, Reese said her journey, which also included a silver medal with USA Basketball in the FIBA Women's AmeriCup, enabled her to cross paths with such celebrities as Jay-Z and Beyonce', boxer Floyd Mayweather and former NBA player Dennis Rodman.
The additional wealth also helped Reese give back through philanthropic endeavors, creating the Angel C. Reese Foundation to empower females through sports, education and financial literacy. She sponsored a 'Back to School Giveback' block party for McKinley Elementary in Baton Rouge.
"Nothing surprises me anymore because I realize things are going to keep coming at me," she said. "I always think of everything as a blessing. A lot of people would love to be in the position that I'm in. It can be stressful at times. It can be overwhelming at times because everybody's coming after me.
"Everybody wants to take pictures and I really don't tell anybody no when it comes to pictures," Reese added. "I don't really know who's there. I don't like it when people are all over me sometimes and I want to be a regular person. Being able to change women's basketball has been important to me."
Reese had tremendous visibility as the nation's No. 2 recruit who opted to remain close to home and signed with Maryland. She spent two years playing for the Terrapins, overcoming injuries along the way to average a double-double (17.8 points, 10.6 rebounds) and earn third team All-America honors for the 2021-22 season.
But the Baltimore native wanted a change, entered the NCAA transfer portal and wound up at LSU.
In Mulkey, she wanted to play for one of the game's top coaches and someone who had success coaching post players and uber-talented players with mega-watt personalities.
Reese experienced nirvana in purple and gold. She was one of two players nationally to average a double-double (23.0 points, 15.4 rebounds), she broke the NCAA record with 34 double-doubles in a season, was named first team All-SEC and to the league's All-Defensive team and was chosen by at least three different organizations to their first team All-America teams.
"She's a competitor," Mulkey said. "I think she wants to be a good leader. I think last year she was thrown into a leadership role, and she probably was learning as she went along. And I think now because of that experience, maybe she'll be a better leader both in the locker room and on the floor. She's a special, special talent."
Reese flourished equally in her off-the-court endeavors that have paid her handsomely. She trademarked her "Bayou Barbie" moniker, regularly appearing on the court with eyelash extensions and long, pink fingernails.
It's part of her long-range ambition that after her basketball career is over, she'll remain a force in the business world of fashion and modeling.
"Coming into LSU I had no expectations," Reese said. "I wanted to come here and get a fresh start and that's what I told coach Mulkey. I wanted to win a championship. Personally, I wanted to grow my game, but I legitimately wanted to be happy, and I got everything plus more."