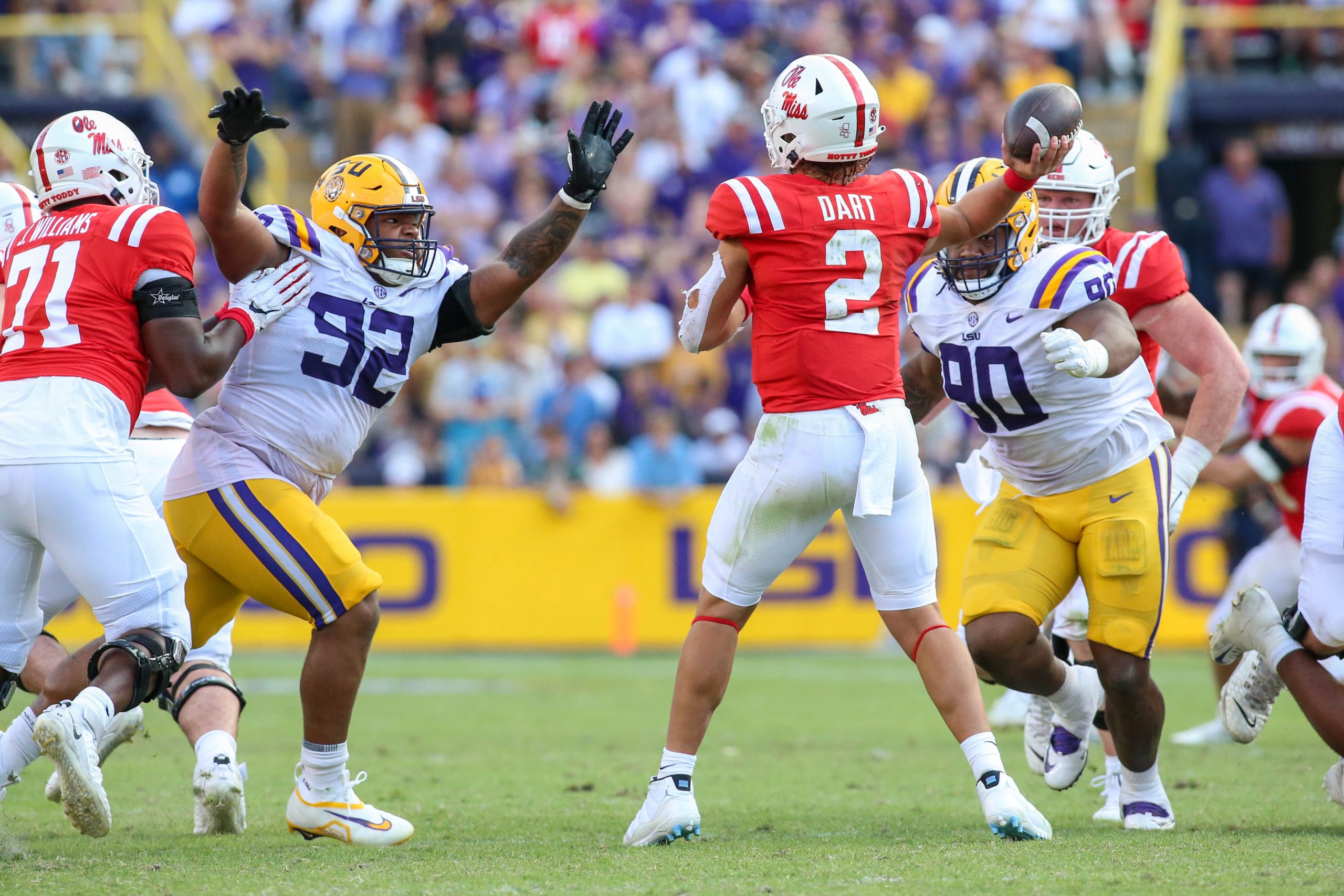 Brian Kelly's signature is now firmly embossed at LSU.
The first-year LSU football coach's first signature win, that is.
"That's probably the furthest thing from my mind," Kelly said, after LSU manhandled Ole Miss in the second half on Saturday. "Our guys have jumped in 100% with a whole new way of doing things for me. I'm just so pleased that they're seeing the positive results because of it."
And, oh yeah, No. 7 Ole Miss is unbeaten no more.
It's all a part of the process.
And turns out, it's all in day's work.
A day that has officially turned the SEC West on its ear and alerted the entire SEC that, don't look now, but LSU is back.
Thousands of students and other fans, a large contingent of the 100,861 fans that filled Tiger Stadium, rushed the field after LSU flexed its toughness, exhibited what is quickly becoming its trademark resilience, and snuffed out Ole Miss.
But those are really the resulting ramifications of what happened during a nationally televised CBS game.
What really matters is the substance of LSU's 45-20 dominant win over the previously undefeated Top 10-ranked Ole Miss.
Substance is what matters most.
LSU is playing with substance. Everywhere. Offensively, defensively, and, on Saturday, even on special teams.
That's what truly resonated throughout, not only the Southeastern Conference, but also the entire nation now.
LSU whipped Ole Miss.
There's no other way to describe it.
It was a beat down.
LSU exerted its will on Ole Miss from arguably early in the second quarter on, but absolutely in the second half.
"Obviously, the last three quarters, played great football," Kelly said.
LSU beat the Rebels up and the Tigers beat the Rebels down.
"At the end of the day, when you have a top team coming in, that's why you come to LSU," Kelly said. "Our best players played their best, and we needed that. Our defense played great in the second half against a very potent offense."
LSU stifled a powerful Ole Miss running game, and then it shut down a passing game that started out on fire early, rendering Ole Miss quarterback Jaxson Dart ineffective by exerting constant pressure on him and then hurting his feelings something awful late in the second quarter.
That's when LSU had just taken its first lead of the game, midway through the third quarter, 24-20, on a Jayden Daniels quick fake handoff and then a 1-yard touchdown pass to tight end Mason Taylor.
See, at this point, Dart and his coach Lane Kiffin, et al, still had their own will intact. The Rebels still believed they could win. Probably still thought they were going to win.
So, they put together a 12-play drive of their own.
It started at their own 32 and within three minutes or so, they were sitting pretty with a second-down and goal at the LSU 9-yard line.
Dart looked deep in the right corner of the end zone for Malik Heath.
But LSU's Micah Baskerville pressured Dart, who forced the throw to Heath and senior LSU safety Joe Foucha intercepted it in the end zone.
"That was probably the biggest play of the game," Kelly said.
It gave LSU its first real opportunity to open up a gap on Ole Miss after fighting its way all the way back into the lead.
"Up until that interception – and the pressure from Baskerville had so much to do with it – we were trading blows back and forth. But that play gave us an opportunity to open up a gap, and we took advantage of it. Our quarterback took advantage of it," Kelly said.
Daniels then led LSU on a 10-play, 80-yard drive that he capped himself with a high-flying 11-yard run and then leapt into the end zone less a minute in the fourth quarter for a touchdown that, following an extended review, put LSU up 31-20.
But that was only the beginning of fourth quarter that LSU utterly dominated, outscoring the Rebels, 21-0, and 28-0 in the second half.
Kelly has LSU playing its best football on the heels of what could have been a demoralizing 40-13 loss at home to No. 3 Tennessee three weeks ago. The Tigers again, showed its resolve in winning for the third time this year after trailing by 13 or more points in conference play.
What LSU and Kelly accomplished against Ole Miss will not soon be forgotten.
If ever.
In all, Daniels ran for three touchdowns and passed for two scores, and LSU roared back from an early two-touchdown deficit.
The performance gave the dynamic Daniels the LSU record for touchdowns rushing in a season by a quarterback with nine. Daniels also has accounted for 11 TDs rushing or passing combined in the span of two games with three of each in a 45-35 victory at Florida last weekend.
This is not the same LSU football team it was three weeks ago, Kelly said.
Kelly says the team has evolved. It has matured. It has grown.
Daniels agreed.
"We have found our rhythm," Daniels said.
"The biggest thing in the offensive unit is trust, and we all trust each other. I am going to give them the ball where they can go out there and make a play and they trust me to put it in the spot."
Saturday afternoon, Daniels and LSU were, indeed, spot on.