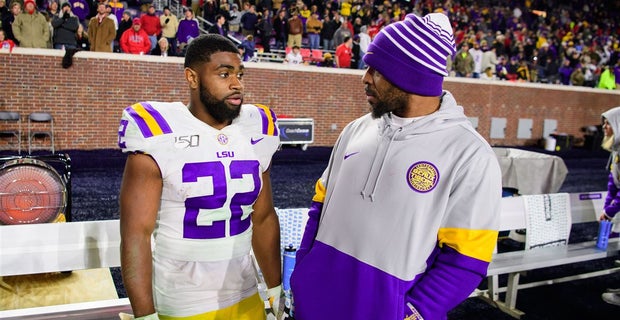 With a new head coaching hire comes change and for the LSU football that's been evident since the arrival of Brian Kelly.
That reached the backfield on Thursday where reports have surfaced that second year running backs coach Kevin Faulk, the school's career rushing leader, won't be retained as part of Kelly's new coaching staff, The Athletic reported.
Faulk spent a trying second season on the staff of Ed Orgeron with the sudden passing of his daughter Kevione in September. He's nearing the end of a two-year contact that pays him $350,000 annually.
  
Kelly announced the hiring of former McNeese State head coach Frank Wilson as an associate head coach on Tuesday with his on-field role still be determined. He previously served as running backs coach at LSU and was considered an ace recruiter on the coaching staff.
Faulk becomes the fifth member of Orgeron's staff to either not be retained or find work elsewhere. Wide receivers coach Mickey Joseph left to coach receivers at his alma mater, Nebraska, while longtime strength and conditioning coordinator Tommy Moffitt wasn't retained along with defensive backs coach Corey Raymond, who accepted the position of associate head coach/defensive backs coach at Florida.
Special team's coordinator Greg McMahon also announced his retirement earlier this week.
Faulk starred at LSU during 1995-98 where he accumulated 4,557 yards rushing and 46 TDs, becoming the school's No. 1 rusher. He also caught 53 passes for 600 yards and 4 TDs and wound up with 5,157 yards from scrimmage and 50 TDs.
Faulk was a second-round draft choice of the New England Patriots where he played 13 years until his retirement in 2012. He was part of three Super Bowl winning teams and was selected to the Patriots Hall of Fame in '16 after a career in which he totaled 7,308 yards from scrimmage and 31 TDs.
He returned his alma mater at Carencro High School, serving as an assistant coach/offensive coordinator from 2013-17 until joining Orgeron's staff in '18 as Director of Player Development before being elevated a year later to his on-field role as running backs coach.