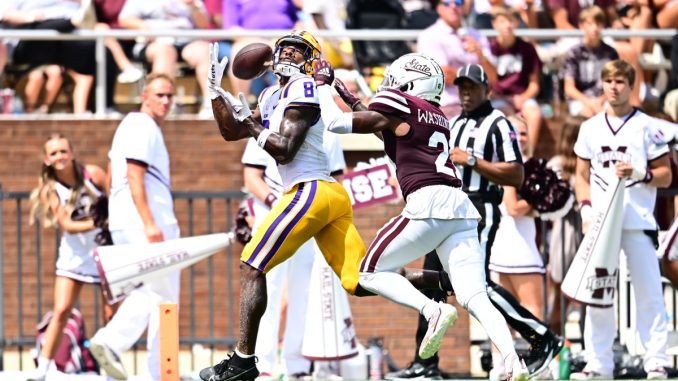 Three weeks into the season this was the LSU team purple and gold faithful were waiting for.
The Tigers, a consensus fifth-ranked team, garnered glittering reviews as a team capable of obtaining lofty goals, ranging from a Southeastern Conference championship to a possible spot in the College Football Playoff.
No. 14 LSU (2-1, 1-0) scored on its first three possessions of the game, and the duo of quarterback Jayden Daniels and wide receiver Malik Nabers were simply magical in a convincing 41-14 victory over Mississippi State before a crowd of 60,084 at Davis-Wade Stadium in the SEC opener for both teams.
"Our team, from my perspective, was prepared and excited to be playing on the road against a quality opponent," LSU coach Brian Kelly said. "I loved the way they thought about this trip. You can look at it as an early morning start and an hour bus ride, or you can look at it as a great opportunity."
Daniels accounted for 425 total yards and four touchdowns; setting a school record with an 88.2 completion percentage with his 30 of 34 effort that covered 361 yards and two touchdowns. He added 64 yards and a pair of scores on 15 rushing attempts.
Nabers, a one-time Mississippi State commitment, set career highs with 13 receptions for 239 yards and 2 TDs. The reception yardage ranked fourth best on the school's single-game record list, while his catches were tied for fifth best.
Nabers came into the game with 11 catches for 154 yards and a score. He had four catches of 25-plus yards in the first half and matched Josh Reed's school record of 10 catches in a half for 188 yards and 2 TDs.
"Daniels and Nabers, hooking up to the level that we've all wanted to see," Kelly said. "We saw that today. That's certainly fun. If that continues to show itself we're a pretty good football team."
The second field goal from placekicker Damian Ramos improved LSU's lead to 27-7 on the first series of the third quarter. The Tigers further put the game out of reach with consecutive touchdown runs of 5 and 1 yard, respectively, from Daniels – the finale coming with 12:11 remaining to be played – to make it 41-7.
For the second straight game Daniels didn't have to play in the fourth quarter when Garrett Nussmeier entered the game for the final 15 minutes of play.
A week after scoring on 10 straight possessions, the Tigers were able to score on seven of eight series to wrap up their third straight win over State and third consecutive in Starkville.
LSU outgained State (2-1) with 310 of its 530 total yards in the first half, compared to 201 for the home team.
"We're either going to do the hard things and the necessary things to get better," State coach Zac Arnett said. "Or we're not and losing like this becomes commonplace. We have decisions to make as coaches, as players – everyone in the program. We've got a decision to make how we're going to respond to this."
Despite missing starters Omar Speights at linebacker, Ovie Oghoufo at Jack and Greg Brooks Jr., a team captain at safety, the Tigers limited State QB Will Rogers to 11 of 28 passing for 103 yards without a touchdown.
They also sacked Rogers four times for minus-20 yards, including the season's first sack from All-American Harold Perkins Jr., and registered seven tackles behind the line of scrimmage for 27 yards in losses.
"It's just a matter of getting a lot of young players and a lot of new players playing together," Kelly said. "It's just a matter of time. We're getting better and we saw that today."
True freshman Whit Weeks, trying to fill in the gap for the injured Speights, led the team with eight tackles.
"Whit can run," Kelly said. "He can go sideline to sideline. If he sees an open gap, he's going to take it. Greg Penn knows the defense. He's assignment correct. He's a main cog and the guys really feel comfortable with him out there."
Daniels was on course for Joe Burrow's school record of 17 straight completions, going 13 of 13 for 128 yards until his first incompletion in the final minute of the first quarter.
Daniels and Nabers established quite a rapport throughout the game, including back-to-back scores on throws of 26 and 33 yards, respectively, against man coverage for a 17-0 lead on the second play of the 14:11 mark of the second quarter.
Daniels was a near-perfect 21 of 22 for 255 yards in the first half, helping LSU's offense to 310 total yards and a 24-7 halftime advantage.
LSU extended its lead to 24-0 on Josh Williams' 1-yard run with 3:24 to go before halftime when State, which had seven total yards before its final drive of the half, went 66 yards and Lidertrick Griffin scored on a 9-yard run with 50 seconds showing.
"I like where we're going," Kelly said. "It's four quarters and we did better in the second half."