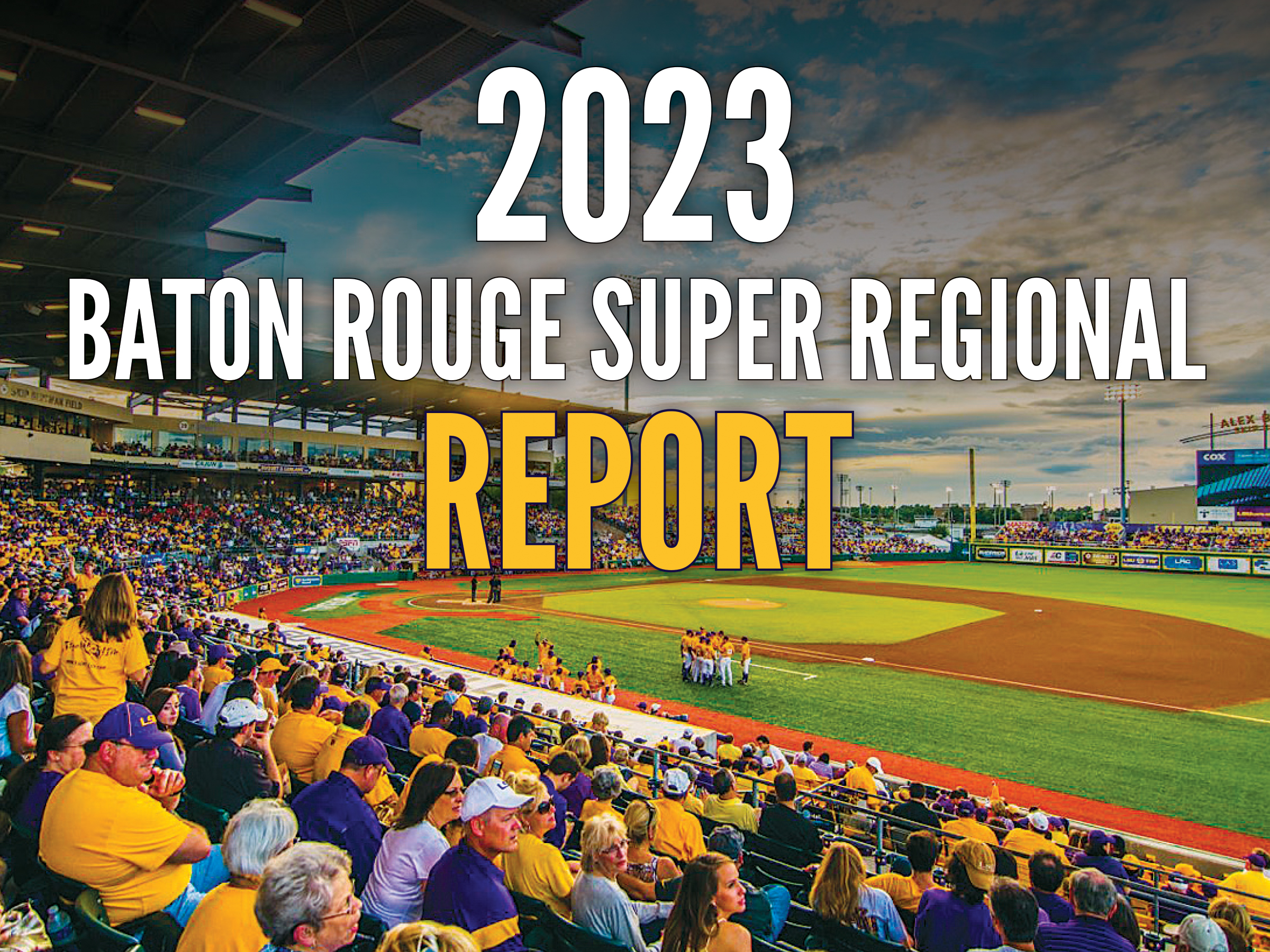 ESPN analyst and former LSU All-American second baseman Todd Walker spent last weekend covering the Lexington Regional. He watched Kentucky blow a lead against Indiana, up 2-0 in the regional and on the brink of winning it, then rallying back from the loser's bracket to dismantle the Hoosiers, 16-6, to force a winner-take-all final game.
Kentucky prevailed in a close win, 4-2, to find itself headed back to Baton Rouge to take on LSU in the Baton Rouge Super Regional this weekend.
Walker explained on Tuesday's edition Tiger Rag Radio how Kentucky did it. He shared what impressed him, and surprised him about the Wildcats and why he thinks it's imperative LSU gets at least seven innings out of Paul Skenes and six innings out of Ty Floyd in this weekend's clash at Alex Box Stadium for the Tigers to get to Omaha.
Walker points out if Skenes and Floyd pull it off, he thinks LSU advances, but, he said, he still thinks Kentucky is a huge threat for the upset. He's certain LSU may need someone from its bullpen with candidate such as Thatcher Hurd or Riley Cooper stepping up big if Skenes or Floyd get derailed along the way.
In the segment on TR Radio, Walker talks about why he still thinks Tennessee and Florida both have a better shot at winning a national championship this year than LSU does (he ranks the Tigers as the third-best chance in the SEC to pull it off). He believes the Vols and the Gators both have a proven closer.
Walker also said he was impressed most by the amount of arms Kentucky had in its arsenal as it won its way to within two victories of its first-ever College World Series berth.
Walker's wary of Kentucky against LSU this weekend, even though the Tigers took the regular season series at the Box back in April. He said he's not as concerned as much by Kentucky's threat to run (the Wildcats have 91 stolen bases on the season) as he is by their propensity to bunt throughout the lineup and the problems that may pose for LSU.
TODD WALKER provides his scouting report on Kentucky vs LSU and more
Listen as the voice of Kentucky Wildcats' baseball, Darren Headrick, gives a full breakdown of UK heading into the BR Super Regional
Meanwhile, listen also to Headrick and Tiger Rag host Jeff Palermo discuss the DNA of this Kentucky squad.
Headrick tells Tiger Rag Radio that this weekend's Baton Rouge Super Regional will pit "The Irresistible Force" against the "The Immovable Object," and that Wildcats do not lack confidence going against LSU and he does not expect Kentucky to be the least bit intimidated by the crowd at Alex Box.
While you're listening to scouting reports from Walker and Headrick and their takes on the Kentucky-LSU Super Regional, check out these comments from Joe Healy of D1Baseball.com. They're anonymous perspectives from an SEC coach on both Kentucky and LSU:
An opposing coach breaks down Kentucky
"What I see from them is just that they're complete in all areas of the game. They're able to execute an offense. Their hitters grind out at-bats. There's not a whole lot of pop in that lineup, they're not going to wow you with the long ball, but they just grind out at-bats. They make it easier on the hitter hitting behind them, every one of their guys will drop a bunt down. Our league is not really known for a lot of bunting offenses, but they'll drop it down early in the game when it's like 'who would sacrifice at this time?'
"They're tough to play because they're pretty unpredictable and they've got nine guys that can execute that type of game. They'll take their walks, they'll take their hit by pitches. They're just trying to get the baton to the next hitter in the lineup and that's what makes them so tough.
"It can be expected at any part in the lineup. You get to certain parts in a lineup in a lot of lineups and you're like 'well, that guy hasn't bunted in his lifetime,' or 'that guy is not going to hit and run because they're not going to take the bat out of his hand,' but this lineup was really put together to do those things, to play the game a little bit different, and to play it different in the SEC than a lot of these clubs do."
Breakdown of LSU
"You have to start with Crews. The numbers are the numbers, he's the most famous player in college baseball, all those things we all know. But the things that stand out about him, from my opinion, the reason he makes them go is it's a bunch of super-famous guys, and he plays with a humility. Almost to where, the way he plays the game, he doesn't want any credit. Like he wants someone else to take the credit. He plays the game that way even though he's been the first pick in the draft for like three years. That seems like an oxymoron, but it makes them go. He plays with so much humility, he plays super confidently, and the skill part of it is obviously through the roof. He has no business playing college baseball, he is an absolute freak show.
"The rest of them, and I give Jay some credit, I feel like their offensive pieces have continued to get better, and I know offense is Jay's calling card. But their role pieces, Brayden Jobert, the shortstop [Jordan Thompson], who has had a great career — those guys continue to get better. Hayden Travinski has come on, and he was an afterthought, he went like a month without an at-bat, I don't know if he was hurt, but now all of a sudden he gets like every big hit they need. Jay's done a really good job keeping those guys engaged, the role pieces, mixing and matching. It's a great lineup. They'll take their walks if you want to walk them, but then if you throw it over the plate, they'll also take their home runs. So, they're scary. It's a scary lineup. I felt like LSU and Florida were the two best lineups in our league, just because it's on-base (percentage), it's hit with power, extra-base hits, they can change the game with one inning. You feel like you can cruise through LSU for a couple of innings, then all of a sudden it's a six-spot and the game's over. . ."
There's much more to review here on the anonymous coaches' takes on both Kentucky and LSU. Check them out at D1Baseball.com.
Oh, and do a few more things: keep checking in here at TigerRag.com throughout the weekend, we've got the Baton Rouge Super Regional covered for you, buckle up because it could be a wild ride, and, finally, stay dry.