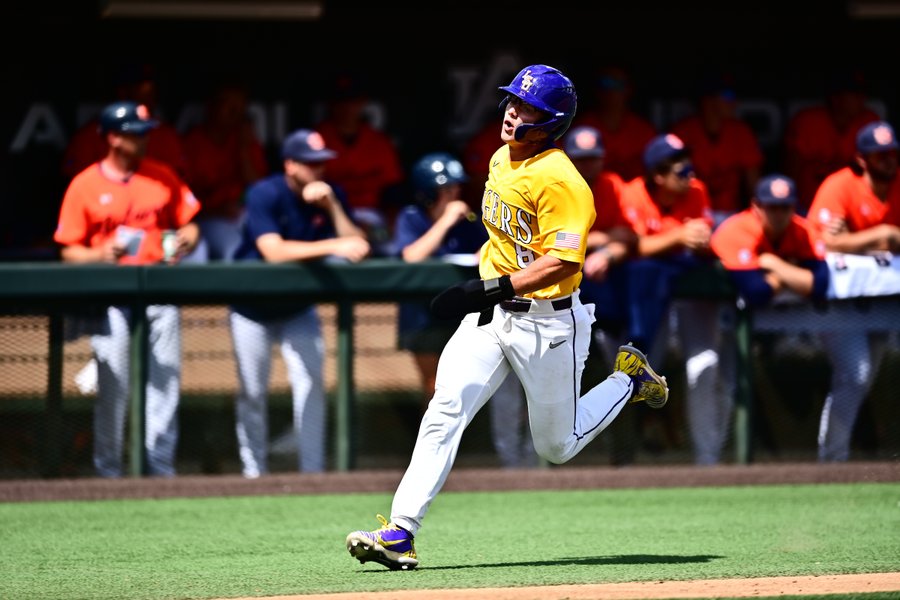 Gavin Dugas led off with a home run for No. 1 LSU at Auburn in an SEC series game three rubber match.
It proved, though, to be an abberation.
LSU's pitching then faltered and gave up six runs on six walks and two hits in the bottom of the first, going through three pitchers before recording the first out, enabling Auburn to cruise to a 12-2 win at Plainsman Park on Sunday.
LSU suffered first SEC series loss of the season, their first back-to-back losses, their first 10-run rule loss, leaving the, with a whole lot to work on if they plan on winning a national title this season.

Auburn center fielder Kason Howell collected five RBI and right-hander Christian Herberholz earned his first win of the season for the War Eagles, who have now beaten then No. 3 South Carolina and now No. 1 LSU in back-to-back series.
LSU (37-10, 16-7 in SEC) lost an SEC series for the first time since May 13-15, 2022, versus Ole Miss.
LSU returns to action at 6:30 p.m. Tuesday when it plays host to Northwestern State in Alex Box Stadium, Skip Bertman Field in a game that will be broadcast on the LSU Sports Radio Network and streamed on SEC Network +.
Auburn was led by Howell with a 2-for-3 effort at the plate with two triples, a bases-loaded walk and five RBI. Herberholz (1-3) earned his first win, limiting LSU to two runs – one earned – on five hits in 5.0 innings with two walks and four strikeouts.
LSU losing pitcher Christian Little (2-2) did not record an out in the first inning of his most recent start. He allowed five runs on one hit with four walks. Reliever Griffin Herring also recorded two walks in the first inning, and Auburn capitalized on the free passes by scoring six runs.
"We walked six guys in the first inning, and that's a tough hole to climb out of," LSU coach Jay Johnson said. "So we start there, and then Herberholz did a nice job for them on the mound; he executed his pitches.
"I never feel like we're out of a game, but that first inning makes it a little more difficult. Our pitchers don't have to be perfect, they just need to be solid, and we weren't solid today."
Dugas led off Sunday's game with his 12th homer of the year, for a 1-0 lead.
Auburn (27-19-1, 11-13 in SEC) scored six runs in the bottom of the first inning, aided by six walks issued by LSU pitchers. The inning also featured an RBI single by designated hitter Ike Irish and a two-run single by second baseman Caden Green.
Auburn added a run in the second inning on an RBI single by first baseman Cooper McMurray.
Auburn scored two unearned runs in the fourth after LSU committed two errors and Howell blasted a two-out, two-run triple.
Third baseman Tommy White reduced LSU's deficit to 9-2 in the fifth with a run-scoring single.
Howell again unloaded a two-run triple, this time in the sixth inning, for an 11-2 lead. Auburn ended the game in the eighth inning on the NCAA"s 10-run rule on McMurray's RBI single.