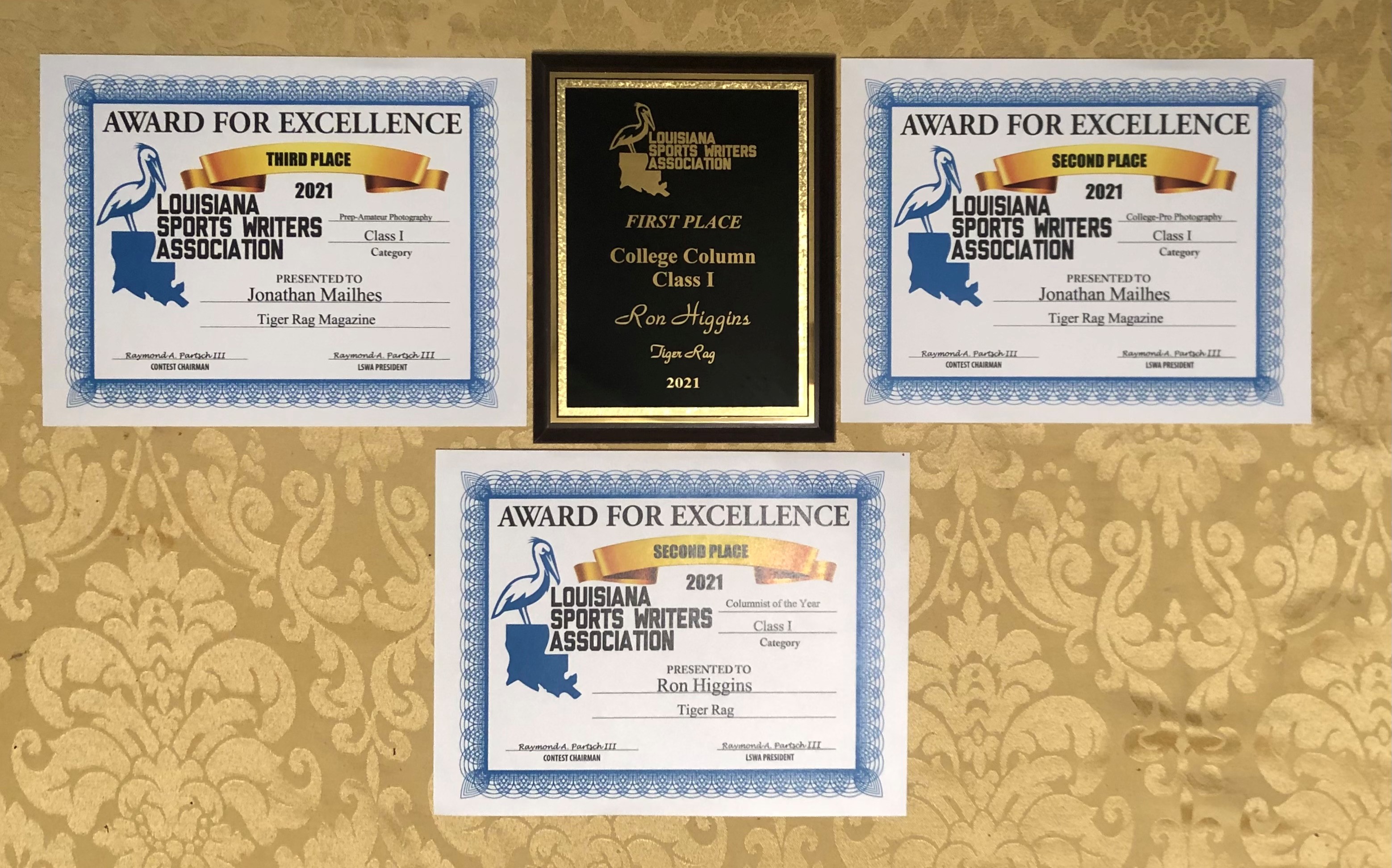 Former Tiger Rag Magazine editor Ron Higgins produced the state's top column for publications with circulations of 10,000 or more and Tiger Rag Magazine placed fifth overall in the Newspaper Sweepstakes at the 2021 Louisiana Sports Writers Association's annual awards brunch held Sunday in Natchitoches.
Higgins' column centered on LSU's official report of its Title IX atrocities.
"A well-executed takedown piece for a situation that absolutely calls for it," said the judge of the category.
"No one is spared — not even the fans and media who have cultivated a love of SEC football that can serve as fertilizer for coaches to grow unchecked power on campus. But no one is flawed more thoroughly than Les Miles, 'the guy portrayed as a family man with a loveable, quirky personality, (who) was just an aging pick-up artist with a bad dye job who repeatedly hit on student workers in his own football office.' Unfortunately, sports writing is sometimes forced to venture into areas far from the field or court. A column like this is all the proof you need that the sports section isn't 'the toy department.' This is a columnist using his voice to demand accountability. It is needed. And this is how to do it."
Higgins also placed second in one of the contest's major categories, Columnist of the Year. He submitted three columns on varying subjects that were judged together as a group. He was also tied for sixth in the Class I Sports Writer of the Year category with four other writers.
Tiger Rag finished behind only The (Baton Rouge) Advocate, The Athletic, The Times-Picayune/The Advocate and the Shreveport Times in the highest classification in the newspaper sweepstakes.
Tiger Rag also placed twice in a pair of photography categories with freelance photographer Johnathan Mailhes garnering a second in College-Pro photography for his game-winning photo of LSU's Jaray Jenkins' catch for a game-winning touchdown against Texas A&M. He also took home third place in the Prep-Amateur category for his picture of St. Thomas More High quarterback Walker Howard, the state's No. 1 football prospect and an LSU signee.