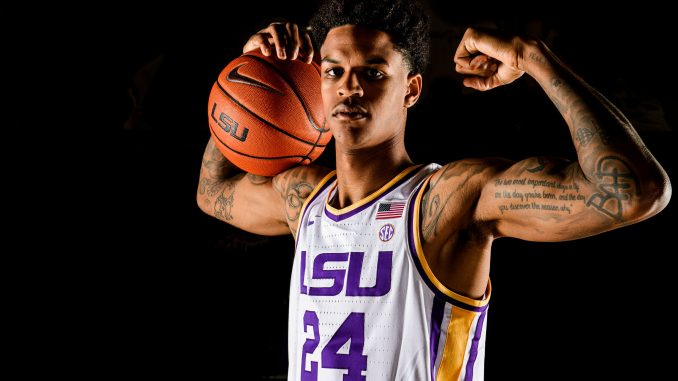 After two health-hampered seasons at UCLA and two injury-abbreviated seasons at LSU, Shareef O'Neal had to decide which path to take.
The 6-foot-10 big man could have remained in school and tried to prove himself NBA worthy that way. Or Shaq's son could turn pro, knowing it was unlikely he'd be drafted, and attempt to make it on post-college merit.
The younger O'Neal opted to gamble on himself.
Now.
"I bet on myself heavy!" he wrote on Twitter last Thursday, the same day the 2022 NBA Draft was held. "That's just how I am built (…) I feel like everyone should do the same"
Before declaring himself draft-eligible, O'Neal entered the NCAA transfer portal – a move each of his LSU scholarship teammates with eligibility remaining also made after coach Will Wade was fired for alleged NCAA rules violations and replaced by former Murray State coach Matt McMahon.
Two of his other LSU teammates, forward Tari Eason and big man Darius Days, also declared for the draft. The Houston Rockets selected Eason at No. 17 overall in the first round and undrafted Days agreed to join the San Antonio Spurs summer league team.
Three Tigers who entered the portal – Adam Miller (who missed all last season with a knee injury), Justice Williams and starter Mwani Wilkinson – opted to stay at LSU.
Seven others found new programs: starting point guard Xavier Pinson (New Mexico State), starting shooting guard Brandon Murray (Georgetown), starting center Efton Reid III (Gonzaga), guard Eric Gaines (UAB), forward Alex Fudge (Florida), forward Bradley Ezewiro (Georgetown) and center Jerrell Colbert (Kansas State).
But rather than fight to remain at LSU, or transfer elsewhere, the strong-shooting, floor-stretching big rolled the dice with a confident hand.
He took part in pre-draft workouts with the Atlanta Hawks and Washington Wizards in mid-June, despite not having a college resume nearly as strong as so many of his pro hopeful counterparts.
O'Neal dealt with a heart issue at UCLA, where he redshirted as a freshman and averaged just 2.2 points and 2.9 rebounds in 2019-20.
He averaged 2.8 points and 4.4 boards over 10 games for LSU before his 2020-21 season was derailed by a foot injury that required surgery, and he averaged 2.9 points and 2.1 rebounds in 14 games last season once he was cleared to return.
On Wednesday, one day before the draft in Brooklyn, O'Neal also worked out for the Los Angeles Lakers – the very same franchise for which his father, LSU legend and 15-time NBA All-Star Shaquille O'Neal, teamed with the late Kobe Bryant to win three NBA championships from 2000-02.
"I was really born into this team," O'Neal, who has called Bryant "a mentor," told reporters afterward. "Like, my Dad and Kobe won championships when I was born (in January 2000) – and now it's me putting on the Lakers gear.
"And it was crazy. I was speechless. … It's such a blessing, for a team I grew up watching."
Yet O'Neal – who fittingly finished his high school career playing for Crossroads School in Santa Monica, California – evidently took the plunge into pursuing his pro dreams against the advice of his famous father.
"Me and him kind of bump heads about this process," O'Neal told Lakers reporters while in California for his workout. "He wanted me to stay in school. I wanted to better myself and go through this. He knows I'm working out for teams. But I'm not gonna lie. We ain't talked about this.
"You know, he didn't do any pre-draft workouts; he just got straight on the team. … You know, that's a different grind.
"You know, he didn't want me to do this. And I know he probably doesn't want me saying this, but, sorry, we're both grown. We'll get past it."
One way, or another.
O'Neal would have preferred the old man's blessing, but he was determined to proceed even without it.
"It kind of made it a little scary for me," O'Neal said. "You know, he's big on education. And, you know, I felt like in college I wasn't getting an opportunity. I wasn't feeling like myself in college.
"I got (an) invite to the G-League Elite Camp, and it opened a lot of doors for me. … Once I started getting calls from teams to work out, I was like, 'Man, this is I want to do. I'm here. It's right in front of me. Just go for it.' So I continued to work.
"He (Shaq) didn't like that. He didn't like that idea at all. It sucks that he didn't like that idea, but, you know, I'm a grown man, I'm 22 years old, I can make my own decisions.
"So, you know, it was right in front of my face. I'm not backing up from it. I'm gonna go get it if I see it. That's just how I'm built. You know, I take everything the same way," O'Neal added. "I took my heart surgery the same way. Being cleared was right in front of me, being healthy was right in front of me, I went for it.
"I'm not backing down from no one. I know he's an NBA legend, I know he's my dad, but it was right in front of me. I had to go get it. So, if he likes it or not, it's not really gonna stop me from doing what I want to do."
Get it – or at least take the first step of 'going for it' – is precisely what O'Neal did.
After he wasn't selected in the two-round, 58-pick draft, Shaq's eldest son, The Athletic reported, agreed to terms on joining the Lakers' summer team as an undrafted free agent.
The Lakers, who as of June 28 had not yet confirmed the report, are scheduled to play Miami on July 2 and Golden State on July 3 in the California Classix Summer League, which will be hosted by the NBA-champion Warriors at the Chase Center in San Francisco and aired on NBA TV.
They then are scheduled to play at least four games starting with a July 8 ESPN2-televised meeting with Phoenix at the 30-team, 75-game NBA 2K23 Summer League 2022 that runs July 7-17 in Las Vegas.
So now it appears the younger O'Neal will get his shot, even if his game is nothing like the one Shaq flashed for six NBA teams including the Magic, the Lakers, and the Miami Heat, with whom he won his fourth and final title in 2006.
"Me and him have a whole different story now," Shareef O'Neal said. "I went through some things that he didn't go through.
   "You know, he was the No. 1 pick in the draft. You know, I kind of had to grind to get here. I had to grind a lot. You know, I had to go through some stuff these past four years – foot injuries, heart surgery."
Shaq was selected No. 1 by Orlando in 1992 after three seasons at LSU, where his statue stands outside of the Pete Maravich Assembly Center.
He spent four seasons with the Magic before joining the Lakers as a free agent.
"I know it's always going to be there – comparison," O'Neal said.
"Every kid is gonna be compared to their dad who does the same thing as them. So that's gonna be there. It doesn't really bother me.
"I play my own style of game, and me and him are different players," O'Neal added. "You know, he was a backdown, dunk-on-you, 7-1, 300 pounds. I'm 6-10, 215. I don't play that backdown game."
But O'Neal isn't afraid of gaming – even when it means taking a chance on yourself.
After four frustrating years in college, including two wearing the same Tiger uniform his father once wore, O'Neal is ready to roll.
"I feel I haven't gotten a real chance to show what I used to do back in high school," he told the reporters in L.A.
"I don't count high school basketball as really my 'full potential,' but, you know, I feel like I was never really at it because I was playing with an unhealthy heart my whole life and just got it fixed a few years ago, and I'm getting back to it, I feel real good.
"One day that full potential is gonna come out. I still have got to get faster, stronger. I still have got to prove everything. People are going to see real soon, though. You know, I'm ready to play basketball. I'm working, trying to get to my goals and dreams, for sure. But I feel like people haven't seen that full Shareef yet, and I'm gonna get to it, for sure."